Calvin's Captains – Rd. 21
What can I say? 64pts from my #1 pick in Gary Ablett makes me sick in my pirate stomach! But Swanny wasn't much better (94pts). Either way I have been up to all hours of the night chasing you the best pick for this week. Thanks for re-visiting, get in there and enjoy. #pirateredemption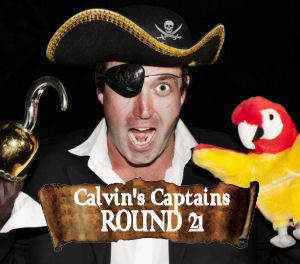 At the end of the day it wasn't that bad. In fact, 84% of people went Gary Ablett as their captain and the next best was 7% who took Swan. For those who can't add up that well, that's a total of 91% of DT coaches who didn't have a great captain. Arggg, either way… this week I will redeem myself and it starts right here!
COD: Captain of Difference
You would only be using a COD this week if you thought you were going to lose your league match and you wanted to try and find a few points against your predictable opponent. Last week, for those who gambled on Selwood (#5 pick) would have been laughing as they gained nearly a 100+ edge against those who went with Gaz. Here are my best bets for those who like to run the gauntlet this week. All the best lads.
Dayne Beams is always a great pick but is often over looked, especially by those who 'play it safe' in DT finals. He scored 111 and 147 on the Hawks last year and has averaged 118 in his last 3 games this year. Tom Rockliff has been in smoking form with previous scores of 115 and 144 in the last 2 weeks to average 122 in his last 5 games. He scored 125 on the GWS last year and has had 144 and 134 in his last 2 games at the GABBA. Dean Cox will dominate this week, like Lobbe did last week against Geelong when he had 59 hit outs (145pts) and the week before that Goldstein had 42 hit outs (74pts). Add to that the fact that Cox had 147 on the Cats last year and you can start to see what I'm getting at. Cox has had scores of 107, 141 and 102 in the last 3 weeks and is back at Patersons this week. Jobe Watson has been in great form since returning with scores of 120 and 113. He scored 132 and 110 on the Kangaroos last year and should be great again under the roof of Etihad Stadium.
Party Pooper!
I may have gone a little over board with my party celebrations on the Thursday night Live show for Gary Ablett's 250th game against Melbourne, but at least I turned up to it. It appeared that Ablett didn't. He had just 64pts and that was after his score of 89 the week before. His form is very questionable at the moment. He plays the Power this week who he met in Rd. 4 this year when he managed 118pts even with a tag from Cornes and Cassisi. But… since being with the Suns he has only averaged 102 (3 games) against them. The last time Gaz had back2back sub 100 scores was in Rd. 6/7 in 2011. The week after he smashed out a huge 158 which happened to be at AAMI where he plays this week. Look, he will be great, especially after the umpires came out and said he was 'dogged' a few free kicks but I will not allow him to burn me twice in two weeks.
Let's not forget that our champion DT pig, Dane Swan also failed to crack the ton as well. He had 94, but is still averaging 124 in his last 3 this year. He plays the Hawks this Friday night at the MCG where he has averaged 135 there in his last 5 runs. Earlier this year when he met the Hawks he scored 109 (33d) and has 2012 scores of 106, 165 and 102 against them. Over his last 9 games against them he has averaged 125 with a lowest score of only 102. This is very impressive. Even though he still got 31d last week, can he bounce back from his poor score of 94pts? The last time he went under 100 (Rd. 14) he had 163pts the following week. That answers my question don't you think? #pirateredemption
Just Quickly…
Michael Barlow Vs Melbourne @ the MCG: Top scored against Melbourne in Rd. 9 with 149pts with 32d and 11t. He was one of 11 Dockers to crack 100+ that day in their 90pt win. He hasn't been setting the world on fire though as his best score is only 106 in the last 6 weeks. Things will change this week for sure. Get on!
Steve Johnson Vs West Coast @ Patersons Stadium: Scored 134 on the Eagles (at PS) last year and had 109 last week, his worst score in his last 5 runs this year. Not bad at all.
Scott Pendlebury Vs Hawthorn @ the MCG: Pendles scored 111 (29d) on the Hawks earlier this year and even averaged 128 on them in 2012 (3 games). He has scored 117 and 111 over the last few weeks and will avoid a tag again this week. The Hawks rarely throw taggers out there, but they did in the Rd. 3 clash this year when they won by 55pts, sending Jordan Lewis to Heath Shaw.
Trent Cotchin Vs Carlton @ the MCG: Cotchin is averaging 129 at the MCG in his last 3 games there this year and got his 3rd straight 100+ score on the Blues when he played them earlier this year. He's had 5×100+ scores in his last 6 games and should be solid again this week.
Joel Selwood Vs West Coast @ Patersons Stadium: Pumped out a massive 157pts last week and is currently averaging 130 in his last 6 games this year. I am worried about him this week though. Mark my words. In the last 2 games Joel has played against the Eagles he has been tagged by his bro Scott. Last year, Scottie held him to just 88pts. In fact, Joel's best score against the Eagles is just 107 over his career of 7 games against them. Yes, he's in hot form… but the numbers are right here in front of you.
Ryan Griffen Vs Adelaide @ Etihad Stadium: He only scored 74 on the Crows earlier this year but did have 4×100+ scores on them in his 4 games prior to that. With scores of 121 and 133 in the last 2 weeks, you'd think that the 'Attack Dogs' should be fine again this week. But that 74 is ugly.
Nathan Fyfe Vs Melbourne @ the MCG: Ending on a sour note… McKenzie will tag Fyfe! He did when they met in Rd. 9 this year as Fyfe failed to be one of the 11 guys to crack the ton that day. OK, he had 99. But compared to the rest of the Freo team… he struggled.
All the best in your finals this week and I hope we can all nail a monster captain score!
TWITTER FOLLOW: @CalvinDT – for updated captain info and to ask any questions! If I ever update my top 5 I will always announce it on Twitter.
Who will you have as your captain for Round 21?
Dane Swan (42%, 1,085 Votes)
Michael Barlow (15%, 398 Votes)
Dayne Beams (9%, 229 Votes)
Dean Cox (9%, 224 Votes)
Steve Johnson (4%, 92 Votes)
Joel Selwood (3%, 79 Votes)
Tom Rockliff (9%, 243 Votes)
Someone Else (10%, 259 Votes)
Total Voters: 2,608
Loading ...