The Numbers – Round 20
The Numbers are back once again! Whilst my catch phrase is far from original, I've got a whole new set of wonderful digits for you to enjoy on this Tuesday morning. So chuck on some toast, put the coffee on and settle in for a solid four and a half minutes of AFL Fantasy-related reading.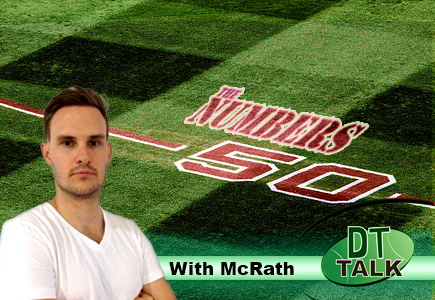 The Numbers are back once again! Whilst my catch phrase is far from original, I've got a whole new set of wonderful digits for you to enjoy on this Tuesday morning. So chuck on some toast, put the coffee on and settle in for a solid four and a half minutes of AFL Fantasy-related reading.
This week we start with the number…
2 – Second place. That's where the Bombers sad as at R17. Fresh of their 4th consecutive post-bye win (and sixth in a row) – the Dons were riding high and looking good for a top-four berth in this year's finals. Fast-forward to R21 and they now sit below Richmond in 7th spot. Whilst the only thing that will stop them playing finals in 2013 lies off-field and in the hands of the AFL, Essendon look a shell of their side that notched up 3 away wins in a cruising month. They've gone from a 7-point victory against West Coast in WA to a 53-point loss to the same team in Melbourne and look anything but a contender. With big losses of 56, 79 and 53 from their last three, one has to ask whether they even deserve a spot in the eight.
3 – Weeks we waited for Jason Winderlich to get over his 'soreness' after a best-afield performance in R16, only for him to go down with another injury – this time a hamstring. Sadly, I think that might be it for 'Licha' this year. One of the unluckier players in terms of injury, Winderlich won't be worth a look in 2014 as he managed a solid 12 games for a 77 avg. No doubt he's capable of a higher average, but he's just too damn unreliable!
4 – The top four looks to be locked up for 2013 with Fremantle now 6 competition points clear of the next suitor in Collingwood. With likely wins coming against Melbourne (R21) and St Kilda (R23), the Dockers should cap off a stunning year whereby they have overcome some massive injuries to key players to solidify a spot alongside competition favourites the Hawks, Cats and Swans.
6 – Much has been said of the debut season of the Malthouse-led Blues, but many will agree when I say that big changes are needed if they're to get things right. Not club or personnel-wise, but players. The 'magic number' has been bandied around a ton, with some ambitious media moguls speculating as high as 10 – but no one knows what's to come yet… not even Mick. But one thing is for sure – the axe will be swung. For the record – I believe the bare minimum will be six. If I was a Blues player outside the recognised 'Best-22' and haven't been resigned yet, I would very worried going into the offseason. Collins, Duigan, Joseph and company are among those who look to already have their papers stamped as they continue to sit on the fringes whilst remaining out of contract.
11 – A huge number of tackles for any one player. But for a forward? Outstanding. Whilst the likes of Redden, Ziebell, Selwood, Ebert and Kelly grace the top-10 tacklers each week – Chris Mayne is not a name that would usually feature. Sharing the top honours with Doggies' young-gun Luke Dahlhaus, Mayne was sublime in his pressure and his presence on the weekend as he featured heavily in his side's 113-point demolition of GWS. He also snagged a handy 112 Fantasy points as well – a nice sweetener for those who've got him in draft leagues. Now boasting an avg north of 87, he's a sneaky POD for finals if you've got the cajoles.
12 – Number of ruckman who've featured in 17 games or more in Season 2013 to date. With 2012's ruck crisis now a distant, but still painful memory – we've been blessed to a degree this year with ruck stocks remaining reasonably healthy. Having four of the five best rucks on average playing 17 or more games has been a godsend, whilst #5 Kreuzer has still managed 15 games in a breakout season. At the risk of somehow ending this beautiful run of luck, I'll fall short of naming any names – but we all know who they are. NB: I take no responsibility if I have somehow 'jinxed' ruckman everywhere. Save that hatred for your opponents in the AFL Fantasy finals series. Or Ross Lyon – everyone loves to hate Ross.
64 – The lowest Fantasy score by 2013 King Gary Ablett since that memorable, non-chalant performance in R11, 2012 where he plodded around for 61. When you go past that, you'd have to get the record books out to wind back the clock to R15, 2008 to find a game where he scored 64 points. Barring injury-affected games, the little master has only scored under 65 twice in the past 105 games – not a bad record if you ask me! Still – against the Demons Gary, really? Come on man! Compounded by his low score was the fact that a whopping 51% of coaches had him as captain – don't let it happen again Gaz!
76 – Brandon Ellis – slow down brother! Boy has this kid had a breakout year. After easing into his career in the yellow and black, Ellis broke the shackles of the vest in Round 5 to bang out a solid 86 points. Since then he has been brilliant, tallying 5 x 100+ scores including a 128, 155 and 119 from his last start. With preseason not far away, this guy will surely be one of the most talked about players. Due to injury and vesting, his average is severely discounted – meaning he will be severely underpriced come Round 1, 2014.
100 – Last-five average of form first-year Brad Crouch. Take it back to R14 and the number remains the same. In a race for the NAB Rising Star dominated by the likes of Jaeger O'Meara and Tom Mitchell, Crouch has steadily worked into the year after starting in a quiet fashion. Another few games like this and he'll feature heavily in discussions for the prized, debutante award.
132.7 – Talk about career-best form. After a reasonable year toughing it out as the leader of a winless GWS side, Callan Ward has been on fire the past few weeks – knocking out back to back 135+ scores then another 121 this week for an impressive 3-round average. His effort last week to help GWS topple 17th-placed Melbourne for their first and only win of the year was nothing less than his loyal Giants' fans would expect.
Whore of the Week
Joel Selwood, come on down! With only a few weeks left to get a nomination in before choosing the AFL Fantasy Whore of the Year, 'Jelwood' heard the call and forced my hand with a phenomenal 4-goal, 28-disposal, 12-mark, 5-tackle effort to drag his team over the line in a good win against a fast-finishing Port Adelaide. Selwood totalled 157 points to be the highest scorer for the round, beating the next best (Rory Sloane and Matthew Lobbe) by 12 points. This guy has been in stellar form of late, averaging 130 over his last 6 games. Let's hope he can keep it up for a few more weeks.
The Round Up
Highlights – Selwood (157), Goddard (129) and Griffen (121) didn't let their coaches down, whilst the likes of Boak, Ward and McVeigh were all around the 120 mark in a good week for uniques. Defenders also played up this week with Hibberd, Ellis and unlikely hero Nick Suban all scoring 119 to show their worth in this game we still call Dream Team.
Lowlights – I'm not sure there ever has been (or every will be again) a week whereby Swan and Ablett both feature here, but they deserve it this week. A combined 158 points from your two best players is not good enough. Winderlich (37) was again hurt in his return and reliable rucks Leuenberger (68) and Goldstein (57) had off days. Others to disappoint were Jack (57), JJ Kennedy (54) and Hannebery (61).
Team McRath – Finally a week where my ranking went forward rather than back! Whilst I, too copped the 'Ablett 128', my side performed admirably to total 2,170 and progress back into the top-1500. Now blessed with luxury trades, I'll be looking at moving on rookie Tom Mitchell for tastily-priced Brownlow winner Jobe Watson, whilst welcoming back my favourite Irishman Pearce Hanley to my side for the remainder of 2013. With wins in all of my finals (admittedly two of which were in the bottom-8 finals series'), I'm in a good place to finish the year strongly.
Stay tuned to DT Talk for the last few weeks of Season 2013 as we look to start wrapping up what has been a fantastic year of AFL Fantasy, where we've experienced a lot of change and dizzying heights crossed with remarkable lows. Be that as it may, it'll be good to have a bit of offseason action to catch a breath before loading up again for a huge 2014.
Until next week.
McRath