The Sunday Knee-Jerk – Round 20
You have just got the bell. Onto the final lap of the 5km season marathon. Your teams legs are hurting, the lactic acid spread that is Jack Grimes consumes your squad. Those in the bottom half of the 8 find a second wind.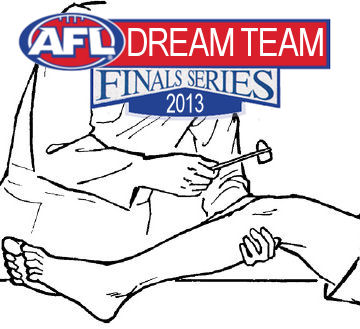 You have just got the bell. Onto the final lap of the 5km season marathon. Your teams legs are hurting, the lactic acid spread that is Jack Grimes consumes your squad. Those in the bottom half of the 8 find a second wind, can you hang on? That's what finals are all about! Forget what has happened in the past few weeks, everything resets for finals! Some old reliables saved our skin again, whilst some things never change. Who stepped up under the pressure and who capitulated? Time to find out. It's time to knee-jerk!
The Legends
Why not start with my favourite legend of them all. Ellis (119). Didn't see that one coming did you! From the unwanted tag of kermit the frog he has risen from numerous green vests to being one of the best premium defender options of the year! Besides a poor month (partly due to concussion) he's cracked 85 in all of his other 9 starts. Consistency and a high ceiling, foreign words in the defenders market this season. DTTALK's own Rockliff (115) must have Roy leaving dent marks in his fist that should probably be checked out. He is becoming one of the premium midfielders in the comp, racking up yet another monster possession tally of 34. Remind why he was playing forward again Vossy? An unspoken hero rose from the Ashes on Saturday arvo, Lobbe (145) accumulating a monster 59 hitouts, 17 possessions and 6 tackles against Geelong. Going by those stats we can expect to see Dean Cox to push the 200 barrier next week, look out. Griffen (121) continues to go about his business and racked up another monster score on the weekend. This is the year of the attack dogs! A must have for Round 23, if you do end up making it to any Grand Finals. Pendlebury (117) did what all class players should do in the first week of finals, busted a gut to get to every contest. UNLIKE SOME. Ok, cooling down for now. Goddard (128) was on 12 at quarter time. He actually scored about 100 points in 2 quarters at one stage. Continues to go about his business unnoticed this season, where would we be without him? Owning Hamish Hartlett? I shudder to think anything more. Watson (120) has come back a man on a mission, but his teammates seemingly haven't. He is unbelievable value but there is a good chance the Dons could get rolled in the next few weeks and it may become all to much for him. Hibberd (119) also really annoyed me. Oh I'm forgetting someone am I? If he could just kindly remove his existence from the DT database that would be great. For some reason I got Stanton (100) over him a few weeks ago and it nearly cost me a lot of money and a few trophies. Selwood (157) collected 12 marks and 4 goals, way to go Port. A man within 10m of his radius would have been nice. Duckwood. Dickwood. I'm sure you all love him. Moving on.
The Sunday Chops
I honestly tried to cut this list down but I just couldn't do it. The amount of peanuts who decided to show their true colours in week one of Finals was ridiculous. I mean Ablett (64). WTF! Ok he's not a peanut, but seriously way to time your day off. It's Melbourne for christ sake! You owe us 150 next week.  Makes for a tough captain decision *steps off pirate turf*. Leuenberger (68) was looking like a legitimate ruck option going into finals. Nek minnut. Will be a great pick next year, however it may be slightly premature to place him in premium ruck status this season. Gibbs (76) is running out of ways to piss me off. Yes it's an ok score for a defender, but he's a bloody number 1 draft pick. What doing Mick! Earlier season talk had him being presented as trade bait for Tom Boyd, now you couldn't sell him for a bag of peanuts. Half back, tagging, he's done everything you wouldn't want him to do since I traded him in. Once again I sincerely apologise to all. If anyone ever needed another reason not to have Heath Shaw in their team, a 51 during the first week of finals was the final nail in a 20 foot deep coffin. Apparently Jack (57) has the same elite running power as Macaffer. Seriously Kieran? A 140 last week means nothing if that's the sh*t you dish up in finals. Will be the oppositions number 1 tagging target from now on and should probably be dumped ASAP. Cue a 130 (Check out my views on him in the Legends last week. I could make a job of this).
I'm only just getting wound up. If you went fixture chasing and brought in either of Pavlich (64), Sandilands (40), or god forbid both. You tried. You failed. Better luck next time. Rough I know, but seriously they're on the wrong side of 30 guys, we can't live in the past! That's exactly why I brought Bartel (55) back in a few weeks ago. Way to practice what you preach. Just on that, Jimmy F**king Bartel. Never ever ever again. Permanently scarred. If you went for a cheeky POD and chased after Duncan (1), you are likely to be either crossing the Mexican border to join the drug cartel, or locked up in your room yelling WHY ME at a picture of Jesus whilst simultaneously rocking back and fourth in the fetal position. The ROK (77) is also another example of me backing up my previous comments, go oldies go! And by go I mean get the f**k out of my team and don't come back. Cloke (71) is about as reliable as a 1995 Land Rover Discovery. I'd be planning a way to get him on your benches or getting him out, if the option presents itself that is. The 'superboot' continues to get sh*tter as Mckenzie (53) plunged his owners to new lows. Where to next, Grant Birchall still holds the record for worst defensive option. Or was that Hartlett? We've been hardly blessed this season… Harvey (72). It's about time he had a quiet one, and by quite I mean spent more time trying to knock out his tagger than focus on the ball. Hansen (54) looked a serious option going into last week, 5 weeks of scores over 90. What could possibly go wrong?! When you're outscored by Zac Dawson you know it's time to hang up the DT boots. Oh Dawson only managed 33? Unlucky, I thought he was a certainty for 50 against the Giants. Poor Zac.
Winderlich (37). Yes people actually traded in the man with hamstrings held together by 3 pieces of sticky tape and some glue. And finally the finals man of the moment. It's just like a trip down memory lane. Goldstein (57) was a sh*tstain once again, ruining the almost perfect week for rucks. Yes he was even outscored by Jack Fitzpatrick (65) and Jake Spencer (79). Well done Todd, you complete and utter dickhead. That felt good.
Edit: JJK (54). I love you. I mean, urgh, what a sh*t time for you to spud it! Sorry guys I can't fake it, our love has grown too strong god dammit. But seriously, we need a coleman winner. You get a chance to slot one within 50 don't be unselfish about it! Put a gun to my head and you still won't get an angry word out of me and my boy.
The Clown
After hearing some of the idiots that liked to label themselves 'Essendon supporters' during our loss at home, it was sweet revenge as I saw half of their crowd flocking through the gates midway through the last quarter. I wonder how many of them still "Stand by Hird" now. It wasn't a good look for the club, and I just wish I could have been there to rub it in. Clowns!
An honourable mention to the peanuts calling for Calvin's head after Ablett couldn't get a touch against Melbourne.
p.s No, I'm not labeling all Dons supporters as idiots nor saying they all left early, just taking my revenge on a select few. You'll have your run again!
What we've learnt?
It's not over, until it's over. Some poor bastard needed 99 from Henderson as a unique. Surely he can get home from 90 at 3 qtr time?! 97. Ouchhhhhhhh!
I can't smell what the ROK is cooking.
If ever there was a metaphor for committing DT suicide, this is it. We drive our teams into the pole that is Sandilands or Grimes and well, the result speaks for itself.
Trading for fixtures is as useful as tits on a bull.
Whether the Bombers lose points or not is now as irrelevant as the election debate. They are shot.
The DT gods preserve a special platter of sh*t for the first round of DT finals. How else would the 8th placed muppet manage to knock you off every year.
Winderlich has hamstrings. No literally, it's meat being held together by strings.
Finally I'm starting to climax with the release of the final 6 breaking bad episodes just 12 hours away. Unfortunately Walt had a little story to tell from the Geelong v Port game. "Walt, what did that phone call mean?" "Where is it. Where's the rest? The points Jimmy where is the rest?! Jimmy… WHERE IS THE POINTS!" "I gave them to Selwood." "What? You did what?" "Walt I… I had to, for us, for the club I swear. Walt…" As for the rest, good luck sleeping.
This game sh*ts me
To be perfectly honest, I can't do this segment justice this week. Since my early season form got me into a lot of qualifying finals, I've needed to draw on some other hard luck stories. I think this sums up DT as good as anything else. A whole season of work for this to happen to @bradzeni. (Image re-size problems, apologies!)
And that's why this game sh*ts me.
The other bits and pieces.
So much for 44 trades meaning ridiculously high scores come the end of the season. The last few rounds have almost averaged worse than the first 15 (bye rounds excluded)! Thank god for those 44 trades just quietly, otherwise we'd be seeing a record amount of ghost ships this year. In my opinion it's a much better system. People chasing the league leaders can yolo trade, whilst those at the top can consolidate. I love it! For those still in the finals race after this weeks disaster, look towards next weeks strategy. Size up your opponent, will you try and match up their uniques or go for a POD or 2 yourself? Good luck to all!
Also don't forget to check out our site fpladdicts.com with the EPL season under a week away, exciting times! Cheers.
If you enjoyed my raging and want a hittable punching bag when sh*t goes tits up, follow me on twitter @MattCraigDT. My views are honest, mostly helpful and occasionally entertaining! Also hit me up with any suggestions for who you thought were the Legends, Losers and Clowns, plus what you've learnt the past week. I value everyone's opinion!