The Friday Scramble: Round 20
Finals time are here! Does that mean it gets easier? Of course not!! Plenty of decisions to make and different tactics to think about! Jump on in and lets have a look at the DT Finals week 1!!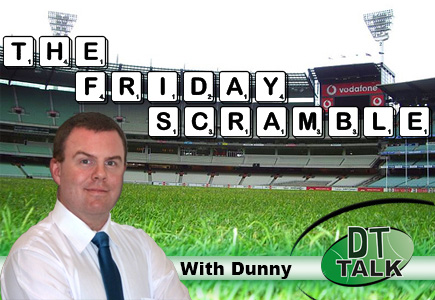 We have made it!  We are at DT Finals!  Hopefully you have all found your way into the top 8 and for a lucky few of you into the top 4 and that all important double chance.  From here on out your focus (assuming you are only looking at league wins and not the overall cash because Hook has that wrapped up hopefully) is on your opponent and what they are doing and what you can do to beat them.  So your strategy may change as to who you may look at to bring into your side.
I think we have come out of the round fairly well unscathed which means that you shouldn't have to use your two trades this week to get rid of an injured or suspended player for a change (unless you have Buddy or Kreuz) and you can use them to improve your team, but also think of using them strategically too.
Trading Strategy
Now I am not going to tell you here who it is that you should be bringing in, I will leave that to Jimbob and his Trigger Happy article.  What I wanted to mention was the strategies that you can employ to get you that all important win in the first week of the finals.  Now obvioulsy you are all in more than one league, but if you are like me then you would have at least one if not two that you are really desperate to win.  So I would be looking at what I needed to do to win that league and then see what effect that strategy has on your other leagues and hopefully you come out on top in all of them.
The Gamble – So you have had a look at your opponents team and they are pretty much the same as your team with a couple of differences that you think that you can't win it based on that.  So it is here that you start looking for the ultra uniques, the guys that are on a bit of a hot streak that you maybe wouldn't have considered previously.  Refer back to Tbetta's Bullets from Tuesday and you could consider some of the guys that he mentioned like Steele Sidebottom, Heath Scotland, Shane Mumford and Lachie Hansen.  These guys are risky but they will be unique and they could go big.  Unless you have the double chance (and even then consider this strategy) you have to get the win to stay in it, so no point having an "Honourable Loss"
The Safe Bet – This is the opposite of above.  You have the game won on paper and you are in the top 4.  You could take the view that you are going to play it safe and get the consistent guy and not the risky one.  Take your tried and true guys here like Corey Enright, Joel Selwood and Dusty Martin.
Defence Defence Defence – The other side of the coin (there are three sides?) is where you have looked at your opponent and you already have plenty of uniques and you have some that are a little more risky than theirs!  In this case you may wish to play a bit of Defence.  By this it means trading away your riskier uniques and matching up some of their premiums.  This might mean that you trade out Ricky Henderson and bring in Dyson Heppell or you may trade Marc Murphy to Michael Barlow.   What I am trying to say here is take the guys that are the proven winners that are also on your opponents team if you think you have a few too many uniques and a couple of them you can't trust in the heat of battle.
Buddy Again!
Well we lost him, he came back with a bang then a whimper and now we have lost him again in what is arguably the Hawks easier of thier run home.  This is the one we thought he could do the best particularly with the Saints losing most of their backline for the rest of the season!  But what this does mean for us is that Rough should now fire up again and be the main target as the Hawks head forward.
Kreuz Chaos!!
Ouch! One of our popular picks in the last few weeks has been big Kreuz.  Now he is out with the Old Man Calf disesase!  OhNo!  He is in 13.42% of teams as of Thurs Night and I imagine that it will have thrown many a trading plan out of the window!  The key is that he is the highest price ruck at the moment so you can pick absolutely anyone you want!  Key choices would be Rough, Big Will and Coxy.
#AskDunny
Both of those are good combinations Troy, I guess my main question is your motivation for each of the two trades.  Do you need to be unique to win or are you simply trying to find the best scoring duo.  In my section above this is really the Defence move vs the Gamble move.  Being unique can certainly pay off but if you are up against a heap of teams with Barlow and Beams then you may want to play some defence as those guys are likely to score very well.  If I was safely in the top 4 then I would go Barlow/Beams.  However, if I had to win and was the underdog then it would certainly be worth the risk of Sidebottom and Scooter.  And when I say a risk, they will score well, but if they fail and you are the only one that has them then you will fall back and it will be very hard to win your matchup.
Beamer has come back with a bang after his long layoff at the start of the year.  Griffen is certainly a guy that has been on fire of late and is also now the number one midfielder at the dogs, particularly with Boyd out with OMC disease (Old Man Calves).  Whilst Griffen is $63k cheaper is he going to bring you the points that Beamer will?  Well Beams faces Syd, Haw, WCE, Nth in his last 4 and Griffen faces Carl, Adel, Bris, Melb in his last 4.  To me I think Griffen has the better run home (all but the Bris game are at Etihad) but I just think that Beams isn't likely to have a score under 100 which Griffen could.  Lastly, it also comes down to your cash.  If you have heaps then go Beams, but if the 63k difference will wipe out your bank then Griffen may be the better option and would allow you more flexibility in trades next week.  If money is no option, then I think Beams is your man.
Certainly not a terrible decision.  I think that given he has a few weeks rest now he should be raring to go.  Last time he played the GWS (his only time) he scored a 120, they are playing at Pattersons… need I say more!  The following week it is Melbourne at the MCG whom he has averaged about 89 over the last three contests.  Given their current form I can't see him scoring that low this time!  If you are looking for a Point of Difference then Pav would be a great one!  He is only in 2.89% of teams so the odds of your opponent having him would be slim.
If you have no other issues to deal with and you really think that Gibbs is now no good then I think that Gibbs to Enright is a good trade.  One thing that does worry me about Gibbs is that now that we know that Carrazzo is out for the rest of the season (Another Calf Injury!!) Gibbs is more likely to take on a tagging role which is when we know he scores poorly.
Your second option there of trading NRoo to either Hansen or Mayne is an interesting one.  I have been surprised by Hansen.  Over the last 7 his lowest has been 97 (excluding his 0 when he was injured).  If you told me this would happen I wouldn't believe it.  He faces Adelaide at AAMI this week, he scored a 60 on them last time and had 48 and 65 in the two prior against them.  I think he will beat those scores but a fired up Adelaide may be an interesting prospect for him.  Mayne is another interesting one.  We know that the Dockers have a fantastic run home from here and his lowest in the last 5 has been 83.  One thing that does worry me though is the return of Pav.  This could go either way, Pav will take a better defender but he will also be the main target.
Once again this is going to come down to your situation in your matches and whether you need to play it safe (and go with Gibbs to Enright) or if you need a POD (and go Roo to Hansen/Mayne).
Things To Remember
 No-one Remembers Who Simply Made the 8! – Go all out in your finals, do whatever you have to do to win!
Watch Out For The General! – As we inch closer to real AFL finals, as teams are set in their position and can't move we are more likely to see the General rear his ugly head.
Trade according to your position – See my section above, check out their team and then trade accordingly.
There is no such thing as a perfect team – you can always improve, even if it is downgrading the last spot on each line for cash to use next week (or this week).
Check your team before lockout carefully! – I know of a case last week where Grundy was traded in for Nicholls but accidentally was onfield leaving Roughie on the bench.
Last week my team fared reasonably well with a score of 2,309 and I am edging closer to the top 2000 finally!  I guess the lesson there is that it is very hard to come back from a poor starting team.  On paper my starting side looked fine, but a few wrong bets made it struggle very early.
Good luck in your first final (unless you are playing me of course) and hopefully you are in the top 4 and can get that rest next week.  However, that rest is a time for you to get your team ready for the Prelim finals the week after.  As always, check out Jimbob's Trigger Happy later on today for how you should be looking to spend your trades and also keep an ear out for any changes this afternoon.  Give me a follow on twitter @pkd73 if you don't already and I will try and keep you as up to date as I can.