Jeppa's Juniors – Round 19
Don't miss Jeppa's last article for 2013. There's plenty covered including the latest crop of rooks that will put you in good stead for the DT finals and a chance to vote on the best 'junior' for 2013!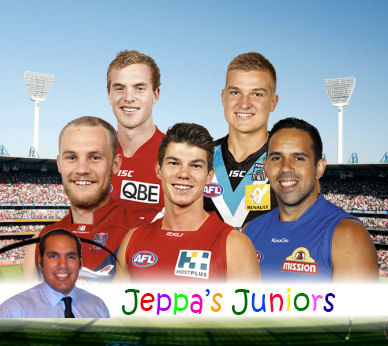 What a year! As @CalvinDT would say we've been 'kissed on it' regarding the quality of rookies in all positions that performed above expectations week in week out. For me this season has been more about the rooks than the premo's. Too many premo's have upset us with injuries (Waters, Boyd, Watson), inconsistency (Cotchin, Stanton, Gibbs) and suspension (Stevie J, Bartel) but in times of need we could always rely on the likes of O'Meara, Terlich, Mitchell, Nicholls, etc.
Round 19 unearthed a couple more 'juniors' that have the potential to score big during the business end of DT…FINALS!
Three-Or-More Gamers
KEEPERS
Lachie Whitfield (MID, 121, $362,300 & BE 57) was PIG like against the Dees on the weekend. He ran hard for most of the game and linked up well with his young teammates through the midfield. Whitfield was on 114 DT points at three quarter time but sadly could only add another 7 in the last to finish with 121. I doubt Whitfield will get much easy ball against the well disciplined Dockers this weekend but he should still be good for an 80+.
Brad Crouch (MID, 106, $411,200 & BE 62) was BOG for the Crows in the Showdown. He played on ball the whole game and finished with 9 kicks, 19 handballs, 6 marks and 5 tackles. Crouch has a knack of knowing where the ball is and winning the 50/50 contest. It's a little scary to imagine how good Crouch is going to be in a couple of years. Mitch Clisby (DEF, 90, $262,400 & BE 11) played his best DT game to date in his custom back pocket role but he let Devon Smith off the leash, letting him kick 3 goals in the last quarter. With the up and down nature of defenders this year, Clisby has been pretty consistent of late and thus a solid defender back up so stick with him for at least one more week.
Eagles pair Brad Dalziell (MID, 110, $341,100 & BE 23) and Mark Hutchings (MID, 102, $394,400 & BE 58) appeared to enjoy the free flowing contest against the Suns. The inside midfielder Hutchings did well at the clearances and pressure acts around the stoppages and Dalziell got a lot of easy outside ball during the Eagles forward thrusts. If both Dalziell and Hutchings improved their disposal, they'd be far more damaging players.
Other notable performers from Round 19 include Dane Rampe (MID, 93, $265,900 & BE 32), Jaeger O'Meara (MID, 86, $446,600 & BE 118), Scott Lycett (FWD, 84, $190,000 & BE -29), Luke Brown (DEF, 81, $291,700 & BE 40), Tom Lee (FWD, 81, $223,100 & BE 19) and rising star Zac Williams (MID, 81, $223,800 & BE -10).
TRADE, TRADE, TRADE
At this point it is pretty obvious which underachievers need to be traded out. Each coach will have different trade needs dependent on dollars. Just be sensible and sacrifice only one bench spot in each position.
Two Gamers
What a game by Mitchell Grigg (MID, 58, $108,500 & BE -27)! In a quarter and a half of football, Grigg had 11 kicks, 4 handballs, 2 marks, 1 tackle and 1 very good goal playing on a wing. Grigg was that good that even with limited playing time, he was still named in the bests for Adelaide but it was his ball use, composure and decision making that was most impressive. With their narrow loss on the weekend, the Crows are officially out of the finals race thus they will look to get some experience into their younger brigade. Grigg will avoid the green vest this weekend and in my opinion he's the number one downgrade option for the rest of the season given his scoring potential and job security. Hold no fear!
In tough conditions for big men, Brodie Grundy (RUC, 57, $107,200 & BE -79) competed well in the ruck but he was no stand out. His clean hands and attack on the footy are features of his game that will see him have a long and successful career at the Pies but short term, he'll be replaced by Jolly either this week or next. Jolly had a decent first hit out in the VFL last weekend so don't be surprised if Grundy makes way for him this week. Big D Jol is better suited to compete against the Swans 100+ Kilo monsters in Mumford and Pyke and Buckley did say during the week that he will pick a ruck setup best suited to the opposition (source). Time will tell if Jolly needs another week in the VFL but inevitably Grundy is on borrowed time…I did warn you last week for those that traded him in as an R3! John Ceglar (RUC, 10, $99,300 & BE -11) is another ruckman that is being used sparingly. Ceglar was a late inclusion for the Hawks No. 1 ruckman, Max Bailey in Round 19 and with Bailey expected to be available this weekend (source 3min 19sec), it will be at Ceglar's expense.
One Gamers
I'll be honest, I expected Lewis Johnston (FWD, 98 & $140,100) to be pretty average in his first game this year but to my surprise he was the most dangerous key forward in the Showdown. Johnston finished the game with 13 kicks, 4 handballs, 7 marks, 1 tackle and 4 goals and was named in the bests for the Crows. He was consistent over four quarters and looked to have taken a big step forward from those hip and knee injuries that have hampered his career to date. I suspect that Johnston will have a sub 70 game against North this weekend (Thompson will smother him) but he should do well against the Bulldogs, Melbourne and Eagles in the last three rounds of the season. I'll be waiting a week before trading in Johnston as my F8 for a bit of coin.
Jesse O'Brien (MID, 69 & $159,700) wasn't poor on the weekend but he didn't turn heads. He's a green vest risk and an expensive downgrade option at this stage of the game so that should be enough to put you off. If you're looking for a midfield downgrade, trade in my boy Grigg and save yourself $50K.
Keep Your Eye On
Nick Graham (MID & $102,700), Richard Newell (DEF & $108,500), Cameron Shenton (FWD/MID & $108,500), Troy Davis (DEF & $108,500) and Daniel Currie (RUC & $102,700) are five players doing well in the reserves and all could be rewarded with an opportunity in the last four games of the home and away season. Keep a close eye on these players if you need a downgrade option other than Grigg and Johnston during DT finals.
2013 AFL Dreamteam Rookie of the Year
It's time to vote for the best rookie in 2013. Select two youngsters that you believe were the most valuable throughout the season and consider scoring ability, games played, consistency, etc.
Loading ...
That's it for me this year guys. Good luck in the finals and I'll see you bigger and better in 2014! Peace.
Got a question? Ask me on Twitter @JeppaDT