The Friday Scramble: Round 19
Last round before finals! Can't wait! But we have one week to negotiate first and I am sure that you all have a few less issues than we had last week, so it gives us a chance to set ourselves up before the finals arrive!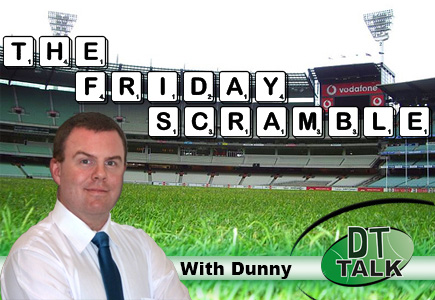 Let the jostling and shuffling begin!  Our last round before the Dream Team Finals is upon us and it is the time to make that last ditch effort to jump into the top 8 or top 4.  Hasn't this season just flown past!  I am sure it was only a few weeks ago we were all coming to grips with the changes to our game and the 2 trades per week idea!  Well here we are now and given the way that the year has gone I think we are all thankful for those trades.  I don't know about you but I am certain that this year has seen much more carnage than we have in the past!
As we head into this final round I will have a look at a couple of the issues facing us this week as well as give you my Ultimate 22 which follows on from the theme that they guys raised in the Mad Monday Podcast this week.   All I can say is good luck this week as we head to that final round and hope you make the top 4!  Also next week I will put up an update of the DT Talk State of Origin Leagues so you can see how they look heading into the finals.
Dunny's Ultimate 22 for Finals
After the guys gave you their ultimate 22 on Monday and the other guys have done theirs during the week I have put together for you my list as we head into the finals.  Clearly there will be some names that are simply common to all of us as they are the guns in these positions, but you never know about the "fringe" guys!
Defenders: Goddard, Heppell, Gibbs are the names we now expect to see in every single team we play.  They are the best (despite Gibbs having that 3 week rubbish period).  Next on the list for me is Cannon, whilst he had a bad week last week he has been solid and has a pretty fair run home!  He faces West Coast at the playground then Melb, Port, Saints and GWS in the DT Finals.  Enright is a guy that many overlooked but being the conservative type he is simply getting the job done and with him having had his rest he is one that I would put my faith in.  Lastly in the defence I would have Hibberd as he has been solid in his last two after 3 lower scoring games (69, 78 and 74) and is averaging a tidy 87 and is also still cheapish at $378k.  Had he been fit I would have thrown Hanley into this group, I know he has been named again this week but I just don't know how that hand will hold up, so I can't advocate going in to finals with him.  The Henderson kids (wasn't that a cheesy tv show?) do worry me a touch and I wonder if they can keep the form up.  If you are looking for a POD who isn't without risk then I would certainly look at them.
Midfielders: Well there are the obvious guys here Ablett, Swan, Pendles and Barlow.  I haven't seen too many teams without at least 3 of these guys for a few weeks now.  I think on top of that you have to include Joel Selwood as even though his average is "only" 102.6 he has been coming home like a freight train and looks to be only getting better.  Next for me would be Scooter Selwood before his injury I had him and was loving life!  His average is 108.5 but he tends to go big and often.  His last 4 read 135, 124, 102 (the game he was injured in) and 113.  He hs 7 of his 13 games over 110 and slotted back in like he never left.  I did have Boyd in this spot, but since his old man injury has flared up again and he has found his way onto the Never Again list for Tbetta, I now put Nathan Fyfe into this next spot.  He has a great run home and has been playing well as he has a 131 and a 128 in his last 3 games.   Last spot could go to anynumber of guys but I think Beams simply has to get the nod.  Whilst his two games back have been against Gold Coast and GWS, they have been far from easy games for Collingwood with them going down in the first and being pushed for 3 quarters by GWS.  His price is high, but his BE is down to 114 so don't expect him to get a heap cheaper than he currently is.
Rucks: Wow, this is a tough call again with so much mediocrity this year!  If I had to pick two I think Kreuzer would be my first pick, his form of late has been outstanding and to be honest it has been more like what most of us thought he would do more often!  Secondly Cox has to be there.  His average is the highest of the ruckmen (apart from Brodie Grundy, but his is from one game of course) and with NicNat out he will be the clear number one and take most of the load. 
Honourable mentions to Jarryd Roughead, Todd Goldstein and Will Minson who have all been very good and I think would be fine to have.  My concern on Roughie is that he hasn't had a rest yet and I think he will certainly get one, North have a tough run and Goldstein will be put under a lot of pressure and Minson has two tough weeks coming up with Sydney and Carlton, after that it opens up for him wiht Adelaide, Brisbane and Melbourne, although his tussle with Berger will be at the Gabba.
Forwards: Once again like the mids there are a few names that nominate themselves here.  Stevie J, Dusty, Rocky and Jimmy Bartel are the obvious ones for me.  Beyond that I think I would say that the field is wide open!  The two that I would place the most faith in would be JJK who has certainly gotten the job done all year. and Travis Cloke is the other guy I would go with.  We know he has had his problems but apart from a 63 v Port in R14 he has had 96, 89, 90, 101, 127, 110 in his last 7 games and given that most forwards are only averaging in the 90's (apart from Stevie) I think that this is certainly not to be sneezed at.  However, my main concern is his draw.  Whilst he has 4 of 5 at the G, he faces Ess, Syd, Haw, WCE and North in the last 5.
Other guys that I would consider if I was looking for a POD would be Andrew Walker who has been doing a great job whilst Jordan Lewis is another you could certainly trust.  Of course the Henderson boys are also in consideration here too.
Just a side note.  I would have put NVoldt in this list, however, his injury on the weekend does worry me that he may be mothballed for the rest of the year at any stage so could be a little risky.  Up until this weekend though he would have been a lock.
So there you have it.  My list of the guys I would love to be heading into finals with.  However, of course my team doesn't have all of them through various reasons but I will be trying to get there!
#AskDunny
This week I have been asked to put together a bit of a Get Off The Bench in looking at which guys I would play and who I wouldn't out of some that were supplied to me by a few people on twitter so here is a bit of a combination of everyone's tweets and what I came up with.  Some of the names you may think… well of course I would play him… but they are all from tweets I got from people this week.
Defenders
There are a number of defenders that we are being forced to play due to injuries to our key guys.  So you may consider some of these guys premiums but their form may suggest otherwise!
1. Michael Hibberd.  The fact I have him in my finals 22 means I like this guy, I think he will be very good and you should not consider benching him!
2. Hamish Hartlett.  Hammer has been a bit up and down this year but he has pulled it together in recent weeks and pumped out 91, 83, 43, 90, 103.  That 43 was against Hawthorn.  You will note that if Port are going well he goes well.  So look to play him in games you think Port can win.
3. Dean Terlich.  I know he was a late out last week but with him in the team and Grimes getting a tagging role I think Terlich can deliver good scoring levels again.
4. Garrick Ibbotson.  Tough call this one but I think with Freo's run home he should be set free again hopefully and can return to his previous form.
5. Jack Grimes. Last week was a real worry for me.  If Craigy wants to use him as a tagger then jump off as soon as you can!
Midfield
1. Tom Mitchell.  Yes this kid is good.  Very good.  He had one bad week a couple of rounds ago but other than that you can pretty much bank on about a 90+ from him.
2. Matt Priddis.  This hurt me putting him second and I haven't been following that rule in my own team, but I am a little worried that his scoring will drop off now that Scooter is back in the side and the Eagles are out of contention.  On the upside for him is that if Kerr is ruled out that may offset the Scooter effect.
3. Brett Deledio.  Wow can't believe I am doing this but his form has been terrible and he is not handling a tag.  His scoring has been right down and you can't trust him for any more than about 75 at the moment which is a real worry.
4. M10.  If you are having to consider playing your M10 then trade out whoever it is you are looking at replacing as you will probably do better.
Rucks
1. Premos.  Just play your premo's.  I don't think we can trust anyone else now particularly with Nicholls having that knee complaint and talk that Simpson is out for the season.
Forwards
1. Jimmy Bartel.  Yes he was suspended, yes his scores have been down.  But do you really want to be on the wrong side of Junk Time Jimmy?  Now that he has had a rest and with the Cats having 3 of their last 5 at Skilled Stadium he has the prospect of going huge!
2. Travis Cloke. That hurt!  When thinking about this part of the article today I really thought I would put him lower, but form of the other guys has meant I have to lift Cloke up the order.  He has only scored under 80 once in his last 7 games which is more than I can say for the next two guys.
3. JJK.  Last week he had his lowest score since round 10, however, the Eagles were beaten by the Bulldogs… nuff said!  Apart from that, JJK has been good for a solid 85-90 score and occasionally busts out for a 100+.  So based on that he is a fairly safe bet.
4. Buddy Franklin.  I know I know, how can I put JJK above Buddy after he kicked 8 last week.  Well, I am doing it based on more than one game.  Buddy was great last week but he beats up on Essendon and one game doesn't make a season.  He has been poor this year but moreover he has been inconsistent and I think for that reason I have to put him just below JJK.  However, I did toy with the idea of making them equal 3rd as I think either one will do ok.
5. Brent Staker.  Staker has been great for us this year, he has come off the bench and filled in whilst Stevie and Jimmy were out suspended.  However, I don't see him as being any more than that .  A good bench cover guy that can come in for a 60 to help you out of a bind.  I wouldn't rely on him unless I had no other option.
So there you have my thoughts on who should be playing on your field.  In reality it is very hard to predict what is going to happen but hopefully this gives you some food for thought as to what you might want to do.
A great question Michael.  If you have a top 4 spot locked up (in all your leagues or the ones you care about most) and you don't care who you play in that first final out of the top 4 and you aren't worried about rankings then by all means this would be a good thing to do if you have no cash in the bank.  However, remember that you don't know what will happen next week and you can only make two trades next week.  So if you were to trade down say Terlich and Staker this week to make some cash then I would be making sure that you either bring in someone that will be playing for you and you would be happy to have at your D7 or F7 postition because you will be stuck with them going forward assuming you are upgrading someone else the following week. Obviously we don't expect to have to use those bench cover guys, but we all know that sh*t happens and we are more than likely going to need them at some stage.
Simple answer this one …. Yes.  Now, since they are both playing the bigger question is which one you put on the field?  Hanley is coming back with potentially a sore hand still and then you have Henderson going into the pressure cooker of the Showdown.  Which would I play?  Probably Hanley.
Personally I would do the upgrade.  I understand your stats there for Lids, but this season he simply hasn't been his old self.  Having said that Buddy went big against Essendon despite his poor form, but in this case I think that Lids is really struggling and as such he wouldn't be as likely to go big like Beamer should.
I know I addressed a lot of this up above but the interesting one here is Boomer.  He has averaged 102 in his last 5 and had 125 on the weekend, it is the fact he is playing Geelong this week that worries me most.  Having said all of that I think that he is more likely to outscore JJK this week so I would be benching JJK.  However, going forward Boomer has Adel Away, Ess and Haw at Etihad and Collingwood at the G which is a pretty tough run so you may want to look at trading him or leaving him as your F7.
For me here the choice would be Beams and Jelwood.  I am a little concerned that Jelwood will get a visit from the General in the next couple of weeks but with Boyd out with old man injury again the choice is fairly clear.  Griffen is good and will go big in R23 v Melbourne, but at the moment I think the other two guys have bigger ceilings and better changes of bigger scores.
Things To Remember

:
If you are within reach of the finals then go all out!  No prizes for bottom 8!
Boydy has just made his way on to a stack of Never Again lists!!
Hanley has performed a miracle!  Well done if you held him!
Think about your situation and what you need to do this week or could do next week.
Can't wait for DT finals!  It has been a long season indeed!  Dunny's Destroyers had a reasonable week last week with 2283 and my ranking improved to 2512 which isn't great, but I am clawing my way back up the ladder after my poor start to the year.
Good luck with your teams and I hope that you all make your top 8!  Make sure you watch the live show from last night as the boys told you were the DTTalk Catch Up in Round 22 will be held.  Looking forward to meeting some of you that day. As always make sure you keep an eye and ear out this afternoon for any late news on twitter.  Follow me @pkd73 and I will try and let you know anything that I hear!