Jeppa's Juniors – Round 18
Brodie Grundy is reading Jeppa's Juniors and you should too! Lots of content on the latest downgrade options plus a look at who to keep in the lead up to the DT finals.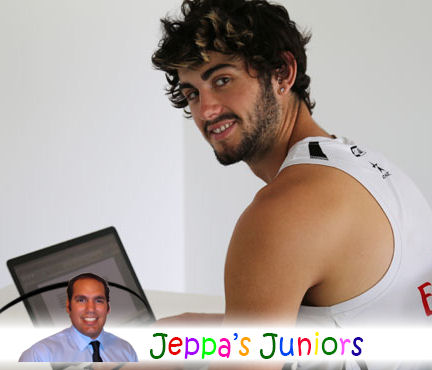 So it's the week before DT finals aka the business end of dreamteam! All premo lines should be filled by the start of this week so most of us are still looking for that last downgrade. Luckily, we have been well looked after by the DT God's because there's a couple of handy downgrade targets and one hasn't even played a game yet.
In keeping with the DT lads Monday podcast and Tbetta's Ultimate 22 here's my ideal team including reserves heading into DT finals –
DEF – Goddard, Heppell, Gibbs, Ibbotson, Enright, R.Henderson (Terlich & Clisby)
MID – Swan, Ablett, Beams, Pendlebury, Barlow, Selwood, Stanton, O'Keefe (T.Mitchell & Carter)
RUC – Cox, Kreuzer (Blicavs & McBean)
FWD – Johnson, Martin, Rockliff, Bartel, Cloke, Roughead (Franklin & Johnston)
The only player I'm not totally convinced on above is Roughead however in Round 20 he plays the Saints who have a depleted backline and thus should score well. His DPP with McBean is handy also.
Three-Or-More Gamers
KEEPERS
In my selfishness to jump on Dayne Beams early, I had to trade out Tom Mitchell (MID, 112, $408,000 & BE 80)…what a mistake. Mitchell was at his best against the Tigers. He had 13 kicks, 13 handballs, 6 marks, 4 tackles and 2 goals. He faces the Bulldogs this weekend and you'd assume he'd score 100+. Ultimately, I think it is wise to keep Mitchell as a M9 so those thinking about trading him to Beams this week, look at other ways…if possible.
Other dominant midfielders from Round 18 include Brad Crouch (MID, 100, $398,800 & BE 77), Ollie Wines (MID, 93, $329,400 & BE 87), Mark Hutchings (MID, 97, $376,500 & BE 59) and Jaeger O'Meara's (MID, 87, $440,100 & BE 70). All of these young midfielders have proven themselves throughout the year so if you have either as a M9 then sleep easy.
It's amazing what Kane Mitchell (MID, 96, $231,000 & BE 9) can do when he doesn't have the green vest! In his first full game since Round 9, Mitchell had 13 kicks, 6 handballs, 4 marks, 5 tackles and a goal to be named in the bests for the Power. I wouldn't be tempted by his $231,000 price tag but if you've got Mitchell then obviously keep him but only during his price hike over the next couple of weeks.
Ruckmen were also the flavour of the round with Max Gawn (RUC, 101, $344,400 & BE 67), Jarrod Witts (RUC, 95, $253,300 & BE 15) and Nathan Vardy (RUC, 106, $239,600 & BE 18) all having very good DT games. Interestingly, each of these ruckmen are not popular selections. For the record, I think Vardy and Gawn are decent ruck backups.
Other notable performers from Round 18 include Cameron O'Shea (DEF, 87, $336,000 & BE 72), Rory Laird (DEF, 83, $332,500 & BE 62) and Blayne Wilson (DEF, 83, $168,700 & BE -21).
TRADE, TRADE, TRADE            
At this point it is pretty obvious which underachievers need to be traded out. Each coach will have different trade needs dependent on dollars. Just be sensible and sacrifice only one bench spot in each position.
Two Gamers
It's been a long time between drinks for Scott Lycett (FWD, 69, $162,300 & BE 18), 17 weeks to be exact. Lycett hasn't played since Round 1 but gained a reprieve last weekend with injuries to Nic Nat and Callum Sinclair. He had the fire in the belly early too against the Bulldogs (30 DT points at 1/4 time) but like a lot of young big men, Lycett ran out of puff. Cox and Lycett are the only two fit ruckmen at the Eagles so I think it's safe to assume that Lycett will play out the season although Fraser McInnes (key forward who can pinch hit in the ruck) could come in for a token game or two. If you prefer to have a playing F8 and don't mind spending the extra $60K then pick up Lycett but before you do have a read below because there is an untried forward rook that is slightly cheaper with a better run home.
Good NEAFL form has resulted in Alex Sexton (MID, 44, $197,500 & BE 72) getting a couple of opportunities at AFL level but at this stage of the game who would 'downgrade' to a $200K midfielder with questionable job security? Stay away.
The green vest was no excuse for Tom Curren's (MID, 9, $108,500 & BE 24) poor performance against the Cats. Curren came on in the second quarter for the injured Gwilt but could only manage a kick, a handball and a tackle in two and a half quarters of football. He'll be dropped back to the VFL this weekend so don't go near him. Harry Cunningham (MID, 12, $102,700 & BE 45) also received the green vest and he didn't do that much better than Curren. Cunningham is just filling the void while Rhyce Shaw and Gary Rohan gain match fitness. Cunningham could play again this weekend but after that he'll likely be dropped.
One Gamers
If you're a Pies fan, get excited about Brodie Grundy (RUC, 92 & $107,200). This 202cm, 101kg ruckman from Sturt had 6 kicks, 8 handballs, 5 marks and 7 tackles in his first game and more importantly was named in the bests for the Pies. Typically, ruckmen are a bit uncoordinated and aren't that clean below their knees however, Grundy appears to have no such issues. I expect Grundy to develop into a ruckman similar to Dean Cox in the days when the Eagles had that 'extra midfielder'. There'll be no better test for Grundy this weekend in the blockbuster against the Bombers and if he can contribute on the field and play well then he should keep his spot in the senior side. Don't be shy to jump on Grundy early but there is a risk he could be dropped in the lead up to the AFL finals with the Pies likely to go with the hardened and experienced bodies of Jolly and the Q Stick.
Rookie listed Crow Kyle Hartigan (DEF, 74 & $101,300) was another one gamer to play well on the weekend. He's a key defender who has played the last three seasons at Werribee in the VFL and good form saw him drafted to the Crows in December last year. Against the Dockers, Hartigan was matched up on young Taberner and at latter stages of the game he was on Zac Clarke. He finished with 19 possessions (84% efficiency), 7 marks and 1 tackle and definitely played his role for the team but with Rutten a likely inclusion this weekend, expect Hartigan to be dropped.
Jacob Gilbee (FWD, 31 & $173,100) is another expensive downgrade option that isn't hitting big enough scores to warrant the extra spend. Lycett is a better downgrade forward option or my untried junior below.
Keep Your Eye On
One man's pain is another man's gain. Unfortunately for the Crows, big man Josh Jenkins broke his ankle on the weekend but the positive is that Lewis Johnston (FWD & $140,100) will get an opportunity at senior level. Tex and Jenkins are out for the rest of the season so Adelaide's tall forward stocks are limited. Johnston has been in really good form in the SANFL of late (13 goals in the last 3 games) so expect him to play the final 5 rounds of the home and away season.
I'm not sure what more Nick Graham (MID & $102,700) has to do to get an AFL game. He was again named in the VFL bests on the weekend (that's 5 times in his 6 VFL games this year) after amassing 33 possessions, 8 tackles and kicking a goal. An injury to Kane Lucas may finally see him named for Round 19. Lets hope so because when he does get an opportunity, I reckon he'll take it with both hands and impress us all.
Got a question? Ask me on Twitter @JeppaDT