Calvin's Captains – Rd. 19
Last week, 396 played in Rd. 18. Of those 396 players, Calvin nailed the top scoring player with his #1 pick. The pirate is on fire and although I doubt he'll be modest and controlled about Swanny's 163pts… this weeks Calvin's Captains is awesome.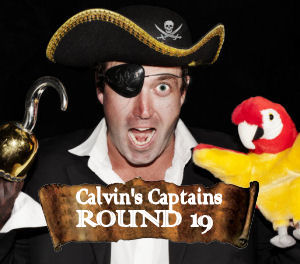 OINK… do I need to say anymore? As you know, I'm a modest pirate and will not waste your time, or my time, letting you know that I had Swan as my #1 option last week when he topped scored out of the 396 players that played in Rd. 18. Yes I'm right… 22×18. BOOM! Stay in school kids. Ha ha, ok enough from this cocky pirate and it's time to put the patch on, hat on the head and to focus for Rd. 19. With the smell of sea salt in the air, the show will go on and numbers need to be crunched. So let's check out what I have for you in Rd. 19.
Roughies, Just Quickly
With a large percentage going Swan this week… all these are now considered as 'roughies'. You'd only go one of these guys if you are hoping or expecting for Swan to fail (good luck with that). But at the end of the day… some of these guys are going to be bloody awesome. Worth a thought for sure.
Matthew Boyd Vs Sydney @ Etihad Stadium: Loves playing the Swans and has scored 6×100+ on them from his last 7 games. He had 112 last week after 3 weeks off and averages 130 in his last 4 games at Etihad this year. Will be great, but narrowly misses my Top 5 (would be #6).
Steve Johnson Vs Kangaroos @ Etihad Stadium: Had a stinker last time he played the Roos in 2012 and managed just 13d (60pts). He has had 125+ in 45% of his games this year though and can be massive on his day as we know.
Kieren Jack Vs Bulldogs @ Etihad Stadium: Yep, 128 last week… his best score in his last 6 games this year and even has a smashing record on the Bulldogs who are his favourite team to score DT points on over the last 3 years. He had 110 and 131 on them in 2012 to average 121 on them in his last 3. Nice one Jacky!
Scott Pendlebury Vs Essendon @ the MCG: He loves playing the Bombers and scored 108 (29d) when he was tagged by Hocking earlier this year. Before that he has scores of 106, 113, 141, 166 and 134 against them. Pendles only had 74 last week but was averaging 127 in his last 5 games leading into that score where the GWS locked him down like we know they can do on their day.
Ryan Griffen Vs Sydney @ Etihad Stadium: Roy's boy, The Attack Dogs! He's had 106 and 115 in his last 2 this year and has scored 127, 98, 97 and 102 on the Swans in his last 4 games. Solid!
Gary Ablett Vs West Coast @ Patersons Stadium: Man… even Gaz is a roughie this week! He will be good though but only had 102 (26d) on the Eagles last year as Scottie Selwood tagged him. Before that in 2011, Gaz did pump these guys for a nice 132. But Selwood will tag him again. He tagged Griffen (106) last week but I'm questioning the 'hardness' of the tag this week. Selwood likes to win his own ball too now and after the Bulldogs had 7×100+ on the Eagles last week, I'm thinking Gaz will be pretty good!
Michael Barlow Vs Carlton @ Etihad Stadium: Has played the Blues 3 times over his career and averages 114 on them. He had 97 last week, his lowest score in his last 10 games this year but the biggest question here is… Will Crowley go to Marc or Gibbs? Or will he go to Judd again like he did in 2012? I'm guessing Marc.
Ryan O'Keefe Vs Bulldogs @ Etihad Stadium: The #ROKstar has only averaged 95 in his last 3 games this year and averages 93 on the Dogs in his last 3 against them. Should be alright, but pass.
Scott Selwood Vs Gold Coast @ Patersons Stadium: Yeah, tagged Ablett last time he played them in 2012 and even had 92 himself that day. Selwood scored 113 last week whilst tagging Griffen (106) which makes me question the severity of the tag that Gaz will cop.
Dayne Beams Vs Essendon @ the MCG: 130 and 134 in the last 2 weeks simply proves that this gun is back firing. He had 113 and 121 on the Bombers last year and will dominate again.
Joel Selwood Vs Kangaroos @ Etihad Stadium: Based on form alone, I'd be mad not to have Selwood sitting high in my top 5 this week. His last 4 games look amazing with scores of 136, 133, 126 and 128. He scored 109 on the Kangaroos earlier this year and has posted scores of 106, 124 and 109 before that. Amazing form and amazing history!
Let's just cut to the chase. This week, is a dead set no brainer! You are locking Dane Swan! No doubt about it and this is why. Everyone who missed his 163 from last week, is back on the pig this week. If you were like me and were 'oinking' from 4:40pm onwards on Saturday afternoon then you will be doing it again cause it was so much fun. He'll be the safest pick this week because everyone will be going him. Even if he gets injured (heaven forbid, tough wood, get to the shed) then we will all sink in the same ship together. But at the end of the day, I have a bucket load of statistical reasons of why I am going him in this 'no brainer' of a week. So let's get into that.
Ok, last week Swan had a monster 163, which seriously backs up the 130 he had the week before. Swan is back at the MCG this week where he has had previous scores of 163, 106, 163 and 130 in his last 4 runs there and this week he plays the Bomber who are one of his favourite teams to score DT points on as he has slaughtered in the past. When he met them in Rd. 5 of this year, he posted a solid 120 (30d) on them but had scores of 187, 171 and 171 before that. No joke! The scary thing is… Swan prefers to play these guys NOT on ANZAC Day. Over the last 3 years, he has averaged 120 on ANZAC Day against the Bombers (4 games) compared to the 158 he averages on them in his 3 Non-ANZAC Day games. Cheers lads. It's been fun, but a waste of time….. OOOIIINNNNKKKK!!!
TWITTER FOLLOW: @CalvinDT – for updated captain info and to ask any questions! If I ever update my top 5 I will always announce it on Twitter.
Who will you have as your captain for Round 19?
Dane Swan (84%, 2,021 Votes)
Joel Selwood (3%, 65 Votes)
Gary Ablett (8%, 191 Votes)
Dayne Beams (2%, 58 Votes)
Matthew Boyd (1%, 22 Votes)
Someone else (2%, 46 Votes)
Total Voters: 2,397
Loading ...