The Numbers – Round 18
This is it – we're down to the last home and away match of 2013. Not the AFL season that is – I am, of course talking about the last H2H matchup of AFL Fantasy. Numbers are flying everywhere, with some big scores and some out of the ordinary pricking up to catch my attention. At the risk of carrying on, let's get straight down to The Numbers for Round 18.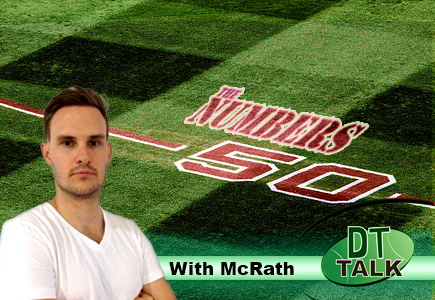 This is it – we're down to the last home and away match of 2013. Not the AFL season that is – I am, of course talking about the last H2H matchup of AFL Fantasy. Numbers are flying everywhere, with some big scores and some out of the ordinary pricking up to catch my attention.  At the risk of carrying on, let's get straight down to The Numbers for Round 18.
3 – Odds on for Hawthorn to take out the 2013 AFL Premiership. With Buddy back to his best and some important players fit and firing, the Hawks look literally unstoppable as they sent the previously-second place Bombers crashing back to earth (and fourth place) in a demolishing day out where they outscored them by 9 goals in what some would describe as a canter. Imagine when they get to 5th gear… boy oh boy wowee are we in for something special.
4 – Goals scored by emerging gun forward Jeremy Cameron in the first quarter of the GWS/Collingwood game on Saturday. Amazingly, he managed the four goals from only four possessions (all kicks, obviously) in a performance we are fast becoming accustomed to seeing. Now also 4th in the Coleman Medal race on 50 goals, he's fast becoming one of the most damaging forwards in the game. Not bad for a 2nd year player.
12 – Months the Kangaroos will be without their talismanic captain after Andrew Swallow and North Melbourne were dealt a huge blow on the weekend. Slipping after taking possession from a centre bounce, Swallow went to ground in pain – with the trainers and medical staff almost immediately knowing the extent of the injury. Already well and truly out of the race for September action being 3 wins outside the 8, North have a huge gap to fill as they look to mid-2014 when they get back their skipper. Ben Cunnington (34d, 2.1 and 143DT) could be that man after a huge game on the weekend.
14 – Fourteen. Just thought I'd write it out to make the point even louder. Such was the domination of Hawthorn on Friday that star Bombers youngster Joe Daniher was kept to 3 touches, 2 marks and that's right – 14 points. Subbed off after having zero influence on the game, it will serve as a lesson for the teenage tall as he learns to turn his talent into performance in his debut year of AFL Footy.
22 – Sorry to mention it Weagles fans, but West Coast's season is going from bad to worse very quickly. With several stars in Shuey, Naitanui and Waters all missing (the latter out for the season), West Coast were already up against the wall. But the injury and subsequent vest-affected 22 point total of breakout midfielder Chris Masten against the Doggies was the straw that broke West Coast's spirits. Already struggling, the 2012 team we saw is now long gone as they were soundly beaten by a resplendent Bullies outfit dogged by name and nature in their 5th victory for the year.
44 – Points scored by polarasing Sun Jared Brennan on Saturday that was reflective of his effort and ability in his team's loss to Carlton. Perhaps it was because he was playing predominantly on a wing I was watching him from at Metricon (which is an amazing stadium I must say), or maybe it was just because he looked lazy as hell – but he must be skating on thin ice with the coach. You know when your own fans are yelling profanities at you, you're not putting in enough – and sorry to point the finger at Jared particularly this week (because God knows he's not the only one), but he needs a swift Matthew Watson-sized torpedo up where the Sun is dark to get him moving. Otherwise, I can't see how he'll be around much longer.
80 – Last 5 average of 2012 golden boy, Brett Deledio. With zero 100+ scores from his past 6 and a frustrated mass of angry AFL Fantasy coaches closing in, Deledio has put a 'Lids' on his performance – unable to break the shackles and put in a decent score. The fact that his buddy Cotch only managed 11 more points for 91 this week is less promising as it is disturbing, but all we can hope is that this truly is the bottom of the barrel for the former-110 avg gun midfielder and that he's saved his best for last in a massive end to the season. We can only hope.
84 – Cheers to 'MRP' @ThomasBennetts for this one. On return from injury and back into our hearts, Buddy Franklin managed a solid 84 points purely from points allocated to his scoring shots (goals, behinds and associated kicks). Luckily for those who hung onto the great man, he also managed a total of 19 touches and 6 marks – giving him a nice 122 points. Anyone else trade him out recently? Dammit.
98 – Players invited to attend the 2013 NAB AFL Draft Combine. Held in October, there is a heap of talent already identified by recruiters – all competing for a spot on an AFL list for 2014 and beyond. Keep an ear out: this is where you'll hear all of the names that will be appearing in our 2014 AFL Fantasy teams. Names like Josh Kelly, Darcy Gardiner, Jake Kolodjashnij and last year's Dayle Garlett will appear on our screens, as well as other popular names Jack Billings, Matt Scharenberg and of course the likely number one pick – Tom Boyd.
128 – 3 x players scored 128 points this week, but the one that was most notable was young Dogs' pocket rocket Luke Dahlhaus. A career-high, 29 disposals to go with his 4 goals and 6 tackles – Dahlhaus put in a best of ground, complete performance that overshadowed recent feats of star teammates Cooney, Griffen and Boyd. A young gun of the future that's for sure, now he only needs to build more consistency and he's well on his way.
Whore of the Week
Is there anyone else? The pig was at it again this weekend – demolishing and demoralizing the young Giants, racking up nearly 40 possessions, 3.3 goals and 9 marks as he ran free for a sublime, 163-pt game that we've come to know and love from the ultimate Fantasy whore.
Highlights – Firstly, Swannie (that is all). Secondly – there were some great scores from some young budding Fantasy stars on the weekend, with Sidebottom (143), Cunnington (143), Libba (142) and Ward (139) rounding out the top-five scorers for the week. 'Tired' North ruckman Goldstein (137) smashed out at his critics, whilst known quantities Jelwood (136), Beams (130), Jack (128) and Fyfe (128) ran rampant in a high scoring weekend for individuals.
Lowlights – Nicholls (25) was a tough blow for those who had him on field, whilst Swallow's and Masten's injuries were tough to watch. Kane Lucas (26) continues his rollercoaster season, whilst any who got in Richard Tambling after his 100-pt game last week should slap themselves for getting him in – as he showed just why with a paltry 27.
Team McRath – R18 inclusions Ibbotson (56) and Cotchin (91) proved disappointing, whilst a low-scoring midfield overall made for bad viewing. 2,219 saw me drop a few hundred – now sitting at 1,553. Buddy may come straight back in this week, allowing me to set Stokes on the bench – also finally downgrading in the ruck for the injured and topped-out Tom Nicholls. Beams is on my radar next week as I look to build depth and form heading into the final stretch of Season 2013.
I'm off on a Snow Trip tomorrow so there may not quite be an article next week, depending on several factors – one being my safe and sober return. Keep the conversation flowing and Numbers rolling, I'll be back shortly.
Don't forget to give us a shout on Twitter @McRathDT