The Friday Scramble: Round 18
Wow, Carnage Abounds here in Round 18! We have lost some guys who have been staples in our team and we are considering players who some of us had to look up to see who they were! Plenty to talk about and plenty to think about as we Scramble our way through to lockout tonight!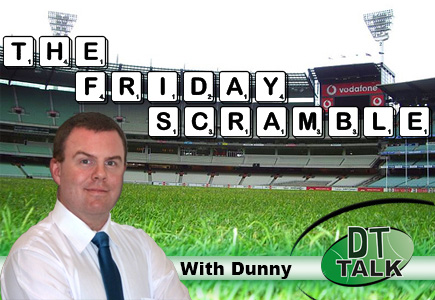 What a weekend!  Injuries… Suspensions… Massive Scores… Rubbish Scores… we have had it all in the last week.  How DT coaches still have their sanity is a miracle sometimes!  But we all push through and front up again the following week to have another go!
And with only two more league games til finals this is no time to be taking your eye off the ball!  This is the time that should be scrambling to get into that top 8 or to get into that top 4!
Men Down!
What a week for carnage! They have been going down left right and centre this week!  Let's have a look at who is out and what options you have.
With all my suggestions below I am giving options of players at a similar price.  Obviously if you have heaps of cash in the bank you can look up the ladder more and find better options!
Jimmy Bartel – What is in the water down there at Geelong?  We seem to lose one of their stars each week lately!  Well OK, it has only been really Stevie and Jimmy.  If you held Stevie after his most recent misdemeanour and have no other forward or midfield carnage (whichever line you had him stashed last week) then the choice here is fairly simple.  Just swap the two guys around.  One of the things that these suspensions should do is to minimise the risk that either of them will get a bout of General Soreness over the next few weeks when we need them most.
If you don't have Stevie J there to swing back onto the field you can either hold Jimmy (which would be my preferred option) if you have adequate bench cover like Staker, Titch or even Macaffer or you could trade him out.  He is priced at $427k which isn't quite where you would like him to be if you have no cash in the bank, but around his price level you could pick up Boomer (beware tough run after this week), JJK or Rockliff if you jumped off any of those guys recently.  My advice: Hold if you can.
Pearce Hanley – The Irish boy has been going great guns this year and is the 5th ranked defender on averages at 89.2.  With his injury being listed as 2-4 then there is no doubt you have to pull the trigger on him for now.  The obvious choice if you don't have him already is to go to Ibbotson who is the 3rd ranked defender and that trade will only cost you $400.  A no brainer there!  If you already have Ibbo then you should be looking at the highest ranked defender that you can afford.  Interestingly Bryce Gibbs who has been average to say the least lately is now down to $417k and is well within reach if you don't have him.  Another option and our 6th ranked Defender is The Cannon McKenzie who is only $399k.
Brett Goodes – Brett has been a great servant to us this year and provided us with some good scores from a guy we picked up cheap.  But with his season done now you have to get rid of him and pick up another defender or midfielder depending on where you had him stashed.  At $373k he is a bit cheaper than Pearce and if you have no cash you may need to look at guys like Hibberd ($376k), Heater (398k) or Mackie (371k).  If you have him in the midfield hopefully he wasn't on your ground and you can now pick yourself up a nice M9.  Options would include guys like Joel Corey ($374k), Robbie Gray ($366k) or Hartlett ($364k and can be a defender).  So looking at those lists I think your best bet would be to replace him with a defender if you have no extra cash as the midfield options around that price are not anything to write home about.  Clearly if you have plenty of cash then go for it and get the best guy you can.
Nic Naitanui – NicNat is one that we have had our concerns about now for a few weeks and we seem to be getting the info now that he is pretty much shot for the year.  On Wednesday we heard that he would be out this week and I think I read somewhere that it was going to be at least two.  Personally I think he will be sent off for surgery shortly in a bid to have him right by preseason.
You have two options with NicNat depending on your team structure.  If you have him in the Ruck you can bring Nicholls on to the ground and bench NicNat if you have two other issues you need to fix.  Or you can trade him for another ruckman.  His price is the problem as it is at $356,800.  Luckily Nicholls is still cheaper than him at $338k so that is one option for you if you don't have him.  Another is a guy that Warnie has been all over and that is Dawson Simpson who is averaging 82.6 and is only costing you $300k, even better is that his BE is -17.
If you have NicNat up forward then you are going to be looking at guys around that price being Lachie Hansen at $333k, Cyril at $356k or Michael Walters at $357k.  So from that what you can see is that the choices up forward if you have no other cash are bloody slim!!  If you can do a ruck trade you might be better off.
 #AskDunny
Great question SB.  With our difficulties at D6 this year we have had to look at some fresh meat here, guys we wouldn't have thought we would be looking at pre-season.  Firstly Clisby.  He has made you $125k so it is ok to be looking at trading him out, but he does still have a BE of only 16 which is more than achievable!  So perhaps you don't need to trade him out, but I would trade him before Terlich.  So if you are set on upgrading Clisby, then let's look at the other two guys.
McKenzie has been a revelation this year averaging 88 and is only priced at $399k.  In his last 6 he has gone 114, 95, 63, 79, 87 and 111.  Certainly a great return from a defender.  His two low scores were against Adelaide and Brisbane.  Prior to that his season was ridled with 80's which is more than acceptable from a D6.  In the run home he faces Carlton, West Coast, Melb, Port, Saints and GWS.
Ricky Henderson is one that has snuck up on all of us!  Priced at only $391k he has an average of 78 and is a valuable Forward / Defence DPP.  Whilst his average is only 78 that is massively impacted by a 13 in round 12 against Richmond where he was Green Vested.  But in the last 4 weeks he has had 105, 89, 106 and 133.  Prior to that his best was two 87's and an 86.  In the run home he faces Freo, Port, North, Dogs, Melb and West Coast.  And yes, it was the very game where Reilly went down that he started this run of scoring, round 14.  Early in the year from rounds 1 – 5 he went 67, 51, 86, 87 and 38 none of which were vests.
If I was forced to pick between the two I think I would still go with McKenzie, purely as he just doesn't have the erratic scoring that has been in place from Henderson.  However, if you are looking for a POD then seriously consider Henderson.
Interesting one here.  Very true that Enright has had his rest so he shouldn't be up for another one and I don't think that Malceski will get a rest.  He certainly didn't get one last year.  Enright is solid and is averaging 88.  Only 3 of his first four and his most recent games have been poor and less than 80.  He is older but has the pedigree and has had his rest.  Malceski is also averaging 88 and has had 7 games under 80 and his scoring has the higher ceiling to get the average up.  he has also played every game.
If I was going to make a call I think that I would go Enright just given the consistency in his scoring and that I feel that Geelong have the better run home.
Short answer… Yes. I think that playing both of those guys in a Melb team that is really struggling is probably going to be a bit too much of a risk.  Most think that these guys are playing a similar role unless Grimes goes onto the ball.  If you do have another option then I would look to try that option.
To be honest, even though Fletch is out, I still wouldn't trust Buddy.  His form has been pretty average and coming back from two weeks off and a bad knee doesn't fill me with much confidence.  So if you have a better option then I would play them.
8 Simple Rules…
During the week I helped out @FootyRhino on his weekly podcast and we came up with a list of rules that you should consider whilst you are making your way to the finals.  Click on the link below and have a listen to what we had to say!
Footy Rhino Podcast with Dunny
Things To Remember
2 Weeks To Go! –There are only two more matches til we hit DT Finals time!  So make sure you do all you can to get as high on your league ladder as you can.
Lots of changes this week – Check your teams carefully this week!  With Bartel, NicNat, Hanley, Goodes all out this week make sure you have carefully checked your teams!
Give the Pirate a chance! – Yes we know Calvin had a setback last week, but he is the best Captain picking Pirate that I know! So give him another chance and go and have a look at Calvin's Captains this week, his research is thorough!
Last Week Dunny's Destroyers had a bit of a comeback scoring 2303 and that was with Pendles as Captain.  It was enough though to get me 4 wins (only match I lost was to the Mrs team! because she had Ablett!)  But with Goodes and Hanley in my team there will be some trading action!
Good luck to you in your last two weeks before August Glory can be upon you.  As always keep your eyes and ears open on twitter to catch any late news and the trimming of squads tonight which should happen around 4:45ish.  Give me a follow @pkd73 and I will update when and where possible!  Also, keep Aug 24 (Round 22) free for the annual DTTalk Catchup in Melb.  Myself, TBetta and AnthonySmith are all making the trek to Melb to have a beer with you all!