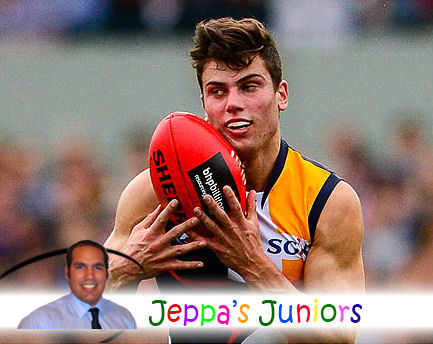 It's around this point every season where players are booked in for early surgery (Waters and Mitch Clark to date) and a few rooks on the fringe get a run. Rest assured that one or two players on the cusp will perform well at AFL level so if you need to make a couple more downgrades, relax, take a breath and read on because there are some healthy options this week for those willing to take a little punt.
Three-Or-More Gamers
KEEPERS
The only downside of Gary Ablett Jr's match winning performance last Saturday night was that it somewhat overshadowed Jaeger O'Meara's (MID, 129, $429,400 & BE 58) incredible game. We all knew O'Meara was going to be a star but I don't think any of us expected him to be this good in his first year of senior footy. Jaeger had a lazy 23 touches, 7 marks, 8 tackles and 3 goals against one of the best midfields in the comp! What would have been if the Suns didn't have the Round 13 bye? Most of us would probably still have him. Such is dreamteam.
Hot and cold Sam Dwyer (FWD/MID, 113, $345,500 & BE 26) continued his rollercoaster form this season but should go well against Giants this weekend. In the same game, Tom Nicholls (RUC, 99, $338,600 & BE 14) went to another level especially with his tap work. Nicholls' meteoric rise this year poses a huge problem for the Gold Coast coaching staff next season if Zac Smith, Dixon and Nicholls are all vying for two spots. Don't be surprised if the Giants or Dees go after Nicholls in a big way during the trade period.
A few weeks back @WarnieDT sent me a text and asked if Dawson Simpson (RUC, 101, $300,500 & BE -17) was the real deal? Regretfully, I told Warnie to look at other options…sorry mate. Simpson is a man mountain and he's using his physical attributes to great effect on the footy field. 18 possessions, 6 marks, 2 tackles and 33 hitouts was enough to hit the ton for the third time in five games and there is no way Trent West and/or Nathan Vardy are taking his spot anytime soon. If you're one of the 7,653 coaches that currently own him, well done.
Brent Staker (FWD/DEF, 92, $308,300 & BE 28) has averaged 87 in his last three games. Compare that to Bartel 70, Ibbotson 75 and Stokes 77. He's spending most of his time forward but he does have the occasional run on the wing and stint in the backline. I suspect that he'll be competitive again this weekend against Port at AAMI but I don't expect anything higher than 75. Ultimately, Staker is the perfect defender/forward reserve and his DPP eligibility gives us more trade options each week so what ever you do, do not get rid of him.
Other notable performers from Round 17 include Josh Thomas (MID, 90, $347,800 & BE 98), Mark Hutchings (MID, 89, $345,100 & BE 19), Jack Fitzpatrick (RUC, 86, $276,600 & BE 79), Jackson Macrae (MID, 83, $341,300 & BE 66) and Brad Crouch (MID, 83, $380,700 & BE 54).
DON'T PANIC
Tom Mitchell (MID, 74, $388,900 & BE 63) is still a very good M9 so don't worry too much about his lowest score for 2013. If you are considering trading Mitchell then please ensure that you have another backup mid that will average above 80.
TRADE, TRADE, TRADE            
As per usual, if I haven't categorised a player from Round 17 under 'Keepers' or 'Don't Panic' then trade them out as soon as you can.
Two Gamers
Mark Whiley (DEF, 72, $171,900 & BE 10) wore Heppell like a second skin on the weekend and to his credit he kept Essendon's pin up boy very quiet and was named in the bests for the Giants for his efforts. Interestingly, with Whiley playing a tagging role, skinhead Toby Greene was allowed to roam free in the middle and in my opinion, it worked well for GWS. A notable stat for Whiley was his 12 tackles but he only finished with 72 dreamteam points. From here on in I doubt Whiley will average more than 6 tackles a game so expect about a 60 dreamteam score for the rest of the season. Coaches with deep pockets that are desperate for a rookie defender can take a punt on Whiley, personally I won't be touching him. Nick O'Brien (FWD, 60, $165,900 & BE 12) also played the role of tagger and kept Giants' playmaker Callan Ward to just 19 disposals while having 16 possessions of his own along with 1 mark, 3 tackles and a goal. At $165,900 O'Brien is far too expensive as a downgrade option not to mention that he'll make way for Heath Hocking either this week or next. Pass.
Adam Carter (MID, 61, $102,700 & BE -53) is currently the most traded in rookie so far this week. I was at the game on Sunday and I watched Carter closely. He played at half back/back pocket on Brandon Jack and did his job. Carter found the footy early and was on 30 dreamteam points at quarter time but went missing for the remainder of the game. The Eagles are desperate for a running small defender and with finals unlikely, I suspect that they will give Carter a go but Sam Butler could spoil the party. Butler had 31 touches and 7 marks in the WAFL last weekend and may take Carter's spot so just keep an eye on it. If Carter is named in the 22 for the Eagles on Friday afternoon then I'll be jumping on board but he'll be my M10…it would be a massive risk to bring him in as a M9.
Josh Hall (RUC, 39, $123,600 & BE -9) was subbed off in the last quarter after struggling to have an impact during the Suns big win over the Pies on Saturday night. Hall will be dropped this week for Charlie Dixon and/or Daniel Gorringe so don't bother. If you're looking for a ruck downgrade then look to DPP Liam McBean (FWD/RUC & $102,700) as a R4 and sneaky swap with Roughy, Cox etc when required.
Gerald Ugle (DEF, 29, $137,000 & BE 12) and Caolan Mooney (MID, 16, $108,500 & BE 17) are so far from it, I don't understand how they're getting a senior game. Stay away from these two.
One Gamers
Three of the four first gamers in Round 17 started the game in the green vest but there were a couple of notable performers in Tom Curren (MID, 38 & $108,500) and Mitchell Grigg (MID, 40 & $108,500).
Curren showed plenty of positives in his first game after coming on at the start of the third quarter. In a half of footy, playing on a wing, he had 4 kicks, 3 handballs, 1 mark, 2 tackles and a goal that almost pinched the game for the Saints. Curren's greatest assets are his attack on the footy and his pace but his skills are pretty shabby. Last week, Scott Watters said that they'll be playing the kids (source) but I'd still like to see what Curren produces from a full game before jumping on board.
Mitchell Grigg got his first run as a concussion substitute after fellow 'junior' Rory Laird copped a knock to the head from DT hero, turned villain, Jimmy Bartel. He was finally relieved of the green vest in third quarter and played as a half forward pushing up the ground. Grigg is quick, a great tackler and looks to have the footy smarts. He lacked a little poise and was a bit reactive at times but if I was Brenton Sanderson, I'd be pretty happy with his first game. Even with Kerridge, Jaensch and Petrenko killing it in the SANFL last weekend, I expect Grigg to feature in Round 18…after that, who knows.
Will Langford (DEF, 15 & $108,500) rotated between the forward pocket and midfield in his first AFL game. He's tough but his disposal is very average. A return of 15 dreamteam points from a full game for a player in a Hawks team with great depth better be enough to scare you off. Harry Cunningham (MID, 10 & $102,700) is in a similar boat to Langford but he played less than a quarter for a return of 10 dreamteam points. With Rhys Shaw a likely inclusion this week, Morton knocking on the door and Ginger Ninja Gary Rohan a couple of weeks away, it's a BIG NO on Cunningham.
Keep Your Eye On
Refer to my Round 15 article for a handful of untried rooks who I think will get a run in the second half of the season.
Please note that Nick Graham (MID & $102,700) was close to BOG in the VFL on the weekend after amassing 33 disposals and kicking a goal. Graham's form has been strong for over a month now so expect a senior berth soon. Also, Daniel Currie (RUC & $102,700) has been best a field for Werribee two weeks in a row so don't be surprised if Goldstein is finally rested against the Dees this weekend.
Got a question? Ask me on Twitter @JeppaDT