Calvin's Captains – Rd. 18
Well well welll… here we are again. Time for another captain and you have certainly come to the right man. CALVIN! This week is a beauty. It's a very tough call in there and the Top 5 will certainly surprise you. Better check it out!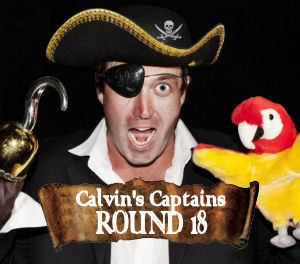 Giant Dilemma?
Throughout the year, the GWS have been one of the hardest teams to read. Each week they use multiple tags which makes it difficult to predict what outcome lies ahead for our premium guns. Last week, Essendon found this to be very true as their star players in Goddard (83) and Stanton (80) severely struggled on a day when the GWS only allowed the Bombers 3×100+ scores. But then 2 weeks ago when they played Sydney, McVeigh (132), Malceski (125), Kennedy (107) and ROK (102) were all among the 7 players to reach the 100+ mark. They are really tough to read.
This week they play Collingwood… so what lies ahead for our guns this week on the MCG? Last year when these teams met Scott Pendlebury whipped up a solid 114 (33d) even with a tag from Treloar. Pendles has been in pretty hot form too. His score of 109 last week was his lowest score in his last 6 games this year. He is still averaging 132 in his last 3 and averages 125 in his last 5 at the MCG. Dane Swan killed these guys in Rd. 18, 2011 as he kicked a lazy bag of 5 goals from 37d (159pts). He had 130 last week and has previous scores of 106, 163 and 130 in his last 3 runs at the MCG. Are you chasing Dayne Beams this week at the price of near $600,000? Yeah do it! Why not if you can! He had 134 last week and posted 113 on the Giants last year to be one of the 7 guys to crack a ton that in their 120pt win. In that game, the Giants sent taggers to… Pendlebury (Treloar), Shaw (Palmer) and Maxwell (Townsend). Amazingly thing here is, two of these tags were on defenders. I honestly think that this could happen again, but maybe to the likes of Harry O'Brien or lesser mids like Steele.
At the end of the day… the numbers that these guys posted last year are great. The fact that this game is at the MCG… after a poor loss last week should see that these boys will be in 'monster mode'. Watch out…. They could be massive with GIGANTIC scores (boom tish)
Killer Carrots
Unless you have been living under a rock… Gary Ablett scored a massive 163pts last week with 49d against the Pies. Don't worry I know this is true… people told me. His lowest score is just 106 in his last 9 games this year and the man is simply on fire with an average of 126 in his last 5 games of 2013. BUT… Andrew Carrazzo slaughters him! This is a fact! Since Gaz joined the Suns, Carrz has certainly had his measure holding him to 23d (89pts) in 2012, his worst disposal output for the year. Add to that the 96pts (23d) he held him to in 2011 and you now surely get my point… unless you are still blinded by his 163 from last week (I don't blame you ha ha). Over the last 3 weeks, Carlton have elected for their main tagger to be Ed Curnow though, allowing Carrazzo to run free. This can not be the case this week as Carrazzo's record against the great man speaks for itself. Over the last 2 weeks, Carlton have only given up 3×100+ scores to their opposition and when you add to that the fact that they are one of Gaz's worst teams to score on since joining the Suns… you can see my concern. However, It's still Ablett… you can't go wrong by picking him…. Or can you? I'm just passing on the research and although he should be pretty solid… you have also been warned.
Just Quickly
Matthew Priddis Vs Bulldogs – scored 124 on the Dogs in Rd. 6 and has averaged 107 in his last 5 this year with a nice 116 in Rd. 17. Nice roughie.
Brent Stanton Vs Hawthorn – 80 last week but carries scores of 107, 126, 103 and 103 before that, had just 62 on the Hawks last year… and 119 and 127 before that. Mixed bag!
Trent Cotchin Vs Sydney – Back in form with 144 last week to average 120 in his last 3 this year. 96 and 101 on Sydney in his last 2 but might be tougher at the SCG despite his form.
Drew Petrie Vs Melbourne – Only had 77 and 60 on Melbourne in his last 2 but has scored 112, 91, 90 and 97 in his last 4 this year. Will crack 100+ for shizzle this week.
Joel Selwood Vs St Kilda – In some crazy form with scores of 133, 126 and 128 in his last 3 this year. Only had 67 on them last year but should be better at Simonds with some hot form.
Michael Barlow Vs Adelaide – Only scored 106 and 102 in his last 2 games this year. Had 118 on Adelaide just 8 weeks ago and after Joel had 133 on them last week, he'll be great at Patersons!
Andrew Swallow Vs Melbourne – His form has been terrible with an average of 76 in his last 3 with only 1×100 score in his last 6. BUT… he did have 160 on the Demons last year!
Steve Johnson Vs St Kilda – Although he had a huge 156 before being suspended (again) he hasn't scored over 100+ on St Kilda in his last 5 games against them.
Ryan O'Keefe Vs Richmond – ROKstar had an injured 79 (then vested) last week and only 78 on the Tigers last year. Will be better but at too much of a risk. Dam!
TWITTER FOLLOW: @CalvinDT
Who will you have as your captain for Round 18?
Dane Swan (63%, 1,550 Votes)
Scott Pendlebury (5%, 126 Votes)
Gary Ablett (22%, 544 Votes)
Michael Barlow (3%, 69 Votes)
Andrew Swallow (2%, 42 Votes)
Joel Selwood (2%, 37 Votes)
Someone Else (3%, 85 Votes)
Total Voters: 2,452
Loading ...