The Numbers – Round 17
Round 17 was a tale of two different stories. On one side we have suspensions, injuries, bad form and more suspensions. On the other we have some amazing performances pushing dizzying heights.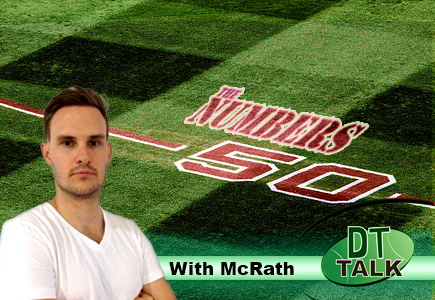 Round 17 was a tale of two different stories. On one side we have suspensions, injuries, bad form and more suspensions. On the other we have some amazing performances pushing dizzying heights. Both stories had their moments, with the former arguably getting on top. What we did have, however is a high-scoring week overall. And that – suits me just fine.
Here we go…
1 – One Cats star out one week, another the next. Jimmy Bartel is likely to be a straight swap for returning star Steve Johnson in their Round 18 clash with the Saints, with Bartel likely to spend a week on the sidelines for his high shot on Rory Laird. Absolutely no reprieves for Fantasy coaches in 2013.
2 – Games it took for Pies' young gun Dayne Beams to find his feet after returning from a massive injury hiatus spanning 15 rounds. After a slow introduction last week, he bounced back to his 2012 best in no time – gathering 34 touches, 6 marks and 6 tackles matched up on Jaeger O'Meara. With a BE of 172 owing to his huge 2012 average and low R16 score, he could be a great pick up over the next few weeks leading into the AFL Fantasy finals series.
3 – Times Stevie J has been suspended in 2013. Now, i'm not saying that the MRP has it in for the Cats star – but they really bloody have it in for him. Whilst each of his 'incidents' have deserved some level of attention, he's been quite unlucky in the eyes of many – with injury and these certain 'holidays' combining to hold the premiership forward/midfielder to only 10 games for the season. Coincidentally – Geelong have still managed to win every game that they've been without Johnson, except for the round 8 loss to Collingwood (not to mention R17's shock loss to the Crows).
4 – Games that were decided by 7 points or less in Round 17. With 3 x games being decided by a single kick (Saints/Port, North/Blues and Crows/Cats), the Suns/Pies game had to be thrown in here – the closeness of the competition heading into the business end of the season will only benefit the fans, with the top eight far from finalised with six H&A matches still to come. Round 18 should see a few more crackers, with a top-2 showdown on Friday night and a danger game up on the Gold Coast for the resurgent Blues likely to spice up the competition and set up another sensational round of AFL Footy.
5 – Overal AFL Fantasy points that Dane Swan leads this year's competition by. In the age-old decision of who's better between Swan and Ablett (Fantasy-wise), 2013 has once again posed interesting arguments for both. The amazing thing to remember here is that whilst Swan leads Gaz overall, Gary has played one whole game less – if he'd played all games he would lead Swan, too by over 100 points. So for me – in terms of who's been a better pick in Season 2013, it's been Gary Ablett Jnr all the way.
7 – Scores above 110 by forgotten former-premo Leigh 'Joey' Montagna in 2013. After being on the decline since 2011, Joey has been a blast from the past this season, banging out some huge scores on the way to a 106 average and a top-10 ranking on average. With other ageing superstars following suit and returning to former glory (think Ryan Griffen and Kane Cornes), 2013 has truly been a year for the veterans. A fair change from 2012, which saw many youngsters take the top spots ala Beams, Cotchin and co. leading the way.
11 – Wins that West Coast had at this point in 2012. Now they sit in 10th – 2 wins out of finals contention. Even with Adelaide and Brisbane on 28 competition points, this time last year they were surging on to a top 4 finish and well entrenched in the 8. Whilst injuries have surely played their part in their demise, the Eagles have been off their game too often in 2013 – with star players not living up to the hype for much of the year. The same can't be said for Josh Kennedy, however as he leads the Coleman Medal race on 51 ahead of star Hawthorn forward Jarryd Roughead (50).
58 – % given by Assistant Coach that Dog's revelation Brett Goodes will achieve his break even of 77 in R18. Normally, I would agree in this case – however unless you've been living under a rock, you'll have already noticed that the mature backman has broken his arm and will see out the rest of his debut season from the sidelines. Joining the masses of Fantasy-relevant players to miss the remainder of the year, Goodes has been a valuable rookie servant to us coaches in 2013 and should be paid due respects.
108.25 – AFL Fantasy average of one Ricky Henderson over the past month. Finding a real niche' down back, he's grabbed almost 9 marks per game, 26 touches and 3 tackles in this same period. Could be a real unique to grab running into the finals if he keeps up this form line. But for those who have him in their AFL Fantasy Elite or Ultimate Footy squads, he has been a real find – keep it up Ricky!
146 – In a career-high game for Tiger Alex Rance, he tallied 30 touches, 5 tackles and a monster 16 marks in a display that could garner Browlow votes. Alongside Cotchin, the big defender was crucial to his team's 27-point victory over Fremantle on Sunday.
Whore of the Week
Gary Ablett continues to outdo himself. Week after week he just churns out the impossible, lighting up stadiums and setting our Fantasy teams on fire in the process. Round 17 brought a game that saw GAJ lead his young team to their greatest victory in their short history – a 7 point win over Collingwood. 49 touches and 2.1 goals – a masterclass some would say. His 163 points was the highest for the round and his performance (far more valuable than just Fantasy-wise) was deserving of the 3 brownlow votes (which he will get – no doubt about it) and a possible front-runner tag. This guy is one of the best, and I believe will go down as THE best in history bar none. Sorry senior.
The Round Up
Highlights – There were some big scores from the midfield guns in R17, with Ablett (163), Swan (130), Jelwood (133) and Cotchin (144) all fit and firing. Some nice premium scores down back came in the form of Heppell (102) and Hanley (99), whilst up forward the big men got the job done – with JJ Kennedy (125), Rockliff (120) and a handy 92 from Staker holding the fort.
Lowlights – The bad news is that rookie-sensation Brett Goodes' season is over with a broken arm, whilst others such as Gibbs (60) and Deledio (62) simply struggle for form. Early season ruck guns Cox (79) and Minson (70) also appear in a rut, and will be looking for a lift coming into the AFL Fantasy finals.
Team McRath – Cotchin (144) was a timely inclusion, however still didn't do enough to stop the decline as I dropped 200 spots in the rankings. Times are getting tough at the top, as the unlimited trades make it harder to climb the ladder to the top. After a solid score of 2,251, I sit nervously in 1,403rd spot and adrift of the top-thousand that now appears the goal for Season 2013.
As the competition heats up in both AFL Fantasy and the AFL Premiership, how are your team/s going? What does your final top 8 look like and who misses out? Shoot through some your Your Numbers in the comments or drop me one via Twitter @McRathDT
Until next time.