The Friday Scramble: Round 17
Another week…. more carnage! What more have we come to expect from the Footy Gods these days! What are you going to do with Stevie J? Do you have Danger? What about Kane Cornes? Do you have all 3? Join me as we scramble our way through to Lockout tonight!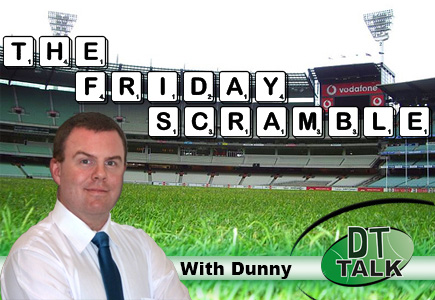 Where would we have been without 44 trades this year?  Certainly scoring would be a lot less and we would have had a stack of donuts!  Just when you thought it was save to get Stevie J back into your side then BAM out he goes with another suspension.
On top of that we are without Pav who has only managed the two games after injury only to see himself now suspended for 3. On top of that there is the injured Danger who has been listed as 1-4 weeks by the Adelaide medical staff.  Guess no one there wanted to put it on the line and actually pick a number.
What to do these guys?  Well here are a few thoughts for you.
Should they stay or should they go?
Stevie J…  well last time you held him for two weeks right?  Or did you trade him out?  Anyway.  I think the advice with Stevie is the same this time.  If you have other issues that you need to cover first (like having the other two guys) then I think you should keep him and look at other fixes in your team.  I did receive the following question about Stevie so thought I would address it here….
This is one thing you could do with Stevie if you have no other issues, and that is to trade him out for one week for a quick cash grab, as long as you have EVERY intention of dumping that player next week to bring Stevie back in.  Just addressing Sulking's question there, Winderlich has a BE of only 2 and…. Nek Minnit he is out with the General!  Anyway another guy that you could consider here would be Joel Selwood he has a BE of 37.  They are playing Adelaide at AAMI Stadium where he had a 110 last year.
Pav and Danger fall into the same category here, and that is that they have to go.  I certainly don't believe that Danger will be back next week.  I think that he will be a minimum two and probably 3.  Besides, when he comes back he will have a BE of 143 so he will be likely to lose some more cash so add one to however many weeks he is off the ground for before you get him back.  As for Pav I think that even under old DT rules you would have traded him with 3 weeks on the sidelines.  I doubt that many would have picked him up and the 7603 teams that have him are either ghost ships that had him in their initial squads or they are die hard Freo fans.  If you have Danger then you will have $479k to play with.  So from that you could get pretty much anyone you want assuming you already have the big guns like Ablett and Swanny.
Beware trading out a fallen premium
Something I get asked a lot is trading out fallen premiums.  The prime example of this is @RoyDT's boy Tom Rockliff.  Now prior to last week, his best score in 6 rounds was an 86 and he had two scores in the 60's!  So I know a lot of people had grown impatient and had traded him out.  All of those people missed out on the 134 that he scored last week against the Kangaroos.
I guess the moral of this story is to remember why you got this guy in the first place and play it like old school DT and that is, back in your premiums.
Buddy Hell!
So this is our second week without Buddy now. What do you do?  Given his form and no guarantee that he is going to come back next week I think that he is definitely worth trading out!  If you traded him out last week that was certainly a good decision.  The biggest problem is that he is only worth $366k.  That does limit your options unless you have some cash!
Your only options around that price is NicNat at $374k or Kurt Tippett at $375k.  Rockliff at $398k is really the best option but obviously you will need $30k to get there.
#AskDunny
I think that with the form of Nicholls the trade of Cox to an R4 candidate and playing Nicholls isn't the worst idea.  I am not sure that I would trade Sam Mitchell to Pendles, I would look to trade someone else that isn't as good a performer as Sam to Pendles, but if he is your worst Mid then you have a great team and that would be a good trade.  Your second thought there is also very good.  Rough has been on fire and would be a good (can't believe I am using this next word) upgrade for Cox.  Then to go Terlich to Grimes is also a good trade that I think a lot of people will be making.  However, I won't be so quick to jump off of Terlich as I think that a defender against the Cats in the wet at the Cattery is never going to have a good day.  I would give him another chance.  But if you forced me to make a pick of those two trades, I would probably go the second option.
SB I like your backline there.  You mentioned to me that your D6 was Staker.  To be honest I don't mind Staker at the moment.  In another tweet you mentioned you don't like his inconsistency, however I think he hasn't been too bad.  I think you can pencil him in for at least 55-65 each week.  I think if I was going to trade him to one of the two options that you have I would certainly be taking Hanley.  I like McKenzie but I just think that Hanley is a little bit safer.
So over the last two weeks we have seen Griffen score under 100 (although they were 86 and 95).  He has had 6 of his 13 scores under 100 but 5 of his scores over 100 are all over 125.  So he certainly hasn't been terrible.  With Boyd out of the team at the moment he will be getting more attention.  So I think that when Boydy comes back Griffen will certainly improve.  Having said that his large BE at the moment would make it worth trading him out and using that cash to get another high price gun.
Things To Remember!
 No matter how much planning… you can't plan for injuries! – That is just stiff luck.  Just be thankful for the 44 trades!  Well done to those that held Danger but the ride is over.
Stevie J…. what are you thinking? – How many brain fades can you possibly have?
#FreeSwanny – Can't believe this hasn't got off the ground.  For crying out loud Bucks… stop putting Swanny up forward!  Let him run free even if he does have a tag!
Keep an eye on Nic Nat and Coxy.  – These guys are struggling a bit at the moment so if you do have a luxury trade to use it may be worth using one on one of these guys.
It was a better week for Dunny's Destroyers, I had 2,197 and my rank stayed similar at 3,135.  This week I need I need to look at what I am going to do with Stevie J.  I hope you all had plenty of luck this week and missed all the carnage.
As usual keep your eye on twitter and media tonight for any late outs.  I will tweet anything I hear, follow me on @pkd73 .