Leftys In-Vestments Round 17
Lefty gives his good word on the players likely to cop the vest this week. Who does he think will be in the green? Add your two cents in the comments.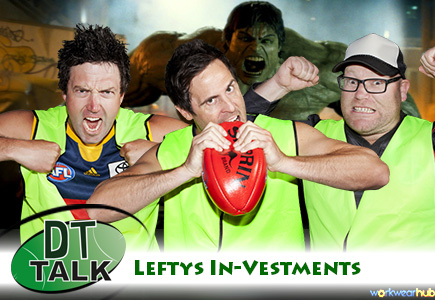 Welcome to Lefty's In-Vestments for round 17,I have almost recovered from last Thursday nights big hit out at 43 Below so I will have a crack at picking the dreaded green vests for this weeks games.
I was happy with my effort last week when I picked 8 of the green vesters with my first pick and 2 with my second pick (10/18).
So here we go – Round 17
Adelaide Crows
2013  Subs – Martin, Porplyzia, Vince, Porplyzia, Laird, Wright, Lyons, Porplyzia, Porplyzia, Martin, Porplyzia, Henderson, Wright, Jaensch, Jaensch
Lefty's #1 Sub – Grigg
Lefty's #2 Sub –Lyons
Brisbane Lions
2013 Subs – Beams, Karnezis, Polkinghorne, Paparone, Docherty, Green, Black, Mayes, Green, Docherty, Docherty, Harwood, Harwood, Lester, Green
Lefty's #1 Sub –Green
Lefty's #2 Sub – McGrath
Carlton Blues
2013  Subs – Joseph, McLean, Buckley, Joseph, Betts, Cachia, Cachia, Menzel, Bootsma, Bell, Yarran, Lucas, Yarran, Armfield, Betts
Lefty's #1 Sub –Lucas
Lefty's #2 Sub – Garlett
Collingwood Magpies
2013  Subs – Dwyer, Seedsman, Fasolo, D. Thomas, Goldsack, Kennedy, Mooney, Kennedy, Kennedy, Didak, Oxley, Oxley, Kennedy, Kennedy, Thomas
Lefty's #1 Sub – Mooney
Lefty's #2 Sub – Dwyer
Essendon Bombers
2013  Subs – Zaharakis, Kommer, Colyer, Winderlich, Myers, Hocking, Lovett-Murray, Howlett, Melksham, Hams , Hams, Merret, Myers,Colyer, O'Brien
Lefty's #1 Sub –Merret
Lefty's #2 Sub – Dellolio
Fremantle Dockers
2013  Subs – Sutcliffe, Sutcliffe, Sutcliffe, Neale, Suban, Sutcliffe, Crozier, Mzungu, Suban, Sutcliffe, Crozier, Crozier, Michie, Sheridan, Sutcliffe
Lefty's #1 Sub –Neale
Lefty's #2 Sub – Sutcliffe
Geelong Cats
2013  Subs – Horlin-Smith, Stokes, Caddy, Caddy, Hunt, Horlin-Smith, Schroder, Hunt, Hunt, Christensen, Duncan, Stringer, Murdoch, Stringer, Guthrie
Lefty's #1 Sub –Murdoch
Lefty's #2 Sub – Caddy
Gold Coast Suns
2013 Subs – Matera, Brennan, Russell, Russell, Hutchins, Hall, Matera, Russell, Russell, Horsley, Hutchins, Hutchins, Boston, Boston, Boston
Lefty's #1 Sub –Sexton
Lefty's #2 Sub – Boston
GWS Giants
2013 Subs – Adams, Hoskin-Elliot, Reid, Miles, Bugg, Williams, Williams, Shiel, Hampton, Townsend, Whitfield, Williams, Townsend, Palmer, Edwards
Lefty's #1 Sub – Williams
Lefty's #2 Sub – Ugle
Hawthorn Hawks
2013 Subs – Anderson, Savage, Gunston, Savage, Savage, Simpkin, Simpkin, Puopolo, Duryea, Cheney, Simpkin, Ellis, Simpkin, Rioli, Simpkin
Lefty's #1 Sub – Simpkin
Lefty's #2 Sub – Langford
Melbourne Demons
2013 Subs – Blease, Rodan, Toumpas, Davey, Davey, Kent, Davey, Bail, Bail, Tapscott, Tapscott, Nicholson, Byrnes, Byrnes, Blease
Lefty's #1 Sub –Byrnes
Lefty's #2 Sub – Blease
North Melbourne Roos
2013 Subs – Anthony, Jacobs, Wright, Anthony, Anthony, Hine, Wells, Gibson, Wright, Hine, Sierakowski, McKenzie, Macmillan, Mckenzie, McKenzie
Lefty's #1 Sub –McKenzie
Lefty's #2 Sub – MacMillan
Port Adelaide Power
2013 Subs – Mitchell, Mitchell, Mitchell, Gray, Gray, Stewart, Mitchell , Mitchell, Broadbent, Mitchell, Gray, Pittard, Wines, P Stewart, Neade
Lefty's #1 Sub – Mitchell
Lefty's #2 Sub – Stewart
Richmond Tigers
Last  Subs – Nahas, Ellis, Ellis, Ellis, Nahas, White, Foley, White, White, Lonergan, White, White, White, White, Grigg
Lefty's #1 Sub –Arnot
Lefty's #2 Sub – Ellis
Saint Kilda Saints
2013 Subs -Dennis-Lane, Schneider, Ray, Ross, Saunders, Murdoch, Webster, Siposs, Webster, Webster, Hutchins, Saunders, Webster, Dunnell, Milera, Milera
Lefty's #1 Sub –Curren
Lefty's #2 Sub – Saunders
Sydney Swans
2013 Subs – Armstrong, Bird, Bird, Morton, Jetta, Lamb, Lamb, Bird, Lamb, Mitchell , B Jack, Lamb, X Richards, B Jack, White
Lefty's #1 Sub –Morton
Lefty's #2 Sub – Towers
West Coast Eagles
2013 Subs – Embley, Dalziell, Cripps, Dalziell, Cripps, Naitanui, Dalziell, Sheppard, Hutchings, Embley, Cripps, Dalziell, Tunbridge, Embley, Morton
Lefty's #1 Sub – Morton
Lefty's #2 Sub – Wellingham
Western Bulldogs
2013 Subs – Smith, Stevens, Smith, Stringer, Macrae, Wallis, Cross, Smith,Gia, Gia, Gia, Gia, Hunter, Hrovat, Hunter
Lefty's #1 Sub –Macrae
Lefty's #2 Sub – Tutt
My number one vest pick for the weekend – A Sexton Gold Coast
Good luck – and feel free to tweet me when I get it right/wrong over the weekend