Calvin's Captains – Rd. 17
Arrrr… Round 17 is upon us and it's not Swanny or Ablett in at the number one position. It's Scott Pendlebury who I'll be locking in as my C. Make sure you vote in the poll and let me know who your captain will be!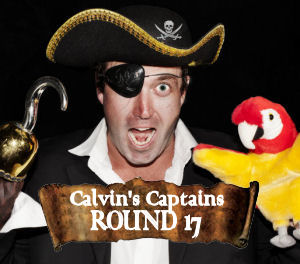 The Only Game That Matters
On Saturday afternoon, we have a HUGE match of captaincy relevance. Collingwood Vs Gold Coast at Metricon Stadium will be massive as we have Dane Swan, Scott Pendlebury and of course Gary Ablett. Scott Pendlebury had just 59 on the Suns in 2012 but that was because he was subbed out after a knee knock early in the 3rd quarter. His form has been electric though averaging 133 in his last 3 games this year with a lowest score of just 112 in his last 5 games this year. His form is just ridiculous. He did have 124 on them in 2011 which happened to be at Metricon and he should keep his form rolling this week after a smashing 153 and 133 in his last 2 games of the season. Dane Swan didn't play the Suns last year and had 118 on them in 2011. He had 73pts at half time last week to finish on only 106. Mark my words… he's not the safest option of Rd. 17, but he could go BANG like we know the pig can. Watch out. Last year when these teams met, Ablett had his personal best DT score EVER of 190pts with 53d. Back in 2011 he even racked up a solid 97 against them. Over the last 3 weeks, Collingwood have given up 12×100+ scores which obviously means that Gaz should be very solid. He has had scores of 106 and 109 in his last 2 games this year (not overly great) and should be good again this week. Keep in mind though that Ablett scored that 190 without Swanny there and with Pendles being subbed out. He went against a depleted Collingwood midfield and will find it tougher this week with Macaffer standing next to him. Yeah, he's not a great tagger but the extra pressure from him certainly won't help his cause.
Final Verdict: Pendles gets the nod ahead of Swanny and Ablett here based on his form alone. It's too hard to look past his form where his lowest score is only 112 in his last 5 games this year. Ablett's form is questionable with scores of 106 and 109 in his last 2. Yeah his 190 looks tempting but it should be different this time around. As for Swanny, he's my boy and at the end of the day… it's Swanny. He had 73 at half time last week in a game where he could have got 150. He had 163 the week before and can never be written off. At the end of the day, Gold Coast don't tag! He could be massive but it's safer going with the man who has such great form at the moment.
Just Quickly…
Ryan Griffen Vs Hawks @ Aurora Stadium (Tas): Has scored 5×100+ scores on the Hawks in his last 6 games against them. Had 112 on them in 2012 and plays his first game at Aurora ever.  Should be back to his best this weekend.
Kieren Jack Vs Eagles @ Patersons Stadium: 0x100+ scores in his last 3 games this year but did have 118 and 118 on the Eagles in his last 2 games against them. Should be better this week.
Michael Barlow Vs Tigers @ the MCG: Had 102 last week, his lowest score in his last 7 games this year. Add to that the 122 (31d) he had on the Tigers earlier this year. Get on.
Ryan O'Keefe Vs Eagles @ Patersons Stadium: Had 102 last week but had 142 on the Eagles in 2012 which happened to be at Patersons. His run will continue this week. #ROKstar
Steve Johnson Vs Crows @ AAMI: His highest score on the Crows was only 106 in his career of 11 games against them. Luckily he's suspended! Was missing my top 5 anyway. Rest up Steven you idiot.
ROUGHIE ALERT: Last week, Tom Rockliff had his first 100+ score of 134 in his last 7 games this year. If he gets the midfield time he deserves he will kill Melbourne like he did earlier this year when he had 125 on them. In fact, he is going for his 6th straight 100+ score on them this week and is a real roughie in my top 5. Tbetta's best mate, Brad Ebert is another guy who should go well. He had a disappointing 87 last week he has had scores of 137 and 135 leading into that. He had 129 on the Saints last year and might be another interesting option is you are a lucky/unlucky owner like Tbetta.
TWITTER FOLLOW: @CalvinDT
Who will you have as your captain for Round 17?
Scott Pendlebury (44%, 1,257 Votes)
Dane Swan (22%, 613 Votes)
Gary Ablett (26%, 724 Votes)
Michael Barlow (2%, 46 Votes)
Tom Rockliff (4%, 106 Votes)
Someone Else (3%, 81 Votes)
Total Voters: 2,825
Loading ...