The Friday Scramble: Round 16
After the late outs and injuries of Round 15 we are all hoping for a much more settled round this week. Will it happen? What should we be doing with our teams this week? Join me as I have a look at these questions and more including my attempt at ranking those bench/fringe players in your team.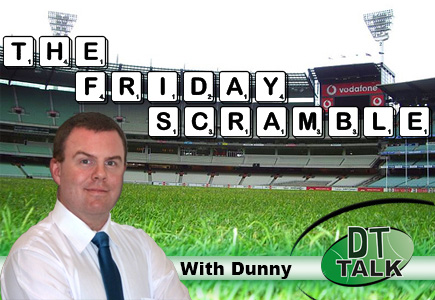 Wow, what a round of surprises and carnage that we certainly didn't expect!  Well done if you managed to dodge it all.  With GAJ going down 10 mins before lockout we should have known that this wouldn't be the end of it.  Throw in on top of that the early injuries to Waite, Ellis and Watson and you have the makings of a very unhappy DT player.  Oh, and just in case you were on the ball and managed to change your captain from Gary to someone else you also felt ripped off when you probable VC, Swanny ripped it up meaning you missed his massive captain score!
There are plenty of issues around that we are needing to deal with.  Obviously we have the issue of who to get in for Watson and who do we drop for Stevie J.  Obviously if you have both of these issues then it is a no brainer!  Anyway, we will have a look at these things later on in more details.
Get Off The Bench!
Wow, what a throwback!  For long time readers you may remember I used to do a Friday article called Get Off The Bench when we had a bye every week and we had 3 players on the bench in all lines.  However, I thought it was time to bring this back because I am getting a lot of questions each week on who people should be playing on the field and who should be missing out.  So I thought I would have a bit of a look across the lines and try and rank how I would put these guys at the moment.
Backline
1. Dean Terlich has been a lock at most people's D6 position for the majority of the season.  Averaging 94 in his last 5 and a fantastic 106 in his last 3 he has fast become a reliable and popular backman.  He is flourishing under Neil Craig and doesn't look like he is slowing down.  Being a mature age player certainly has helped him.
2. Brett Goodes shot to fame early on but hasn't been consistently high scoring nor has he been reliably out on the field with a couple of injuries and one suspension.  But after Terlich he is the next best option.  He averages 79 on the season and in his last 3 and 80 in his 5.  Last week represented only his 2nd 100+ game for the season which was a bit of a surprise to me.
3. Brent Staker was going to be our saviour, but with an average just under 62 he has been far from that.  He has had a very inconsistent season with scores ranging from 35 to 91!  I have played him in the last couple of weeks (as a forward) and have been very nervous waiting to see his scores.
4. Nick Vlastuin is another that we have regularly relied upon this year, but with his shin injury a couple of weeks ago and then a 30 on the weekend (admittedly the Tigers were ordinary)  coupled with his 32 against the Dogs the week before I think Vlastuin is starting to struggle.  I wouldn't be relying on him unless I really had to at the moment.
After these three guys, if you are relying on others lower down the totem pole well it is a bit of a raffle and you would only be playing them if you absolutely had to.  I would expect everyone has at least 5 solid options in their backline that are must start every week.
Midfield
1. Tom Mitchell or Titch as he is commonly known around the DT world has fast become a DT must have and almost a must start!  He is averaging 103 in his 5 game career and has increased by $216,400 in value and still has a BE of only 17!  This kid is great, we knew about him last year and couldn't wait for him, and he certainly has delivered!  I have had some people even ask if they should start him over "Premiums" like Cotchin or Scott Thompson.  I think to play him over those kind of guys you would need to be doing it based on matchup (like this week where Mitchell is playing GWS).
2. Jaeger O'Meara can think himself very unlucky that I have put him at number 2 in this list.  The kid is a jet and will be a must have going forward in our midfield for years to come.  He has played all 14 games for the Suns in his debut year (which makes me think he is due for a vest or a rest soon) and has a very tidy average of 88.5.  Whilst he has only 4 100's in those 14 games, the majority of the rest are certainly in the 80's and 90's.  Jaeger is a safe bet for about 85 each week and if you need to play him you can do it with confidence.
3. Brad Crouch is someone that we all couldn't wait to get into our teams but he seems to drop in and out of favour with Sando at the Crows.  His average of 81.7 sounds good, but it is his consistency that worries me.  His best was his 121 a couple of weeks ago, then his next best is down at 88 and he also has a couple of scores in the 60's in his 6 games.  I think that had the Crows been flying this year he may have had a bit more protection, but with their position he has been called upon to do a bit more than he is capable of.  However, along with Jaeger, I see this guy as another one that will be a lock in midfields of the future.
 Rucks
1. Tom Nicholls has been carrying the number 1 mantle at the Gold Coast since Zac Smith went down.  He has averaged a tidy 82 in his 5 games and provides excellent backup as your R3.  I wouldn't be playing him on your ground unless you have an injury at the moment though, I would hope that you all have a solid R1 and R2.  I know he has come on for a lot of teams lately with Maric out and done a great job.
2. Mark Blicavs was a superstar for us when we needed him early in the season!  He has an average just under 60 but is being challenged for game time at Geelong and his scores can be a bit hit and miss.  I would only play him if you don't have Nicholls and then only if you really need to.
Forwards
1. Brent Macaffer has been solid of late.  He has had a couple of good scores over 100 in rounds 10 and 11.  other than that he has been very solid for a 60-80 each week.  Reliable is the word that I would use for him.  He doesn't have a big ceiling but he won't get you a 35 either.  He is a safe bet if you need to have someone on the ground.
2. Brent Staker I have already spoken about ab0ve.  He is inconsistent but is still not the worst player that you can play on the field.
3. Ben Kennedy/Jake Neade/Anyone Else…. Pretty much anyone else that you can pick is going to get you a score, but the odds of it being over40 are not high!  Whilst these guys are able to get you a 75-85, they simply don't do it often enough!  Obviously this week with Ben Kennedy out he won't score at all!
I am sure that you all have these guys or others, but you really need to take care if you are going to play any of these guys on the field other than Terlich, Tom Mitchell or Jaeger.
What the Watson is going on?
Well with Jobe Watson out and he was a very popular player the question now is who do you take in his place?  Well the big problem from his game on Sunday was that he lost $26,500 and is now down at $433,500.
Clearly the best option would be to bring Stevie J back in, however, you are going to need just over $100k to get there.  Similarly to get to someone like Barlow, Griffin, Pendles or ROK you are going to need some cash in the bank.
Options around the price of Jobe would include Kane Cornes at $469k, Delids at $451k, Mundy at $475k, Luke Ball at $430k, Jelwood at $451k and Fyfe at $443k.
So there are plenty of options that you can play with.  I am sure that you can get somewhere with one of these guys!
#AskDunny
A few less tonight as most questions that I got related to my section above on who to play over who.  So here are a few of my other questions this week.
Beamer is a complete Jet so let's get that out of the way first.  Now… do you want to pick him up this week for the Adelaide game?  He is priced at 129 which will be high for a guy that has only played one VFL game on his comeback trail.  I would look at trading Jobe to someone like Fyfe or Jelwood and then give Beams a week or two to see how he goes.  Even if you get him in for the GWS game you will benefit from him.
Seems obvious but I am not so sure it is!  For me, and I can't believe I am saying this, I think that Stevie J is the key this week.  Particularly given he is playing Melbourne at the Cattery this week where we know he smashes it!  Whereas Gaz has Richmond where he will cop the Jackson tag, then Collingwood and then Carlton.  On top of that he has a calf injury which you don't often get over in just the one week completely (but he is Gaz after all), but I would be a little nervous about that.  So if I had to choose between the two I would probably get Stevie in first and then Gaz in second.
Well I guess I have sort of addressed this above, but the one that I didn't address was Franklin.  That was a fairly easy thing really.  I wouldn't be getting rid of him.  If I had to get rid of one of these guys I think I would probably trade out Vlaustin as he is the one that is going to lose the most cash this week.  He has a BE of 145 and as a result will be likely to drop by quite a bit of money so cashing him in now would be your best bet.
Things to Remember
A Week is a Long Time in DT – Just ask Swanny that!  He increased his score from the previous week by 90 points!
Sometimes too much info is a bad thing! – Those people that missed the Ablett news at lockout and had Swanny as VC certainly came up the best!
Load up on Cats! Remember what happened last time the Dee's played at Kardinia Park.  Just don't ask Dean Bailey!
Thank God ForAblett! – Gee aren't we happy to have this guy back!
Well I had an ok week last week but didn't get to the Par score.  I managed 2,122 which dropped me to 3,113 in the rankings.  Certainly not a great week and was let down by Griffin in the captaincy stakes!  I did get lucky in my work league where I won by 17 as my opponent had Jobe as captain!
Hopefully you have a good DT weekend and you all jump in the rankings.  We are starting to get to the pointy end of the season with only 4 games left in our leagues before finals which means that if you are more than a couple of games outside of the 8 you need to make sure you are getting some wins on the board!
Give me a follow on Twitter @pkd73 if you don't already and I will try and give you any late news I get!