AFL Round 16: Roo; Dockers to win wrestle out West
Two derbies this week in Round 16 with a battle out West and the 4th edition of the Sydney rivalry taking place. AFL Informer Mark Ricciuto has studied the form and the lines and come up with a couple of bets to sink your teeth into.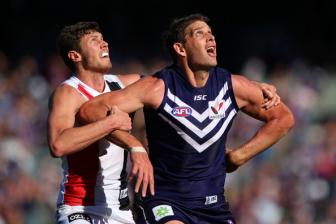 Two derbies this week in Round 16 with a battle out West and the 4th edition of the Sydney rivalry taking place. AFL Informer Mark Ricciuto has studied the form and the lines and come up with a couple of bets to sink your teeth into.
The Crows have been more competitive recently but still haven't been getting the job done and they threw away 4 points against the Eagles last week.
Bernie Vince will be tested after being concussed whilst Shaun McKernan begins a two match ban for elbowing Eagle Brad Sheppard. Sitting two wins out of the 8 I said that Adelaide's season was almost at breaking point, and for min they are nearly done.
The Pies dominated against the Blues last week and should be full of confidence after their 41 point win. They should be able to push all the Harry O'Brien issues to one side and could even welcome back Dayne Beams who shone in the VFL last weekend.
When the time comes that a side can't make the finals (and for me that time is nearly there for the Crows) then a side can be liable to crack for a game, or a couple of games and get beaten heavily.
I'm not saying that this will happen this week to the Crows but it really wouldn't surprise me if they were beaten far more heavily than the 30 points my system has them down to lose by.
The one factor that is keeping me out of Collingwood -27.5pts is the forecast bad weather in Melbourne, but if you want to lean one way it should be fairly obvious which way to go.
I said last week that Port looked a good thing at a line of 25.5pts against the Bombers but they let me down badly, losing by 30 after looking a real chance to win the game outright.
They still performed exceptionally though and their form line has them as one of the best sides in the competition over the last month.
Hawthorn fell to the Cats hoo-doo again and will be keen to get back to winning ways. Rioli returned and looked lively off the bench and should be in the run-on side this week.
I'm giving Port a three goal start down at AAMI against the near full strength Hawthorn team, which they will need with Cassisi, Redden and particularly Westhoff out. He is near irreplaceable for the Power and misses after failing to have his striking charge downgraded.
Despite this big miss, in the wet down at AAMI (the forecast in Adelaide is awful) – Port at the line of +26.5pts are almost definitely worth a bet here.
Huge advantage for the Cats down at Skilled Stadium under the lights. Rain again is forecast which won't help the Cats overcome a pretty massive line.
Stevie Johnson is back but Joel Corry could miss, whilst Melbourne have a couple of big outs but have been rejuvenated under Neil Craig.
The Demons only lost by 31 to a good side in Sydney and should put up another better showing against Geelong.
The Cats are the Cats though and will win comfortably but I've explained before that I just can't back them at big lines as they switch into cruise control and often don't cover the line.
This could be the case again this week, and although I'm recommending a "No-Bet" here If I had to lean one way then it would be towards Melbourne +67.5pts
This one has been taken up to Cazaly's Stadium in Cairns where the sides have met in each of the last two seasons with the Suns winning both games including the Karmichael Hunt after the siren kick of last year.
Showers are forecast up there which won't help out a free-flowing game, especially with the humidity and temperature.
The Tigers have question marks over Houli, Ellsi and Ruck Ivan Maric whilst the Suns have question marks over Dixon and most importantly of all – Gary Ablett.
Ablett missed last week but is expected to be back after a calf strain but if he doesn't play the the Tigers at the line of -24.5pts will certainly be the play.
The Tigers need to respond after what was their worst game of the year and Damien Hardwick would have been filthy after their no-show versus the Kangaroos.
This will be the third year in a row they have moved this clash up to Cairns and with 0 wins from 2 outings before I'm sure the Tigers hierarchy will be demanding a big win to justify this promotional move.
For me wait and see the teams, but No Ablett equals a bigger bet at Richmond -24.5pts
Showers up in Queensland too for this one from The Gabba as North Melbourne head interstate off the back of their best showing of the year.
The Kangaroos still sit in 10th but looked imposing last week and I think they can carry on this form at the line of -15.5pts here.
The Lions could be missing Simon Black and Brent Maloney whilst North still kicked 19 goals without the suspended Lindsay Thomas last week and should be in confident mood.
It is a risky bet as the Kangas can be unpredictablebut I believe they can carry on winning and cover the line of -15.5pts. I'm not suggesting huge stakes but they look a better prospect than the even more unpredictable Lions
The Blues let me down so badly last week (as I'm sure they did to many) and just do not play well at Etihad Stadium.
The Saints have already knocked them off at the venue in Round 7 (by 9 points) and performed well above expectation against Fremantle last week but it is this that worries me a bit.
They played Sunday at Subiaco last week so have two full days less rest plus travel to overcome and could also still be missing skipper Nick Riewoldt.
Carlton have concerns over Jarrad Waite and Heath Scotland and look too short to me at $1.40 in the head to headmarket despite the dressings down they would have had from Coach Mick Malthouse all week.
If Riewoldt does return then the Saints at the line of +19.5pts look like half a bet here but I would be cautious after the Saints recent travel schedule.
Big home advantage here for the Swans who face theGiants at the SCG for the first time. All other derbies have taken place at ANZ, as it was in Round 1 this year when Sydney won by only 5 goals.
This time the line is much bigger than that at -73.5pts but I'm of the opinion that the Swans will give them a real touch up on Sunday.
Reid, Jetta and Goodes all still miss but GWS won't even keep this one close if the Swans kick accurately.
To overcome a line of -73.5pts you obviously have to kick straight and true, not ending up with a 15-25 score for example.
I think the Swans could potentially kick a 25-15 (or better) score and rack up a three figure victory to cover the line. As long as the weather stays fine, the Swans -73.5pts look a good thing.
The Bombers have far too much class for the insipid Doggies and will win this one comfortably.
Despite the injury to Jobe Watson (which has blown his Brownlow odds from $4.10 out to $75) and doubts over Hocking, Crameri and Brent Stanton, the Bombers are as short as $1.13 in the head to head markets.
The Bulldogs only just got across the line against GWS last week and are flying under the radar somehow despite having a terrible season.
Bombers win this by 6 or 7 goals and with a line of-38.5pts to Essendon there is no value here.
Sunday afternoon and we have to wait for game 9 for the game of the round.
The Dockers looked a little shaky at times versus the Saints but have still only lost 1 of their last 9 games and are the only team on the ladder to have conceded less than 1000 points.
The weather forecast in Perth is the best in the country this weekend so it should stay fine and should be enough to see Freo home by three or so goals here.
It will be interesting to see how Mattthew Pavliuch and Aaron Sandilands go second up after being out for a while.
The older I got, the harder it was to back up straight away after playing your first game back for a while and I will be watching keenly to see if Pav and the big man struggle at all.
The Eagles stole a victory from the Crows last week and sit on the fringes of the top 8, but they have injury clouds over Daniel Kerr, Schuey, Waters and Selwood and even Nic Naitanui looked sore coming off the ground last week.
For me Freo are the best defensive side in the competition and although this one will be close, $1.60 in the head to head market might not be the best value –$1.92 available at the line of -10.5pts should also get you home.
I will be back tomorrow if there is any Late Mail around.
Roo
You can download the newest version of the Betfair App now. Head to the App Store to take Betfair with you on the go!