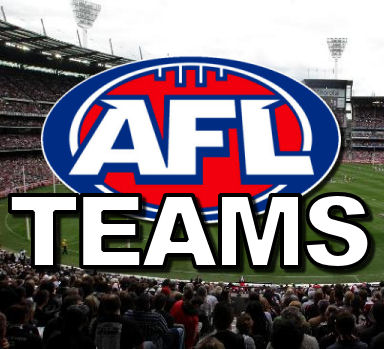 Ablett, Beams and Riewoldt headline the ins this week!
COLLINGWOOD v ADELAIDE, MCG, 7:50pm AEST, Friday July  12
COLLINGWOOD
B: Brown Maxwell Reid
HB: Young Shaw  Williams
C: Sidebottom Macaffer Ball
HF: Elliott Witts Swan
F: Beams Cloke J Thomas
FOLL: Hudson Pendlebury Blair
I/C:  Krakouer Sinclair Seedsman Dwyer
EMG: Goldsack Keeffe Kennedy
IN: Beams    OUT: Kennedy
ADELAIDE
B: Henderson Rutten Brown
HB: Smith Talia  Laird
C: van Berlo Dangerfield Vince
HF: Wright Lynch Douglas
F:  Porplyzia Jenkins Crouch
FOLL: Jacobs Sloane S Thompson
I/C: Jaensch  Mackay Otten Lyons
EMG: L Thompson Callinan Grigg
IN: Mackay Lyons     OUT: McKernan (suspended) Riley  (leg)
PORT ADELAIDE v HAWTHORN, AAMI Stadium, 1:15pm ACST,  Saturday July 13
PORT ADELAIDE
B: O'Shea Carlile Logan
HB:  Broadbent Jonas P Stewart
C: Wingard Boak Cornes
HF: Gray J Butcher  Monfries
F: Trengove Schulz Neade
FOLL: Lobbe Thomas Hartlett
I/C: Brad Ebert Pittard Wines Moore
EMG: Blee  Stevenson Hombsch
IN: Thomas J Butcher  OUT: Westhoff (suspended)  Hombsch
HAWTHORN
B: Stratton Lake Guerra
HB: Hodge  Gibson Burgoyne
C: Smith Mitchell Hill
HF: Gunston Franklin  Breust
F: Savage Roughead Rioli
FOLL: Hale Lewis  Puopolo
I/C: Whitecross Simpkin Bailey Duryea
EMG: Cheney Ceglar  Sewell
IN:Guerra    OUT: Sewell
GEELONG v MELBOURNE, Simonds Stadium, 2:10pm AEST, Saturday  July 13
GEELONG
B: Guthrie Taylor J Hunt
HB: Varcoe  Lonergan Mackie
C: T Hunt Selwood Duncan
HF:  Stokes Podsiadly Smedts
F: Caddy Hawkins Motlop
FOLL: Simpson  Kelly Bartel
I/C: Johnson Murdoch Stringer Blicavs
EMG:  Brown West Horlin-Smith
IN: Johnson Varcoe Smedts     OUT: Corey  (concussion) Enright (foot) Christensen (hamstring)
MELBOURNE
B: Dunn Garland Terlich
HB: McDonald  Frawley Clisby
C: Toumpas Trengove Grimes
HF: Blease Watts  M Jones
F: Fitzpatrick Dawes Howe
FOLL: Gawn Sylvia N Jones
I/C: Byrnes Nicholson Kent Davey
EMG: McKenzie Rodan Pedersen
IN:  Blease OUT: Rodan
RICHMOND v GOLD COAST, Cazaly Stadium, 4:40pm AEST,  Saturday July 13
RICHMOND 
B: Morris Rance Petterd
HB: Newman  Chaplin Conca
C: Grigg Cotchin Jackson
HF: A Edwards S Edwards King
F: Vickery Riewoldt Martin
FOLL: Maric Deledio Foley
I/C: Ellis White Vlastuin Arnot
EMG: McBean Lonergan Dea
IN: Maric Petterd  Arnot   OUT: Stephenson Batchelor Dea
GOLD COAST
B: McKenzie Day Tape
HB: Broughton Thompson  Murphy
C: Shaw Ablett Stanley
HF: Harbrow May A Hall
F: Brown J Hall  Russell
FOLL: Nicholls Swallow O'Meara
I/C: Prestia Brennan Bennell  Boston
EMG: Weller Sexton Wilkinson
IN: Ablett Tape J Hall    OUT: Wilkinson Gorringe (shoulder) Sumner
BRISBANE v NORTH MELBOURNE, Gabba, 7:40pm AEST, Saturday  July 13
BRISBANE
B: Golby Maguire Patfull
HB: Harwood Clarke  Staker
C: Hanley Lester Adcock
HF: Zorko Brown Rockliff
F: McGrath Merrett Bewick
FOLL: Leuenberger Redden Rich
I/C:  Green Raines Polkinghorne Mayes
EMG: Docherty Yeo Karnezis
IN:  Polkinghorne OUT: Moloney (calf)
NORTH MELBOURNE
B: Hansen Thompson Mullett
HB:  Hine Grima Atley
C: Gibson Wells Bastinac
HF: Adams Petrie Greenwood
F: Black Tarrant Harvey
FOLL: Goldstein Swallow Ziebell
I/C: McKenzie Cunnington Firrito Macmillan
EMG: Jacobs L Delaney  Garner
IN: Nil OUT: Nil
CARLTON v ST KILDA, Etihad Stadium, 7.40pm AEST, Saturday July  13
CARLTON
B: Robinson Jamison Henderson
HB: Tuohy  McInnes Gibbs
C: Yarran Judd Simpson
HF: Curnow Walker Garlett
F:  McLean Rowe Scotland
FOLL: Kreuzer Betts Cachia
I/C: Carrazzo Murphy Lucas  Armfield
EMG: Casboult Watson White
IN: Rowe Scotland OUT:  Waite (knee) Casboult
ST KILDA
B: Stanley Gwilt Dempster
HB: Ray Roberton  Jones
C: Newnes Hayes Geary
HF: Armitage Riewoldt Montagna
F:  Milne Lee Dennis-Lane
FOLL: McEvoy Dal Santo Steven
I/C: Hickey  Murdoch Saunders Milera
EMG: Siposs Ross Wright
IN: Milne  Riewoldt  OUT: Wright Saad
SYDNEY v GWS, SCG, 1:10pm AEST, Sunday July 14
GWS
B: Gilham Davis Darley
HB: Hampton Mohr Bugg
C: Whitfield Treloar Hoskin-Elliott
HF: Shiel Cameron Palmer
F: Smith  O'hAilpin Haynes
FOLL: Giles Ward Scully
I/C FROM: Corr Edwards O'Rourke  Reid Tyson Ugle Whiley
IN: Davis Darley Tyson Bugg Ugle Edwards Whiley  O'Rourke
OUT: Kennedy Adams (suspended) Tomlinson Townsend Coniglio  (hamstring)
NEW: Jonathan O'Rourke, 19, Calder U18
SYDNEY
B: Smith T Richards Rampe
HB: Malceski Grundy  McVeigh
C: Hannebery Kennedy McGlynn
HF: Everitt Tippett Parker
F: O'Keefe Pyke Bolton
FOLL: Mumford K Jack Bird
I/C FROM: Cunningham B Jack Lamb Membrey  Mitchell X Richards White
IN: White Cunningham X Richards Membrey
OUT:  Reid (quad)
NEW: Tim Membrey, 19, Murray U18
WESTERN BULLDOGS v ESSENDON, Etihad Stadium, 3:20pm AEST,  Sunday July 14
WESTERN BULLDOGS
B: Picken Roughead Morris
HB: Cooney  Talia Goodes
C: Tutt Liberatore Murphy
HF: Giansiracusa Jones Hrovat
F: Addison Grant Dahlhaus
FOLL: Minson Smith Griffen
I/C FROM: Macrae  Dickson Wallis Stevens Cross Hunter Young
IN: Cross Addison Grant Picken  Hunter Young   OUT: Cordy Stringer (soreness) Johannisen  (shoulder)
ESSENDON
B: Dempsey Fletcher Pears
HB: Baguley Hooker  Hibberd
C: Goddard Heppell Melksham
HF: Myers Hurley Stanton
F:  Merrett Carlisle Kommer
FOLL: Ryder Zaharakis Winderlich
I/C FROM:  Howlett Jetta Colyer Hardingham O'Brien Bellchambers Lovett-Murray
IN:  Lovett-Murray Jetta Hardingham O'Brien OUT: Watson (shoulder)
WEST COAST v FREMANTLE, Patersons Stadium, 2:40pm AWST,  Sunday July 14
WEST COAST
B: Schofield Glass Brown
HB: Brennan  Mackenzie Smith
C: Gaff Priddis Rosa
HF: Hutchings Kennedy Hill
F:  LeCras Cox Darling
FOLL: Naitanui Masten Dalziell
I/C FROM: Carter  Cripps Sheppard Embley Lycett Morton Wilson
IN: Smith Morton Lycett Wilson  Carter
OUT: Waters (knee) McGinnity
NEW: Adam Carter, 19, South  Fremantle (WAFL); Cale Morton, 23, Melbourne
FREMANTLE
B: Silvagni Dawson Ibbotson
HB: Spurr  Johnson Mundy
C: Mzungu Crowley Hill
HF: Fyfe Mayne C Pearce
F:  Ballantyne Pavlich Sandilands
FOLL: Clarke de Boer  Suban
I/C FROM:  D Pearce Walters Barlow Sheridan Sutcliffe Neale Taberner
IN: Silvagni  Sutcliffe Neale Taberner   OUT: McPharlin (calf)
Ins and Outs
COLLINGWOOD
In: D.Beams
Out: B.Kennedy
ADELAIDE
In: D.Mackay, J.Lyons
Out: S.McKernan (suspension), A.Riley (leg)
Port Adelaide v Hawthorn
AAMI Stadium, Saturday July 13, 1.15pm ACST
PORT ADELAIDE
In: M.Thomas, J.Butcher
Out: J.Westhoff (suspension), J.Hombsch
HAWTHORN
In: B.Guerra
Out: B.Sewell
Geelong v Melbourne
Simonds Stadium, Saturday July 13, 2.10pm AEST
GEELONG
In: S.Johnson, T.Varcoe, B.Smedts
Out: J.Corey (concussion), C.Enright (foot), A.Christensen (hamstring)
MELBOURNE
In: S.Blease
Out: D.Rodan
Richmond v Gold Coast
Cazaly's Stadium, Saturday July 13, 4.40pm ACST
RICHMOND
In: I.Maric, R.Petterd, M.Arnot
Out: O.Stephenson, J.Batchelor, M.Dea
GOLD COAST
In: G.Ablett, S.Tape, J.Hall
Out: J.Wilkinson, D.Gorringe (shoulder), T.Sumner
Carlton v St Kilda
Etihad Stadium. Saturday July 13, 7.40pm AEST
CARLTON
In: S.Rowe, H.Scotland
Out: J.Waite (knee), L.Casboult
ST KILDA
In: S.Milne, N.Riewoldt
Out: N.Wright, A.Saad
Brisbane Lions v North Melbourne
Gabba, Saturday July 13, 7.40pm AEST
BRISBANE LIONS
In: J.Polkinghorne
Out: B.Moloney (calf)
NORTH MELBOURNE
In: –
Out: –
Sydney Swans v Greater Western Sydney
SCG, Sunday July 14, 1.10pm AEST
SYDNEY SWANS
In: J.White, H.Cunningham, X.Richards, T.Membrey
Out: S.Reid (quad)
GREATER WESTERN SYDNEY
In: P.Davis, S.Darley, D.Tyson, T.Bugg, G.Ugle, S.Edwards, M.Whiley, J.O'Rourke
Out: A.Kennedy, T.Adams (suspension), A.Tomlinson, J.Townsend, S.Coniglio (hamstring)
Western Bulldogs v Essendon
Etihad Stadium, Sunday July 14, 3.20pm AEST
WESTERN BULLDOGS
In: D.Cross, D.Addison, J.Grant, L.Picken, L.Hunter, T.Young
Out: A.Cordy, J.Stringer (soreness), J.Johannisen (shoulder)
ESSENDON
In: N.Lovett-Murray, L.Jetta, K.Hardingham, N.O'Brien
Out: J.Watson (collarbone)
West Coast v Fremantle
Patersons Stadium, Sunday July 14, 4.40pm AWST
WEST COAST
In: A.Smith, C.Morton, S.Lycett, B.Wilson, A.Carter
Out: B.Waters (knee), P.McGinnity
FREMANTLE
In: A.Silvagni, C.Sutcliffe, L.Neale, M.Taberner
Out: L.McPharlin (calf)
DT TALK LIVE FROM PERTH! STARTS 7:30pm AWST (9:30pm AEST).