The Numbers – Round 15
Captain choices, injuries and Friday withdrawals – these are the things that everyone's talking about after the round that was. Getting to the business end of the year now, the decisions we make have the potential to make or break our entire season.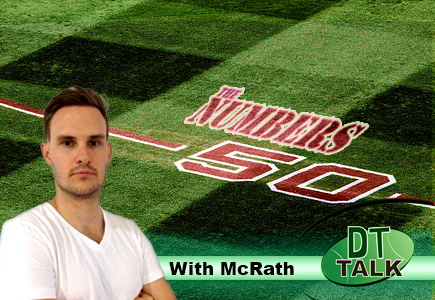 Captain choices, injuries and Friday withdrawals – these are the things that everyone's talking about after the round that was. Getting to the business end of the year now, the decisions we make have the potential to make or break our entire season. There are a multitude of numbers (and expletives) to express our anguish for this game we all profess to love – so let's get on down and write the script to this mind-splitting, action packed drama that was Round 15 of the AFL Fantasy Season.
Let's just get this one out of the way now so I can vent, then get on with an otherwise positive summation of this round…
4 – Four disposals – four! Following a well-documented tweet sent out by yours truly on Sunday, I stated my hope for Jobe Watson to back up his previous grand performances against Port Adelaide and go hell for leather in chasing a huge VC score set by Swan. Perhaps it was some sort of sick jinx implemented by the DT Gods that haunt us, or perhaps it was just ill-fated luck. Whatever the case – Watson's 16-pt subbing had many reeling. No more than I (and DT Talk's own Adzman among many others) who stupidly unluckily placed the captain's armband on the Bomber's champion. Oh, did I mention that 4 is also the number of weeks he'll be out for? I'll only say this once… FMDT. *Rant over*
18 – A far cry from the dizzying depths of form that we saw just a month ago, Brandon Ellis owners were forced to watch on as the gun Tiger cub became another victim to concussion on the weekend, forcing him out of the game v North early. Police were left to wonder as aggressive expletives were heard right across Australia for several hours on Saturday Afternoon. If only they knew why…
57 – @DamonPreo tweets to tell how Brent Stanton continues to go from strength to strength this year. Whilst scoring far more than this number on the weekend, what's impressive is that he scored the 57 points whilst on one leg! After Watson went down early, the onus was on guys like Stanton to step up and fill the void. Unfortunately, he had issues of his own – at one point going down the race. Lucky for his coaches, the champ ran back and (hobbled rather) and waddled round to crank his DT points well over the fantasy ton. Now, that's what we want from our best players.
65 – Wow, I must admit that I didn't realise Ablett was in so many teams. Admittedly, he deserves to be given his standing as the best player in AFL Fantasy at the moment. But damn! The 65% equates to a massive 152,100 coaches that were without their star midfielder on the weekend as he was mysteriously withdrawn on Friday owing to a calf injury. Expected to come straight back in to take on Richmond this Saturday, make sure you have adequate cover on the pine as you don't want to cop a zero at this important juncture of Season 2013.
103 – Matty Kreuzer is finally starting to come into his own as an AFL Player. Nailing down the #1 ruck spot for the Navy Blue, his form over the last 2 months has been fantastic. With a Past-5 average of 103, he has averaged 13 disposals and 34 hitouts a game in this time – and a safe bet in AFL Fantasy. At just $430k, he could be a great upgrade target if you've still got room. Even swinging Cox forward to make room would be smart – Kreuzer's form is right up there with the best at the moment.
118.5 – 2-Round running Fantasy average of one West Coast Eagle's ball magnet Bradd Dalziell. Following the downing of first-class midfielders Luke Shuey and Scott Selwood to injury, the ginger ninja who wears #18 has been outstanding – and one of the Eagles' best in the last two games, scoring a fantastic 113 and 124 points respectively from a total of 50 disposals, 17 marks and 10 tackles. With a  BE of -32; an uncanny likeliness of Homeland star Damian Lewis; and priced at just $318k, anyone willing to take a cash-grab and get him in for a few weeks and sneaky $100k profit? With the 44 trades, yet fast-drying pond of juicy cash-cows, it could be an astute trade to make some cash in the lead up to finals…
141 – At the risk of having another Jobe-like situation from this week, I'm making a bold prediction (maybe not really that bold) for R16. Brett Deledio will smash the Suns this week. Scoring 141 and 119 in his only two games against them, he'll head to Cazaly's Stadium yet again in a match that should see him push him back to his best form. Not appearing in the top-10 popular trades (perhaps due to his indifferent recent form), Lids is worth a shot to fill your M8/9 spot – giving you a bit of a POD in your midfield rotations. Only in 11.76% of teams, the former-number one pick is set for a day out. Am I willing to bet the captain's armband on this prediction? No. But I (like Calvin with his Captain's predictions) can only go off the numbers – and in this case, the numbers are good!
2,480 – This guy deserves it's own number, after he nearly cracked the magic 2,500 mark on the weekend. Heaters Heroes – take a bow! Cheers for pointing this out @GhostRidersDT.
216,400 – After months of wondering whether Sydney young gun Tom Mitchell would ever debut for the Swans, he has now played 5 games and is looking every bit the player his potential predicted. Staking a great claim for the rookie of the year, Mitchell is enjoying a Barlow, Zorko and Greene-esque debut year as he has now shot up $216k over just three price rises! With an average of 103 and sitting in 45% of teams, should Mitchell play out the year, he will not only rival Jaeger O'Meara for the NAB Rising Star – he will be at short odds to take out DT Talk's own AFL Fantasy Rookie of the Year. Go son!
371,212 – @GhostRidersDT shot through some rippers for #YourNumbers and none more so than this. With several massive clashes and some huge results – a new AFL record was set in Round 15, with the highest weekly crowd attendance figures eclipsed. Well done Australia and to the AFL.
Whore of the Week
It's been a long time, but he's back! Dane Swan – welcome back to the pig sty. Despite previously having an ordinary record against Carlton, Swannie played his part in the Pies' demolition of the Blues on Friday Night with a lazy 163 points to make him the highest scoring player of the round by a smooth 28 points! The pig is back – may we never doubt him again.
Team in Focus – Melbourne Demons 
The Melbourne Demons have seen just about more air time than any in recent weeks. More time than Stephen Dank, Jobe Watson and Stephen Milne combined. Their poor performances both on and off the field over the past five years (let's be honest) have led the club into a position where they've sacked their 2nd coach in nearly as many years, and are still languishing at the bottom of the table – despite an amount of high draft picks only rivalled by expansion clubs Gold Coast and GWS. Poor drafting, recruiting, list management and player development have shown their wares as we've watched the 2013 season go from bad to worse. The following table shows just how this season has played out for the MFC.
Breaking it down, there is a noticeable difference in several key areas since the sacking of Mark Neeld and addition of Neil Craig as Caretaker Coach.
Consider this: Between R1-11 the Dees scored an average of 66 points, whilst conceding a whopping 132 a game (1-10 record with an average F/A of 53%). Since the bye, they've won another game, whilst conceding just 107 points a game with an average F/A of 81%. It's too early to tell whether they'll be better in the long run with Craig – but early figures show that this Demon's outfit is playing a hungrier, less-burdened brand of footy.
They've also had a positive boost in the key areas of disposals (+49), tackles (+4) and marks (+30) – not that these categories are the deciding factors, but they certainly go a long way to indicating some key areas that depict the result.
The Round Up
Highlights – Goddard's 123 and Stanton's 126 was a nice way to close out the round, whilst Brad Ebert (135) continued his impressive form. Barlow's 111 on return from injury was outstanding, only missing 1 week from a broken face. Dean Terlich scored his third consecutive 100+ score and is looking a possible keeper at D6 for many, whilst Tommy Mitchell had another good day for 104 points against Melbourne. He was joined in that win by ROK (128) who was a great captain choice in R15. Goodes (100) mimicked Barlow, coming back from injury and posting a huge score (against GWS) – another who could be a handy D6/7 in the run home.
Lowlights – Nick Vlastuin could only manage 30 points against North and could possible see a stint in the reserves to build up some form, whilst his teammate Ellis was lucky that he had injury as his excuse for a disappointing 18. Watson's 16 was the lowest point of the round for many, especially as it came in the closing hours of the round. Overall, a better round than most despite the many negatives.
Team McRath – I was left having serious thoughts on Sunday night that I had gone and jinxed Watson after bringing him in and giving him the captain's tag straight away. I missed out on Swannie's 163 as captain – if only I'd backed him in. I had to go with bloody Jobe… I benefited from Goddard, Hanley and Terlich's great scores, however and was pushed into a semi-reasonable position that saw me only lose a few hundred spots in the rankings. Unfortunately, with competition at the top getting better as the weeks go by – I fear this drop may have cost me a chance to give the top spot a real run.
It's weeks like these that we can be thankful for having 44 trades. With several injury concerns up in the air, we can afford to move on our injured stars with no regard for the consequences. Also – having Gary and Stevie coming back this week will be a huge boost for the masses. Rejoice – and bring on Round 16.
Fantasy Gods be kind…
@McRathDT