The Friday Scramble: Round 15
A huge week of great games this week and still some concerns for our DT sides with players out but also a raft of Freo players coming back! So who should you consider and what should you be thinking about heading into Round 15? Jump on in and have a look at my thoughts for this weeks round of DT action.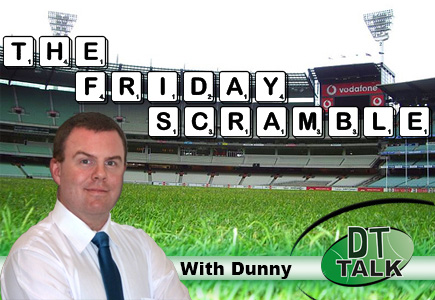 Round 14 brought everything we expected.  Terrible scores, late withdrawals and just all around carnage!  If you managed to miss most of it then very well done!  What do we have to look forward to this week?  Well probably more of the same, but in the interim just have a look at your projected scores and pretend they are your actual scores!  That's what I do to make myself feel better.
Even if the DT'ing isn't sensational, what a fantastic round of footy we have ahead of us with at least 4 or 5 cracking games to watch.  I just hope that whilst I am watching them the scores of my players will continue to head north!
It's a Freo Bonanza!
Well hasn't Uncle Ross given us a big present this week naming a stack of guys to come back in with Barlow, Mundy, Sandilands and Pav just to name a few.  Certainly very handy "ins" for any side!  However, do we trust him?  They are playing the mid afternoon game on Sunday which tells me that Late Outs are certainly on the cards.
Come on… seriously you want to trust him, this is Ross Lyon we are talking about here?  Well I guess he can't leave all of them out late.  But let's have a quick look at each of them.
Michael Barlow – He is the most recent to be on the injured list thanks to a fractured face.  The word was that if they hadn't had such a short turnaround last week that he would have played.  I don't believe this for a second.  However, I do think he is a chance to play this week.  My one concern on him would be how much that injury plays on his mind and stops him going in to the contests.  I personally hope he is ok as I held him for that one week.
David Mundy – Has missed two weeks now with a calf injury!  Calf is fast becoming the new Four Letter Word in DT!  If he does come back you can afford to wait a week to see how he goes.  He has a BE of 110 and whilst they are playing the Saints he won't cost you much more even if he does hit that number.
Aaron Sandilands – Hasn't played a game this year, not even in the twos so he will be lacking a bit of match fitness.  Simply because his price won't change you can afford to wait and see on him and that is what I would recommend.
Matthew Pavlich – The Pav struggled a bit in his first few games this year which led us to believe that he was carrying an injury and low and behold he succumbed to it in Round 3.  His Achillies simply couldn't take it anymore!  If he comes back and is in form he could save a few forward lines that are certainly struggling this year. However, he has a BE of 150 so you most certainly want to wait for at least two weeks until that 49 cycles out of his scores.
So when you are weighing things up at the selection table this week, whilst we look like we have a plethora of options, really Barlow is the only one that I would be jumping on this week.
Worth The Risk?
As we progress through the season we are now starting to get to the point where you are fairly sure of where you sit within your leagues.  Let's be honest, league wins are what most of us are about now given that there are probably only a handful of us that are still capable of taking the number one spot (I know that I certainly can't!).
So I wanted to have a quick look at the strategies you should be considering given your place on the ladder.  Now I know that most of you are in 5 leagues and that you are probably in different spots in each one, but I am sure there is always one that you care about more than others whether it be due to a side wager or bragging rights.  For me it a close call, but it probably is my work league, lets face it, I see these guys every day all year round, so the bragging rights are huge, as well as the rubbish I cop when I lose.
Top 4 – If you are sitting pretty in the top 4 then you don't need to be making risky moves.  I would be sticking with the tried and true players so that you can keep your prized double chance.
5 – 8 – Take a couple of chances, if you play it safe you aren't going to bust into the top 4 if you have the same players as everyone else.  You need to win a couple of key games.  But you don't want to go all out as it may backfire and you could find yourself dropping out of the top 8.
9-12 – Go for it!  Pick some random guys based on your match ups each week.  You need to have some key points of difference to bust into the top 8.  You need to beat a few of the guys in the top 8 to get in there, so check out who your opponent has so that you can pick a viable POD.
13-18 – Well if you are still playing (and I am sure you are) you are in a very tough league obviously.  The key here is….. DON'T COME LAST!  No one wants to be 18th so trade hard and ride some points of difference to get you some wins.  You have to take some calculated risks!
Now nothing I have said here should be earth shattering to you, I guess I wanted to remind you all that playing it safe is not going to get you back up into the 8 or top 4 if you are currently outside.
#AskDunny
This is a great question that will have many coaches scratching their heads this week.  As you know, everything that we say is always to stick by your Premiums.  However, in this case you would be justified for taking a different view here.  Cotchin has been down on form whereas Tom Mitchell has been killing  it lately and is up against Melbourne at the MCG this week.  Cotchin is playing North Melbourne at Etihad.  In this instance I actually think their scores could be very close and I think I actually give the edge to Mitchell here but purely for one week only given that it is a very favourable matchup (well they have GWS the following week so maybe two weeks).  If you are concerned about Cotchin going forward then you should be looking at trading him out for another premium that you know will get the job done.
The simple answer here is no.  In the world of constrained trades then yes you could have done that for a week here and there.  But in this unlimited trades world that we find ourselves in if you have an underperforming premium and no injury or suspension trades to do then you should be trading them out.  You can't afford to have big dollars on the bench.  The other thing to consider would also be who you are replacing them with on the field.  Is it another premium that you can trust or is it a rookie that could be hit or miss.  You simply can't take the risk on a rookie when you have a 'trade to burn' just sitting there.  You should only be considering playing premiums on the bench if you have other issues to deal with and can't trade.  As with the question above, in that case the only reason that Cotchin would be on the bench is that Mitchell has a very favourable matchup, but it isn't a tactic that I would use for more than one week (well two if they had Melb and GWS back to back).  Mitchell is still a rookie and is a risk now that other clubs have had a chance to see him, he isn't a walk up start to get 100 each and every week like you should get if you traded Cotchin for someone like Sam Mitchell or Pendles.
This really comes down to what your bank balance looks like.  If you need cash then you should be cashing in Goodes to Clisby.  As you said you don' t need him on the field which means that you are purely doing it for the cash as you will certainly lose points on that trade.  As for Ellis to Ibbotson, I think that would be a great trade.  Ellis has a high BE and his average is certainly lower than that of Ibbotson.  I think that I would probably do the Ellis to Ibbotson trade as it should get you about another 20 points based on their current averages and Ellis seems to have had only those three big scores in a row and then hasn't had too much other than that. On top of that I love Freo's run home from here.
I can't believe I am saying it, but following on from question above I think that Ibbotson is the next best.  He certainly is by averages.  However, I must say I did like him in his rookie year and had actually looked at him before this season started as I think he has a good upside.  Clearly I was right!  I think that Corey Enright is also good, but I really think he will get a rest or two before the finals so you may want to stay away.  I think that Heath Shaw will improve and should be in the top 6 by the end of the year and Michael Hibberd is another one that has really come out of the box this year and is averaging 88.7 and is still priced under $400k so should be considered.  What I notice here is that we are seeing some new names come in that we may not have previously considered.
Ok, so I am not the best person to answer this question, and I did kind of pick this question to make a shameless plug, but the best place to find the answers to all of your bubble boy / debutant questions is of course in Jeppa's Juniors on Wednesday mornings.  Just because we are now looking at fairly full teams with only a couple of rookies, doesn't mean we still shouldn't be on the lookout for what is happening.  Certainly Jeppa hasn't stopped watching the rookies for us!
At the start of the season I actually wrote that I think Broadbent was a massive breakout chance.  He had a great season last year and was building, but this year inconsistency has crept into his game and he as also found himself on the wrong side of a green vest too.  When the Power are winning he has been very good, but in the losses he has gone missing… and badly at times.  So I don't know that I would take him in my team just at the moment, but if you are looking for a very risky Point of Difference in a key matchup and Port have an easier opponent then I think that it could be worth that risk.
Wow, another tough question.  At the start of the season we would have dismissed this as the easiest decision in the world!  However, Cotchin has been struggling of late whereas O'Meara has been playing really well.  Their averages are within one point of each other and Jaeger actually has the lower BE.  My main concern with Jaeger is that I think he will be rested soon whereas Cotchin as the captain of the club won't be getting a rest any time soon.  However, with 44 trades you can work around that.  My gut feel tells me that Cotchin will improve, so in this case I think that I would trade out Jaeger as I think he will be getting a rest or a vest soon.  But this is a really tight call, you could be forgiven for going either way!
Things to Remember
Not all those Freo guys will fire… some of them will take a bit of time to get their touch back
Raines is back in for Brisbane so be careful of selecting Ablett for captain
Check back with Calvin's Captains as he now has his top 5 up after team selections.
You don't have to hold premiums like you used to with our 44 trades these days.
My team had a fair week but were certainly below par last week with only 2022 which still saw me win most of my games which was mostly by luck!  This week I hope to fair a bit better but am looking forward to having Stevie J back next week!
Keep an eye out at most of the games in Melbourne this week as I will be heading over this morning to attend 4 of them (by the time you read this I am probably already in Melbourne).  Looking forward to a massive weekend of footy and maybe the odd beer or two may be consumed!  Some really big blockbusters that will be big not only from a DT point of view but a real game point of view too!  Give me a follow on Twitter @pkd73 and I will let you know any last minute rumours I hear before lockout.