Calvin's Captains – Rd. 15
After Swan failing last week (thanks Bucks) many people will be jumping ship… straight to the safety of Ablett. But I can tell you now that it isn't that clear cut. I'm not insane or drunk (yet) so you better get in there and find out what the hell is going on in Round 15 of Calvin's Captains.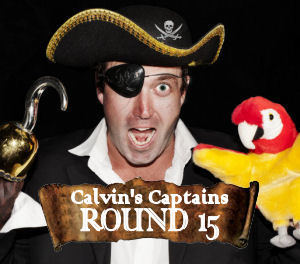 ROKing the Demons
We have been saying it all year… anyone playing Melbourne will dominate with massive scores. Last week, LIbba (144) and Griffen (136) were amongst the points in a losing game. The week before that, Montagna had 146 and prior to that Swanny (130) and Pendles (117) had their turn. Ryan O'Keefe has been lighting It up to average 125 in the last 3 games this year. He scored 116 and 119 on them in his last 2 games and should be awesome this week on the MCG where he has scored 136 and 76 from his 2 games there this year. Kieren Jack only had 86 last week which happened to be his 2nd worst score for the year. He had 126 on the Demons in 2012 and will join the party this week for sure.
"Swan Is Finished!"
Are you kidding me? Ok.. he had a 73 last week and people are telling me that Dane Swan is done! You have gone mad. Don't forget at the start of the year people were saying… 'it's a no brainer, lock in Swan all year.' But now, people are singing a different tune. Don't forget he had 3×130+ scores leading into last week but with all this said, you won't find him in my top 5 this week. Why? Blame Nathan Buckley. He can't be trusted and at the moment he is dictating Swan's scores. Based on this we need to be weary… but not jump the gun altogether and dump him off the 'Captain List' for good! He had 117 on Carlton in Rd. 2 this year and has scored 8×100+ scores straight on them but with nothing over that 117 in his last 6. As I said, he may not feature in my top picks this week because of the Swans playing Melbourne, but I'm still expecting him to be great again this week… if Bucks lets him. But finished? No chance!
Will it Raines?
Gary Ablett has been tagged by Andrew Raines in all of his 5 games since joining the Suns. In this time Ablett has only scored over 110+ once. He had 105 (27d, 9t) on them earlier this year and scored 143 and 97 against him in 2012, with scores of 106 and 84 in his debut season with the Suns. You must admit… that isn't overly convincing. Raines is one of the great taggers in the game and has certainly lowered Ablett's colours in the past. This can not be denied (avg. 107). But the thing is this… Raines has failed to make the Lions' line up in the last 2 weeks and from what I can gather it hasn't been due to an injury. Ablett has been killing it though and his score of 109 last week was his lowest score in his last 11 games this year. It is undeniable that he has been dominating! But he has been in this position in the past leading into games against Brisbane which makes this week's game no different.
So will it Raines?… Omitted or rested in the last 2… I'm not sure, but if he is named this week, I will be worried. I can tell you now, if Raines is named – Garry Ablett will not be my #1 pick this week. Big call I know, but seriously… look at the numbers, it does come with a rainy risk.
Just Quickly…
Michael Barlow Vs St Kilda @ Patersons Stadium: Will he even play? He has averaged 126 in his last 5 this year and has scored 124, 115 and 139 in his last 3 at Patersons with a 109 on the Saints last year. Jaw maybe saw… but his legs and arms will still work!
Scott Pendlebury Vs Carlton @ the MCG: Copped a tag from Carrazzo earlier in the year but still managed 108. Watch out for a tag from Curnow who held Hannebery nicely last week.
Brent Stanton Vs Port @ Etihad: He is averaging 86 in his last 3 this year but did have 103 last week. With scores of 85 and 116 on them last year gets me slightly interested as we know he can go BANG at any time. Too risky with his form at the moment but it is the kind of game under the roof where he might be big.
Kane Cornes Vs Essendon @ Etihad: Impressive again last week with 119 and posted scores of 75 and 101 on Essendon in 2012. Good… but we have better.
Jobe Watson Vs Port @ Etihad: 122 last week saw him break his run over scores under 100 in his last 3 this year. He averages 119 on Port in his last 5 games with 124 and 139 on them in 2012. Nice!
Bryce Gibbs Vs Collingwood @ the MCG: 83 in Rd. 2 against the Pies and 119 last week. Travelling nicely but we have way better and safer options.
Ryan Griffen Vs GWS @ Manuka: Griff-in form!! BIG TIME. He had 136 last week and has averaged 138 in his last 4 this year. DAM! He had 124 Vs GWS last year at Manuka and will kill them again.
Who will you have as your captain for Round 15?
Ryan O'Keefe (11%, 239 Votes)
Ryan Griffen (14%, 313 Votes)
Gary Ablett (40%, 882 Votes)
Kieren Jack (13%, 289 Votes)
Michael Barlow (10%, 217 Votes)
Someone Else (11%, 252 Votes)
Total Voters: 2,192
Loading ...