The Numbers – Round 14
The Numbers are back! After some busy times at our day job, I've bided my time and cleared my mind for a big run home in the 2013 season of AFL Fantasy.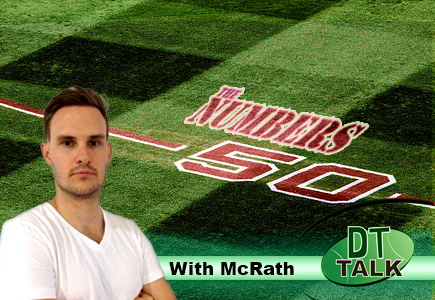 The Numbers are back! After some busy times at our day job, I've bided my time and cleared my mind for a big run home in the 2013 season of AFL Fantasy. Many teams have faltered, whilst others have charged forward. But one thing remains the same – there is a Caro-load (see: definition for sh*t-load in urban dictionary) of facts and figures to get through. So where to begin?
Let's dive right in, and get back on track with The Numbers. It's good to be back.
3 – Fantasy points scored by Dusty Martin in Q3 of Sunday's demolition of St Kilda. Tracking well at half-time, Martin once again let down his coaches with his inability to put in a four quarter performance – this clearly holding him back from edging into the premium bracket of Fantasy players. Cheers to our mate Mark Powell from the QLD States League for pointing this point out.
4 – Career-high tally of goals that the media's favourite whipping boy, Jack Watts kicked against the Bulldogs in his team's tense 3-point victory. Strong in the forward 50 and level-headed in defense, Watts took 9 marks on his way to a redemptive performance that will hopefully see him go on to have a positive end to 2013 and prove to be the beginning of his rebirth as an AFL star.
8 – Competition points that separate 8th and 9th place. With Port and the Pies sitting contently above the blue line, there are a few teams with a lot of work to do if they want to feature in the 2013 finals series. Carlton, along with West Coast, Adelaide and North will all need to start taking home the 4 points if they're any chance, whilst the pressure is now on for those up top to finish off their hard work and not taper off ala Essendon in 2012.
11 – Weeks that 'Gazza' has now tonned up in a row. Undisputed the best fantasy player in all forms right now, the little master has hit the hundred mark in every game of 2013 bar round 2, where he managed only 84 against arguably the toughest team to score against (fantasy-wise) in Sydney. If this guy isn't in the top 3 for the Brownlow, something is seriously wrong.
23 – Average disposals that teenage sensations Jaeger O'Meara has in his debut year after 12 games. Tallying a career-high 32 touches this weekend again Adelaide, the #1 on his back may well be a true reflection of his standing in the game once his career comes to a close – that's certainly the opinion of many at the moment. High praise after only 12 games, but his performance on the field in the first half of 2013 surely has him at unassailable odds to win the NAB Rising Star. Can anyone honestly say different?
28 – Free kicks called during the Friday Night game between the Swans and Blues. Why is this worth noting? Well, for those that didn't catch the game – at one point it appeared the umps were afraid of blowing the whistle (as if they were going to catch something from Kym Duthie by pressing their lips to the thing) by going almost a full quarter without blowing a single free Carlton's way (although, the lack of decisions did go both ways so by no way do I infer that this decided the result). Although 28 is quite standard in a regular game, due to the ferocity and speed the game was played at (combined with the wet weather) – the high amount of questionable contact would have likely seen almost double the calls in different conditions.
29 – Times that roaring boos were hurled at reigning Brownlow Medal winner Jobe Watson during Thursday Night's clash with West Coast. In an emotional, come from behind victory – Jobe was simply outstanding as his on-field heroics were matched by his off-field integrity. Whilst he was always going to be ribbed about the occurrences by the opposition, I for one thought it to be a bit over the top and a bit disrespectful to a man – who not long ago was being hailed as a hero and legend. People can say what they like – but let's let the investigation run its course before damning him to eternity. Eagles fans who were a part of the 'boo-nation' would've had a sour taste in their mouth after Watson's 29 touches and 122 Fantasy points helped his side overrun the gallant WA-side by 7 points in the last quarter. Lesson? Never boo a champion – it only makes him better and more determined to succeed.
58 – Minutes it took for Carlton to score a goal against Sydney in Friday's game. Narrowly (and controversially) being given a fortuitous deliberate rush behind call against Nick Malceski late in the second, Josh Bootsma sunk the 6-pointer from in front to help the Blues avoid what would've been a highly embarrassing goalless half of footy (what would've been the first such occurrence at the SCG).
82 – Projected score from R14 of Tiger cub Nick Vlastuin. Unfortunately if you were one of those who had held him in the hope he would play on Sunday, he would've let you down as he withdrew after being named – adding his name to a growing list of Fantasy stars to screw us over in Season 2013. If you've still got the kid – Take his $210,000 price rise and run! Mitch Clisby looks the best downgrade or perhaps you can turn him into a premium at this point of the year.
94 – Continuing with the wet-weather theme of this week (perhaps because it's plain old miserable up here on the Gold Coast at the moment), there were too many fumbles to count on Friday Night, particularly in the second quarter. In a game that saw arguably the most challenging playing conditions of 2013, even the most stable of hands struggled to take the simplest of chest marks as the field looked less like a footy ground and more like the set of 'Wipeout'.
Whore of the Week
Dion Prestia, come on down! Where did this kid come from? After having an auspicious debut year at an average of 63 pts from 17 games, Prestia followed up with a further 14 games at nearly 75 points a game in 2012. Now having one of the breakout seasons, the young Gold Coast Suns, in the mold of a Leigh Montagna-type – Prestia has now comfortably cleared the 100-pt average to sit pretty at 102.4 from his 12 games in 2013. His best effort came in Round 14 as he demolished the Crows in the middle to tally 42d, 7m, 4t and 2.1 to give him an incredible 157 points. Another great example of the '3rd-year-breakout' – Prestia is clearly benefiting from running beside legendary teammate Gary Jnr. Keep it up Presti and contrats!
Who am I?
Have played less than 30 games and in my second year of AFL footy, I hail from the Eastern Ranges of Victoria and am the ripe old age of 21. After having an ordinary fantasy average in 2012, I struggled to stamp my authority in the first month of 2013, not really showing any fantasy potential until Round 7. I have now averaged 101.4 over my last 5 games and fell just short of 150 points in a losing side on the weekend. Who am I?
Unique of the Week
Brad Ebert has stayed under the radar once again this year as he battled through some early-mid season struggles to now boast an outstanding average of 118.5 over his past 4 matches, with his lowest being 105. His past month has pushed his average back over 100 and with a sub-$500k price tag and coming off a huge 137 against the Pies, he looms as a potential match-winner for your team in the run home. He's also a huge point of different, only owned by 2.21% of teams, too – so jump on.
The Round-Up
Highlights – I can't imagine there being many with Prestia, but some of the popular players in Gibbs, Watson, Minson and Griffen had fantastic games for their coaches, whilst the West Coach boys stood up – Cox and JJK were the best of the lot. Also great to see young Andy Gaff string some form together, too.
Lowlights – Swanny's 73 couldn't have come at a worse time, with many (myself included) installing him as captain being burned in the process while his team spudded it up against and resurgent Port Adelaide. Vlastuin and Goodes' omissions through injury hurt some, but luckily we can move them on thanks to the 44 trades. Duffield's injury will be a blow to more than a few, and Rockliff's forward-line furor will reach fever pitch soon if Vossy continues to mess with our heads by playing him forward.
Team McRath – My campaign is back on track after a solid weekly ranking and score of 2,193 pushed me well and truly back into the top-1000 and on track for my goal of a top-100 finish. Gibbs (119) and Stokes (95) were great inclusions, whilst Terlich (112) had his first back-to-back set of 100's to pick up the slack in the absence of good form from several highly-rated (and high priced) premiums. I'm in 5 minds about what to do this week trade-wise as I'd like to bring in Clisby for cash-flow but also want to bring in Watson, but means I'll have to say goodbye to Barlow, Deledio or Priddis in the process. Tough week ahead at the selection table for the Wrath.
Cheers to all for reading, and for the continued support. Let the world know #YourNumbers below in the comments or hit me up via Twitter @McRathDT and I'll re-tweet the best ones.
Onwards and Upwards.