The Friday Scramble: Round 14 MBR??
The Bye rounds are behind us, but that doesn't mean the scrambling is too! The carnage that we have encountered this week is almost unprecedented and it has played havoc with nearly every single team that I know about. Everyone has been affected by one of the key outs this week! Let's see if I can offer you some assistance in surviving this round.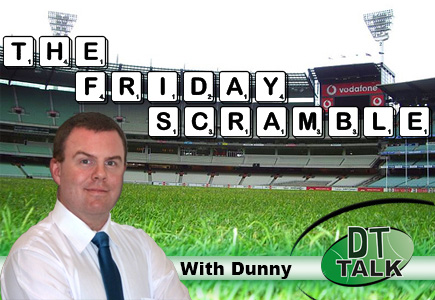 Well I joked in Round 10 that we had so much carnage that it was a Multi Bye Round.  Well what do you know we have the same problem again here in Round 14!  How's the Carnage!  Wasn't it nice on Sunday night to be able to put all our gun players back on the field!  Our projected scores were nice and high (as if we were ever going to score that high…the DT gods wouldn't let us!).
Then it happened!  We knew some of it was coming but we put our heads in the sand and pretended it wouldn't happen.  We had Scooter, Vlastuin, Goodes, Goodes and Birch all injured on Friday and Saturday.  We thought this was pretty bad… then Sunday comes along and spanks us with Barlow getting a smack in the mouth and Stevie J giving out a bump!  Seriously!  Can this get worse?  Well yes. We now know that Joe Daniher wasn't picked, Luke Shuey was a late out last night and that there will still be more carnage to come with final teams tonight!
IMPORTANT: Trades STICK today.  No Reverse Trades available today!
So the big question that we have is…. what the hell do we do?
Who Do I Trade First?
Well I must say that the gold that was delivered on Tuesday night by Tbetta is what I was going to do too.  That is to trade in order of their issue and length of time out.  I doubt that many top teams have escaped all the carnage and hence will have to make two injury related trades this week.
One option of course is that you could just put all your injured guys on the bench and trust in those bench guys to get you some points.  However, in this world of 44 trades you simply can't afford to have all that cash on the bench getting you no points!  And besides a couple of them are now long term outs that even in the old DT world we wouldn't put up with.
So the first trades I would suggest this week involve our two most injured guys and that is Scooter and Birch.  Both these guys are now listed as out for 6-8 weeks so there is simply no point whatsoever in holding them.  In my situation this is exactly what I will be doing.
When considering Stevie J I would only be trading him if I had no injuries to worry about.  The risk that you have with an injured player being out longer than expected is one that you simply don't have with a suspended one.  We all know that without doubt that Stevie will be back after 2 weeks.  So what this means is that you should be considering trading out the two guys I mentioned above as well as  Goodes and Goodes before you would trade out Stevie.
Barlow is the interesting one.  We all knew it was going to be a struggle for him to get up after having minor surgery.  So now that he is out, if you have other issues I would be holding Barlow for the moment.
Our one shining light from the list above is Vlastuin.  He has been named this week when we all thought he would be out.  However, I would be very careful with him.  I can still see him being a late out and perhaps they have named him to give him every opportunity to come up for the game.  Even if he does play I would be concerned with the amount of run that he might provide and hence he may not score too well.
So in summary, my thoughts are that you should trade your long term injuries first, then your short term injuries and then your suspensions.  If there is anyone with luxury trades this week you are very lucky indeed!
My Team Is Complete!  Yay!
Really?  I would challenge anyone that thinks that to not trade except for LTI's.  I hear a lot of this.  My team may have a lot of premo players in it, however it is far from complete.  For me there are always improvements that can be made and tweaks you can make to your team.  This is particularly evident in our 44 trade environment that we have this year.  Previously we would have to keep your underperforming premo guys, but now you can tweak your premo players for their opponents (fraught with danger) or for a dip in form.  So I think that you should always be looking for that competitive edge.  Even with your leagues you could trade in a point of difference to get that crucial win to push you higher on the ladder.
#AskDunny
Tough break getting those two guys in last week and having them go down this week!  However, they are quality players.  I like your trade there and trading out Scooter is certainly a priority.  IF you have no other issues then as I said above you should trade Barlow, but I think he should be back next week so if you have another guy that will be out for longer then look at trading them instead.  As for the guys you are looking to bring in.  Pendles and Boyd should be numbers one and two on your list.  I know a few weeks ago on the Footy Rhino podcast and in this column I said I wouldn't pick up Boyd because of the old man injuries, well I have changed my mind a bit now and he has shown that he is well and truly over those injuries.
As I said above sides won't be complete but they will have a full premo outfit in them.  I certainly wouldn't be trading out Franklin.  What you want to ultimately do if you can (and I can't say I have seen it done) is to have the top 8 forwards in your forwardline with numbers 7 and 8 on your bench.  So what this means is why would you keep a guy like Staker Neade or Macaffer instead of keeping Buddy.  So most certainly you should be trying to upgrade those weaker players on your bench and then if that means you move one of your best 6 to the bench then that is a great thing!
Interesting one this.  Ibbotson has been on a tear lately and is scoring really well.  Heater has been ok throughout the year and is building himself a very solid average.  I guess the question is who is going to have the better finish to the season and who is least likely to screw up and get themselves suspended for something stupid!  Well we all know the answer to part B, Ibbo has Heater covered very comfortably there.  However, as to the average.  I think that I will go with Shaw here.  I know that Freo have the easier run home, however, I just simply don't trust Ross Lyon and his backlines!  If I were a risk taker, then Ibbotson but if I want the tried and true player then Shaw it is.
Another Heater question.  This time we are comparing to Houli.  I know that Bachar has been looked at by a number of good coaches throughout the league this year and many thought he would have a break out season.  If you are looking for consistency I think that Houli wins this argument.  Looking at Houli he has an average of 85 and after two low scores to start the season he has been ok.  He sticks between 80 and 110 mostly which is a reasonable spread.  Heater on the other hand has an average of 89 and ranges between 61 (against Brisbane) and a high of 107 v Saints and Melbourne.
Once again another good question.  Clearly with the 44 trades we don't have to put up with rubbish from our premiums!  However, once again if you have other issues to deal with you should be sticking with your premiums and trading those guys that aren't playing (kind of common sense I guess).  Of the two guys that you mention, I would certainly get rid of Burgoyne first as I think he is the least likely to bounce back.  His form early this year has certainly left him and I can't see it returning.  As for Cotchin I think that he is likely to bounce back so I would consider holding him and then using the trade in other parts of the field.  One thing to remember about the price changes for these sorts of guys.  IF they are a player that you are planning to hold until end of the season then it doesn't matter if they are worth $700k or $50 you aren't going to be trading them so their value means absolutely nothing.  Their value is only important if they get an LTI and you have to trade them out.  I wouldn't be planning my team thinking I will have to trade out a guy like Ablett or Swan so I don't care what their values do.
Things To Remember
As I said above Trades Aren't Reversible Today! – Treat today like old school DT and only trade just before lockout.
Just because it isn't a bye round it doesn't mean donuts won't appear!
Fans will find any reason to boo a star from the other team… get over it BT!
Really be careful if you are using the captains loophole and think it through.
My team had a good week last week, I actually had 22 playing and that meant I could pull together a good score of 1,935 which lifted my ranking up to 2,831 which is far from good but it is certainly a hell of a lot better than what it was!  I know everyone has been talking about pre and post bye rankings.  I was 4,832 after round 10 so I picked up 2,001 places over the bye period.
From here on out it is full bore to the final siren.  Make each of your trades one that improves your team in some way and don't leave anything in the tank!  Only a few more games until we get to the finals and we want to have our teams in tip top form when we get to round 20 and the first week of the finals.  It is now that instead of considering byes when you do your trades you should be considering their run home and particularly their opponents in the last 4 weeks.
I hope your teams all did well last night and as such you have set a good platform for the rest of the weekend!
Late Breaking Question….
This is an excellent question and one that I have certainly had to consider in the past!  Carnage will do that to you!!!