Leftys In-Vestments – Round 14
Here are Lefty's Green Vest selections for this week. Who will be in the dreaded green? The selections will be updated after the teams are announced this evening. Who do you think will cop the Green Vest this round?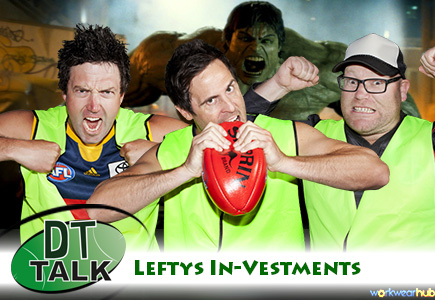 Welcome to Lefty's In-Vestments for round 14, where once again I will have a crack at picking the dreaded green vests for this weeks games. I was pretty happy with my effort last week as I picked  5 of the green vesters with my first picks and  1 with my second pick (6/12). Hrovat owners would have been happy with his dodge of the green…and then filthy at both his output and his adornment of the red vest.
There were 5 late changes on the weekend, which from memory was one of the quietest this year. Bloody Puopolo being a late out and Ellis coming into the side as the sub cost me one of my picks – the Hawks had already put the team sheets in with Simpkin as starting sub – then again Crozier was a late in so I can't really complain?
Due to tonight's game I will post this in two parts, so part 1 will only have the Eagles and Bombers vest picks and then tonight when the rest of the team line ups are announced I will look at them and the previous green vests for each team, and try to work out the most likely starting sub candidates.
Except Gia. He will be the sub. Even if Bulldogs don't name him in the side I am going to pick him as the sub. Daniel Green-Vest- A Curser. (ok so its only vaguely close but you get the idea)
So here we go – Round 14
Adelaide Crows
2013  Subs – Martin, Porplyzia, Vince, Porplyzia, Laird, Wright, Lyons, Porplyzia, Porplyzia,Martin, Porplyzia, Henderson
Lefty's #1 Sub – Crouch
Lefty's #2 Sub – Porplyzia
Brisbane Lions
2013 Subs – Beams, Karnezis, Polkinghorne, Paparone, Docherty, Green, Black, Mayes, Green, Docherty, Docherty, Harwood
Lefty's #1 Sub –Docherty
Lefty's #2 Sub – Mayes
Carlton Blues
2013  Subs – Joseph, McLean, Buckley, Joseph, Betts, Cachia, Cachia, Menzel, Bootsma, Bell, Yarran, Lucas
Lefty's #1 Sub – Yarran
Lefty's #2 Sub – Lucas
Collingwood Magpies
2013  Subs – Dwyer, Seedsman, Fasolo, D. Thomas, Goldsack, Kennedy, Mooney, Kennedy, Kennedy, Didak, Oxley, Oxley
Lefty's #1 Sub – Dwyer
Lefty's #2 Sub – Kennedy
Essendon Bombers
2013  Subs – Zaharakis, Kommer, Colyer, Winderlich, Myers, Hocking, Lovett-Murray, Howlett, Melksham, Hams , Hams, Merret
Lefty's #1 Sub – Melksham
Lefty's #2 Sub – Myers
Fremantle Dockers
2013  Subs – Sutcliffe, Sutcliffe, Sutcliffe, Neale, Suban, Sutcliffe, Crozier, Mzungu, Suban, Sutcliffe, Crozier, Crozier
Lefty's #1 Sub – Sheridan
Lefty's #2 Sub – Crozier
Geelong Cats
2013  Subs – Horlin-Smith, Stokes, Caddy, Caddy, Hunt, Horlin-Smith, Schroder, Hunt, Hunt, Christensen, Duncan, Stringer
Lefty's #1 Sub – Caddy
Lefty's #2 Sub – Stringer
Gold Coast Suns
2013 Subs – Matera, Brennan, Russell, Russell, Hutchins, Hall, Matera, Russell, Russell, Horsley, Hutchins, Hutchins
Lefty's #1 Sub – Boston
Lefty's #2 Sub – Weller
GWS Giants
2013 Subs – Adams, Hoskin-Elliot, Reid, Miles, Bugg, Williams, Williams, Shiel, Hampton, Townsend, Whitfield, Williams
Lefty's #1 Sub – Williams
Lefty's #2 Sub – Shiel
Hawthorn Hawks
2013 Subs – Anderson, Savage, Gunston, Savage, Savage, Simpkin, Simpkin, Puopolo, Duryea, Cheney, Simpkin, Ellis
Lefty's #1 Sub – Simpkin
Lefty's #2 Sub – Savage
Melbourne Demons
2013 Subs – Blease, Rodan, Toumpas, Davey, Davey, Kent, Davey, Bail, Bail, Tapscott, Tapscott, Nicholson
Lefty's #1 Sub – Byrnes
Lefty's #2 Sub – Nicholson
North Melbourne Roos
2013 Subs – Anthony, Jacobs, Wright, Anthony, Anthony, Hine, Wells, Gibson, Wright, Hine, Sierakowski, McKenzie,
Lefty's #1 Sub – McKenzie
Lefty's #2 Sub – Garner
Port Adelaide Power
2013 Subs – Mitchell, Mitchell, Mitchell, Gray, Gray, Stewart, Mitchell , Mitchell, Broadbent, Mitchell, Gray, Pittard
Lefty's #1 Sub – Gray
Lefty's #2 Sub – Pittard
Richmond Tigers
Last  Subs – Nahas, Ellis, Ellis, Ellis, Nahas, White, Foley, White, White, Lonergan, White, White
Lefty's #1 Sub – White
Lefty's #2 Sub – Conca
Saint Kilda Saints
2013 Subs -Dennis-Lane, Schneider, Ray, Ross, Saunders, Murdoch, Webster, Siposs, Webster, Webster, Hutchins, Saunders, Webster
Lefty's #1 Sub – Ross
Lefty's #2 Sub – Webster
Sydney Swans
2013 Subs – Armstrong, Bird, Bird, Morton, Jetta, Lamb, Lamb, Bird, Lamb, Mitchell , B Jack, Lamb
Lefty's #1 Sub – B Jack
Lefty's #2 Sub – Lamb
West Coast Eagles
2013 Subs – Embley, Dalziell, Cripps, Dalziell, Cripps, Naitanui, Dalziell, Sheppard, Hutchings, Embley, Cripps, Dalziell
Lefty's #1 Sub – Tunbridge
Lefty's #2 Sub – Sheppard
Western Bulldogs
2013 Subs – Smith, Stevens, Smith, Stringer, Macrae, Wallis, Cross, Smith,Gia, Gia, Gia, Gia
Lefty's #1 Sub – Gia
Lefty's #2 Sub – Gia (has to be the sub so I am gonna claim him for both picks – my "captain" this week haha)
So there you have it – my views on the likely vests for round 14 and a list of who has had the vests so far this year
My number one vest pick for the weekend – Gia (only time this year I will pick him here ok?)
Good luck – and feel free to tweet me when I get it right/wrong over the weekend