Calvin's Captains – Rd. 14
We have Swanny and Ablett back… but we also have a LOOP HOLE! This week we have many options for a VC and more importantly, 3 possible Captains who could score 140+. It's very tough going in there this week so you better check out what Calvin has for you ahead of Rd. 14.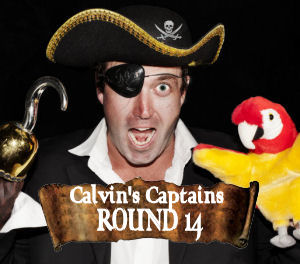 This week we have the luxury of a LOOP HOLE. When the Thursday game starts, all West Coast and Essendon players will be locked in (You can not reverse trades after this time either).
EXPLANATION:  Simply… put your VC on someone playing in this game, such as Stanton/Cox/Watson/Priddis and if you like their score, place your 'C' on a player NOT playing (maybe Barlow/Currie). This will score you a 0 and the score from the VC is doubled and stays. Make sure you have also selected an Emergency in this position so their score replaces the 0 as well.  If you don't like the score from your VC, then place your 'C' on another one of your superstars as you normally would. Easy hey!
Let's check out your options from the guys who are playing in this LOOP HOLE game.
Loop De Loop Options
Personally, I'm looking at someone who has the ability to put my Captain option to shame. Someone to go BOOMSHAKALACKA and to make my decision to "Loop it" a no brainer. The score I'm looking for… is something around the 125 mark! We have a few that might do that. Goddard had 153 on the Suns last time he played this year but only had 87 on the Eagles in 2012. Heppell has been flying with back2back scores of 122 but he too struggled in 2012 against West Coast with 61. Watson scored well on them in 2012 (114pts) but hasn't cracked the 100+ mark in his last 3 games this year. Stanton could be big. He had 140 on the Eagles last year and has posted a solid 109 at Patersons already this year. He's had 3×140+ scores this year and can go BANG at anytime. Ummmm who else do we have? Priddis has only one score over 120 this year but is mega consistent with 6 score between 90-105. His team mate Dean Cox might be worth a thought though as he had 123 and 102 in his last 2 games this year and even had a nice 131 on the Bombers last year.
Top 5 VC Options
#1 – Brent Stanton
#2 – Brendan Goddard
#3 – Dean Cox
#4 – Dyson Heppell
#5 – Jobe Watson
Just Quickly…
Jimmy Bartel Vs Fremantle– Had 115 last week and carries a lowest score of only 98 on the Dockers in his last 8 games against them. He scored 111 and 110 on them last year and is a real smokie this week.
Ryan Griffen Vs Melbourne – The man is in hot form with scores of 133, 115 and 166 in his last 3 this year. He only had 66 on Melbourne last year but did have 115 and 115 before that. Even though he's more of a SuperCoach scorer… his form is too hot.
Leigh Montagna Vs Richmond – Killed Melbourne last week for a huge 146 to average 116 in his last 3 this year (121 in his last 5). He had 111 on Richmond when these teams met in Rd. 2 of this year.
Andrew Swallow Vs GWS – Scored 73 and 94 on these guys last year but did have 129 last week. He has only cracked the 120+ mark 3 times this year and when you compare that to Gaz (7) and Swanny (6) it doesn't quite cut it.
Sam Mitchell Vs Brisbane – Had 113 on Brisbane last year and scored 119, 105 and 132 on them before that. They are one of his favourites to score DT points on with 6×100+ scores in his last 7 games against them.
Kieren Jack Vs Carlton – Has a lowest score of just 99… in his last 9 games this year. Plays at the SCG this week where he has averaged 113 there in 2013 from 5 games. Tempting.
Scott Pendlebury Vs Port – Missed the tag of Cornes last year when they met as he went to Harry O who stood on the wing. Pendle might get the tag this time around though. He scored 124 that day and posted scores of 120 and 121 before that. With scores of 133 and 117 in his last 2 games this year, the great man will be good again.
Yes Sir, Yes Sir… Three Bags Full
These guys could all have a full bag of points this week and I'm talking around the 140+ mark.
Matthew Boyd plays Melbourne.
Do I need to say anymore? Montagna had 146 on them last week and most all players dominate them. But… that wasn't the case in Boyd's last 3 games against them as he has failed to crack the ton on each of these occasions. Amazing. I will turn my back on 'history' this week as I expect him to continue his hot form that saw him have 152pts last week.
Dane Swan has scored 137, 130 and 130 in his last 3 games this year and is the king pig of DT. He averages a massive 144 on Port in his last 5 games against them with scores of 134 (36d on Cassisi) last year and 155 and 137 in 2011. He scored that 155 at AAMI where he plays this week and even if it's wet, he's still like a pig in mud! OINK!
Gary Ablett had 136 in his last game this year and is still carrying a lowest score of 119 in his last 6. He had 110 and 136 on the Crows last year and even did better in 2011 when he had 142 and 156 against them. The last time the Crows played… the Sydney midfielders killed them. O'Keefe (145), Mitchell (144), Hannebery (136) and Jack (130) all had a day out which makes you wonder what Gaz will do to them at Metricon Stadium on Saturday afternoon. Will be big!
Swan averages 132 in his last 3 this year and averages 142 in his last 3 Vs Port
Ablett averages 132 in his last 3 this year and averages 129 in his last 3 Vs Crows
As you can see… splitting Swan and Gazza was near impossible this week (again). The deciding factor was how these guys came back after they had time off and missed a game due to an injury/bye/rest. Since 2011, Swan has averaged 127 when returning. Ablett just 101. But seriously it's a flip of the coin. Both have form and history in their favour and both (along with Boyd) should be massive this week.
All the best and hook me up on Twitter anytime @CalvinDT
Who will you have as your captain for Round 14?
Dane Swan (42%, 1,089 Votes)
Gary Ablett (45%, 1,169 Votes)
Matthew Boyd (7%, 170 Votes)
Scott Pendlebury (1%, 15 Votes)
Ryan Griffen (2%, 55 Votes)
Leigh Montagna (1%, 30 Votes)
Someone Else (2%, 52 Votes)
Total Voters: 2,579
Loading ...