The Friday Scramble: Round 13 MBR3
So we have reached the week that we were all dreading… R 13 when we are without Collingwood, Carlton, Essendon, Adelaide, Gold Coast and GWS players this week.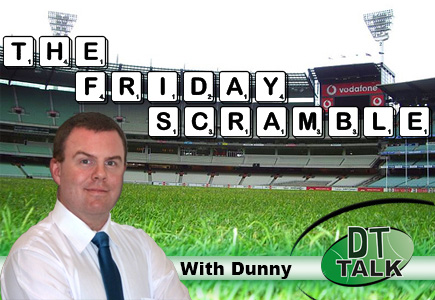 Well thank god there is only one more of these Multi Bye Rounds left!  Bloody hell I hate them!  So much random luck involved and it is very annoying when you get a late out or a poor score… or worse… a vesting!
So we have reached the week that we were all dreading… R 13 when we are without Collingwood, Carlton, Essendon, Adelaide, Gold Coast and GWS players this week.  This is going to hurt us with Ablett, Swan, Pendles,Watson, Dangerfield, Gibbs, Goddard…bloody hell the list goes on and on and on!  How the hell are we going to field a team this week!
Trading this Week
Well this week we now have another 6 teams that we can choose from for our upgrades.  This opens up some guys like Cox, Nic Nat, Kieren Jack, JPK, Andrew Swallow and NVoldt.  So there are plenty of good options for you to choose from when you are upgrading.
The main questions that I have been asked this week have been involving most of these guys above!  But more on that below in the Ask Dunny section.
The key this week is still the same as last week which is to get as many active players on the field as you can.  But there are a number of ways that you can go about it.
Premo Swap
Option A is that you can sideswap.  I know of a few people that are thinking of actually trading out Swanny and Ablett so that they can then get the best mids and trade these guys back in next week.  One thing I find hard in those circumstances is to get rid of the guys that I brought in!  The key piece of advice is that I can give here is to watch the cash!  If you are planning to do this, I would be looking to bring in a guy that has a low and very achievable break even so that you still have enough cash to get Gaz and Swanny back in.
Downgrades
Once again you might get lured in by the thought of Hrovat being named.  Also you have everyone's favourite bloke Tom Mitchell who s the most traded in guy this week.  If you don't already have him then yes, you should be getting him in.  He will skyrocket this week.  But I won't go on to many of these guys because you should be having a looking at Jeppa's Juniors article on Wednesday.
Upgrades
As I mentioned above, there are a stack of guys that we can upgrade to.  That is obviously the way we want to go so that we can work our way towards our fully premium team.  One issue that you might come up against this week is that the break evens.  If it is a guy that you want to keep for the rest of the year then the BE isn't the main thing that you should be looking at, you should be looking more closely at the averages and their consistency.
#AskDunny
Lots of questions this week so lets have a look and see if I can help you!
I had to check with AJ and the real question here is about taking two guys playing this week or one that is and one that is going to set your team up for the year.  I like Roughead and Harvey.  My main concern is about Harvey's body, he is getting older, but his 6 week break at the start of the season will certainly assist him in staying healthy.  I do however, like the combination of Heater and Duffield.  That combination could set you up in the backline for the rest of the season.  Obviously the amount of R13 players that you have will dominate your decision.  As for point scoring, I can see Heater and Duffman being in the top 10 scoring backs at the end of the year.  As for Rough and Harvey, I think Rough is likely to be in the top scoring Forwards, but I can't see Harvey being up there.
Great question Josh.  Clearly you are making the right decision bringing Mitchell in this week.  Being in Adelaide I get to hear a bit and see a bit of Crouch.  I think that the rigours of the season and the form of the Crows at the moment are the reason that he is not getting a game.  I think he will have a couple of games in the SANFL to get a bit of touch back and then should be back.  Viney has been out with a  foot injury and is currently showing on the injury list as being 3 weeks away.  Given the way he was going before the injury and the way Melbourne are going I think that he won't be a massive scorer when he comes back so I would trade out Viney.
I have owned Scooter from the start thanks to the thoughts of our man Tbetta.  Scooter does have the ability to go big and given his tagging role he is always around the ball and likes a tackle with 344 points from tackles so far this year and averages 108.64.  Kieren Jack is certainly popular and has been a ball magnet this year.  He is averaging 107.27 for the year and is playing in a Swans team that is on the rise.  Who is going to score the most for the rest of the year?  I think that Scooter is going to be your man mainly because of the fact he has the propensity to go big and I am concerned about JPK taking points off of Jack.
Many of the questions I got this week involved Jack and Scooter and I have discussed them above.  So I will look at the other guys.  I am a massive wrap for Barlow who is going like a steam train this year and Freo also have a pretty great run home from here.  I don't mind Lids, he has had a bit of a slower start to the year than many expected but he is starting to find his way and had a great game against the Crows last week.  Boydy still worries me.  He has had two injuries already this year and as has been well documented during the year the calf is an old man injury.  I love Boydy and wanted to have him in my team but that second injury was just enough to put me off.  If I had to rank these 5 guys I would probably go Barlow, Scooter, Jack, Lids then Boyd.
That would be a very Swan heavy midfield so you would be hanging on every Swans game.  Let me say though, I do like all 3 of those guys.  If you are going for a league win then these guys have a fairly tough run in the last 4 weeks of the season facing Collingwood, St Kilda, Geelong and Hawthorn.  So if you think that they can survive that then I think you are far from Crazy for looking at those guys all being in your team.
Of course you are allowed to ask!  If I had to pick one of these guys right now I think it would be Ibbotson.  Why do you ask?  Well he seems to be playing very freely in a team that has a great run and is playing very well.  He was a good player in his first season and is showing every sign that he is a great player still.  I like Hanley but the fact that he has been tagged of late does worry me a touch and the concern that I have with Enright is that he plays for Geelong who like to Manage players and his age means that I can see him being managed before the finals come around.
Another great question.  Whilst we have rookies in the midfield that are scoring well like Mitchell and O'Meara then we can continue to trust these guys on the field.  The strength of rookies in the backline are not too shabby either with Vlastuin and Goodes so you could potentially leave them on field.  The forward line is a whole different ball game and I think that this is the line that I would plan to upgrade first.  After that I think that Goodes would be the next one I get rid of and then I would like to make Vlastuin my D7.  So based on that I think that the lines I would do first are Forwards, Backs then Mids.  I am assuming that your rucks are set and forget.
Things To Remember
Bye's are nearly over but there are still 10 rounds to go – So don't ruin your team just for an extra 50 points this week.  A good choice now is going to earn you more over the rest of the year.
There are still players from 6 teams you can pick up next week after their bye – Just because they have the last bye don't forget that you can upgrade to them too.
Captain choices this week are going to be tough as we don't have our two perma captains!  Check out what Calvin had to say on Wednesday.
Warwick Capper is a funny bloke – Check out his work on Open Mike from Monday, it was quite funny.
Selection panel can do strange things – Well done to those that held Jasper Pittard who comes straight back into the team after his injury!  I was lucky enough to hold him because each other week I have had bigger issues to deal with!
Don't complain about 3 MBR's, the AFL may inflict 6 on us next year! – Hopefully not, but who knows what they will do!
How did I go last week?  Well let's say sh*thouse doesn't quite cover it!  1819 was clearly not good enough and I was also knocked out of the Eliminator, bloody annoying.  I hope your team did much better and I am hoping for a much better result this week.  Currently I have 21 players and one emergency too so hopefully I will do much better.
As always keep your ears and eyes open today for any late mail, twitter is often the best place to find it and after you have followed the DTTalk boys, give me a follow @pkd73.  Good luck to you all and may all our teams finally have a decent score again next week!
Just time for one late question…..
My advice here… don't go looking for it!  It will be bloody tempting to use it!!  Just back away from the computer……..