Jeppa's Juniors – Round 12
Another bye round is over but the worst of them is yet to come. The decisions you make this week will shape your season so see what Jeppa has to say about the latest crop of 'juniors' coming through in the lead up to 'Carnage Round'.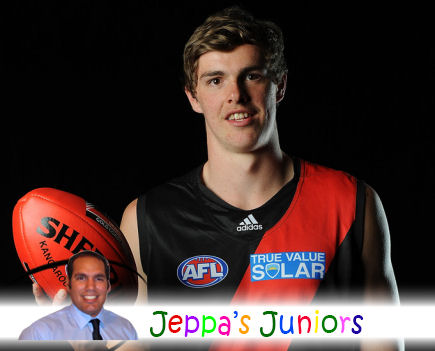 Two weeks down, one to go. I don't know about you but these bye rounds are taking their toll on my team, my overall ranking and my mojo.
The story of the round has to be the lack of new rookies coming through. Of the top 25 rookies drafted last year, 17 have already made their debuts and only three of these remain on the bubble. With very few rooks around it means coaches need to get creative with their trades. It's times like these where we need to sacrifice a second reserve spot on a rookie with questionable job security in order to make a decent profit.
As usual, I've covered all the relevant rookie performances from last week, so have a read, take note and good luck with Round 13…Carnage Round!
Three-Or-More Gamers
KEEPERS
Two weeks rest for Sam Mayes (FWD/MID, 99, $264,200 & BE 30) did him the world of good and he was back to his ball winning best against the Dockers last weekend. His DPP eligibility and scoring potential make him the ultimate reserve in the second half of the season, so if you listened to me after he copped the green vest in Round 8, well done.
The recent poor form of Pearce Hanley, Grant Birchall, Shaun Burgoyne etc increases the 'street cred' of Brett Goodes (DEF/MID, 81, $333,900 & BE 53) and Nick Vlastuin (DEF/MID, 81, $372,400 & BE 74). Both have cemented themselves in the senior sides, they're dual position players and they score consistently. Plan to keep these two as either a D7/M9…it will go a long way.
Jackson Macrae (MID, 85, $296,100 & BE 39) and Jake Stringer (FWD, 96, $190,600 & BE 2) were both named in the Bulldogs bests on the weekend. Macrae continues to run hard and win the footy and Stringer played the best game of his short career after taking a massive 12 marks and kicking 2 goals against the Pies. There are a couple of decent price rises in these two yet so if you've got either of them then hold for the short term.
New kids on the block in Tom Nicholls (R13 Bye, RUC, 77, $189,400 & BE -65) and Kyle Martin (R13 Bye, MID, 92, $186,000 & BE -53) are improving on the field at an exponential rate. Nicholls is holding firm as the solo ruckman for the Gold Coast and his tackling around the packs is really impressive. Martin continues to win the footy, run hard to space and kick goals. If you missed out on either of these two, don't rule out trading them in for Round 14!
Cameron O'Shea (DEF, 111, $333,200 & BE 6), Justin Clarke (DEF, 56, $210,500 & BE 28), Jaryd Cachia (R13 Bye, MID, 82, $298,500 & BE 43), Josh Thomas (R13 Bye, MID, 77, $347,500 & BE 41), Ben Kennedy (R13 Bye, FWD/MID, 56, $237,700 & BE 17) and Tim Sumner (R13 Bye, FWD, 59, $134,400 & BE -15) are the latest group of rooks to be earning coaches great money so if you've got them, sleep easy.
DON'T PANIC
Sure, Brent Staker (DEF/FWD, 35, $194,200 & BE 38) didn't score well in Round 12 but he is still very important to the Brisbane Lions. He played as a key defender and only scored 35 but with Daniel Merrett returning from suspension this week, expect Staker to go back to his free running half forward/wing role and 65 average.
TRADE, TRADE, TRADE            
If I haven't categorised a player from Round 12 under 'Keepers' or 'Don't Panic' then trade them out as soon as you can.
Special mention to Collingwood pair Brent Macaffer (R13 Bye, FWD, 57, $369,300 & BE 84) and Sam Dwyer (R13 Bye, FWD/MID, 44, $319,800 & BE 101) who have served us well but their high breakevens are a clear indicator to trade them out this round or next.
Whether it's this week or over the next couple of rounds, ultimately it makes no sense to keep Jaeger O'Meara (R13 Bye, MID, 106, $408,100 & BE 74) in the long term. As good as he's been on the field, O'Meara's dreamteam average of 89 is well below popular R13 bye midfielders in Swan, Ablett, Pendles, Watson, etc. He won't have a top eight dreamteam midfield average in the second half of the season so why keep him? O'Meara has been the most profitable rookie thus far and the time has come to either cash in or upgrade.
Two Gamers
As far as rookies on the bubble go, Joe Daniher (R13 Bye, FWD, 84, $143,200 & BE -50) is the only decent option. Daniher showed a heap of improvement in his second game and all the hype regarding his potential was seen first hand on Saturday night. He had 8 kicks, 9 handballs, 8 marks, 1 tackle and 3 goals in his game against the Suns and was on a whopping 78 dreamteam points at half time. On a sour note, Daniher was hardly sighted in the second half but for a young key forward adjusting to the tempo of AFL, it's not a deal breaker. His quarter by quarter scores were 42, 36, -3 and 9.
With his huge reach and fantastic leap, Daniher's greatest asset is his marking. He is also very mobile for a big bloke and can pinch hit in the ruck when required. His versatility suggests that he is more valuable than teammate Scott Gumbleton however the conundrum of which ruck/forward pair the Bombers coaching staff go with each week will be interesting. Bellchambers performed very well in the VFL last weekend and could be used to help limit the influence of Nic Nat and Cox in Round 14 when the Bombers face West Coast. If Daniher is given an opportunity in Round 14 then he should line up in the following three rounds against Port, the Bulldogs and GWS. However after Round 17, I suspect the Bombers will elect to go with the harder bodies of Bellchambers and Ryder in the lead up to their finals campaign. Wait to see if Daniher plays in Round 14 (we'll know before partial lockout) before trading him in!
Michael Talia (DEF, 106, $218,400 & BE -27) does not fall under the rookie category but desperate times call for desperate measures. Talia is a developing key defender for the Bulldogs who replaced the injured Tom Young in Round 10 after some very good form for Williamstown in the VFL. He was opposed to the Q-Stick last weekend and finished with 15 kicks, 15 handballs, 9 marks and 1 tackle. With so few downgrade options this week, Talia's breakeven of -27 is very attractive, so much so that I am very likely to trade him in as my short term D8 this week.
For those that thought Cameron Hitchcock (FWD, 28, $132,600 & BE -2) was a half decent option then consider yourself lucky that he was injured on the weekend. Stay at home small forwards do not score well and Hitchcock's SANFL form has been very up and down. With so few rookies coming through, the last thing we need is more dead weight so I beg you to consider other options when he comes back from injury. For the second week in a row, Adam Oxley (R13 Bye, DEF/FWD, 17, $89,300 & BE 19) was a late inclusion for the Pies and was again given the green vest. Oxley tries hard but he won't feature in the Collingwood seniors for much longer so stay away.
I don't expect Nathan Hrovat (MID, $107,200 & BE -64) to be named this weekend so don't get your hopes up. The Bulldogs put in a spirited performance against the Pies last Sunday and no one of Hrovat's ilk performed badly. The Dogs obviously wont make the finals this season so be patient because at some point they will play a lot of their youngsters like Hrovat to fast track development. Tom Lee (FWD, $108,500 & BE -4) is not a shoe-in to replace Beau Wilkes (inj.) at full forward for the Saints this weekend. In his last two VFL games, Lee has been goalless and averaged only 6 possessions, 2.5 marks and 2 tackles. If Lee is getting these numbers in the VFL, he'll do a lot worse in the big league.
One Gamers
David Astbury (DEF, 21 & $144,300) was the only rookie priced player to get a run in Round 12. He was a late inclusion for Jake Bachelor and played as a 'third' tall in defence. Unfortunately, he struggled to win possession and generate run off the half back line. Astbury is a fringe player at Richmond and thus not a sensible dreamteam option.
Bye Round 'Sleepers'
I've sung his praises before but just incase you live under a rock, Tom Mitchell's (MID, $108,500 & BE -171) is on the bubble and has to be in everyone's dreamteam before Friday's lockout. Mitchell is projected to score 121 and increase in value by $121,200 at the end of Round 13, which will be a record if he can pull it off.
Nathan Vardy (RUC, $209,200 & BE 35) and Jack Fitzpatrick (RUC, $146,800 & BE -24) are two expensive ruckmen on the bubble that are sound downgrade options but almost all of us have already cashed in with Tom Nicholls.
Prior to lockout this Friday night, we will know whether or not Blayne Wilson (DEF & $108,500) gets a go against the Hawks. Wilson made an impressive debut in Round 11 and would be very stiff to get dropped on the back of that performance however, with fellow defenders Waters, Glass and Schofield all likely inclusions this week (source), Wilson may be squeezed out.
Keep an eye on Brandon Jack (MID & $89,300) who if named, will play his second game this weekend and could be a handy M10 at a basement bargain price but he needs to avoid the green vest.
Got a question? Ask me on Twitter @JeppaDT