Calvin's Captains – Rd. 13
Here we go… by faaarrrrr the biggest week in my Captain picking season and I can tell you, after hours and hours of research I'm pretty confident with what I have for you right here… It's my time to shine! TOP 10… But my palms are sweaty! YO!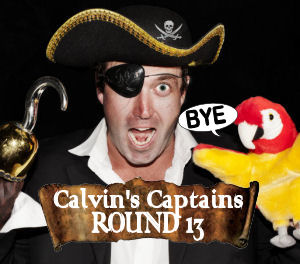 Here we go… by far the biggest week in my Captain picking season and I can tell you, after hours and hours of research I 'm pretty confident with what I have for you today… It's my time to shine!
Yo….Look, if you had one shot, or one opportunity.
To seize everything you ever wanted, in one moment.
Would you capture it or just let it slip?
Yo
My palms are sweaty, knees weak, arms are heavy.
There's stats on my paper already, not Rischitelli's
I'm nervous, but on the surface I look calm and ready to drop bombs,
But I'll never be forgettin', what I wrote down,
The whole crowd goes so loud. I open his mouth and my Top 10 comes out…. Check it
So I have decided to go with a Top 10 because this week deserves something special. Not all teams have these people. Not many have the top 5, so by extending it to my top 10 for the first time in my career allows many to see the order in which I would pick them if I had too.
Over the week I have received many tweets (@CalvinDT) about Nick Riewoldt who plays Melbourne this week. He had a subbed out 30 and 80 on them in 2012 and hasn't even scored over 100+ in his last 4 games. In recent weeks, Buddy (60) and Jack Riewoldt (74) have failed to dominate the Dee backline and amazingly the Voldt doesn't make the top 10. Sam Mitchell loves playing the Eagles and even had 109 on them earlier this year. His lowest score against them in his last 7 games is just 98 and he should be solid again. I love Ryan O'Keefe but he only had 60 on Port last year. Before that he did have 112, 110 and 100 and is coming off 145 he had in his last game this year which happened to be at AAMI where he is heading this week. Garrick Ibbotson was bought to my attention by Roy in the podcast on Monday as he loves playing at Patersons where he has averaged 123 there this year compared to the 77 he averages elsewhere. He had 121 last week and although you'd never pick him as a captain, he should be great again. Sadly and maybe regrettably, Ryan Griffen just misses out on a spot this week. He has been in cracking form averaging 124 in his last 3 this year. He had 103 (30d) in Rd. 3 against the Tigers and should be good again at Etihad on Saturday night. Top 10… here we go.
THE TOP 10
#10 – Matthew Boyd
Vs Richmond @Etihad Stadium
Boydy is BACK! He has had 112 and 144 in his last 2 games this year and has scored well on Richmond in his last 3 with scores of 102, 115 and 105. Should be good again.
#9 – Tom Mitchell
Vs Port Adelaide @ AAMI Stadium
Yeah yeah yeah… he gets a mention. Although he has averaged 121 so far this year from his 2 games we still need to remember he is a ROOKIE. Placing a big C on the kid, may weigh him down and increase the pressure we have on him. He sits firmly at #9 and should be good though as he heads back to AAMI where he had that impressive 144 before his bye last week. The kid is a jet, but rookies as captains come with a risk.
#8 – Steve Johnson
Vs Brisbane @ the GABBA
Before I started my research, I pencilled Stevie J in for a top 3 finish in this list, if not #1. But it's not to be. He had 81 on Brisbane last year which happens to be his highest score against them in his last 3 games. He did have 101 last week before being KO'ed and has been in ripping form. Certainly an option but his history Vs the Lions is a big concern for me here despite the fact that Brisbane have given up 12×100+ scores in their last 2 games.
#7 – Andrew Swallow
Vs Fremantle @ Patersons Stadium
Crowley tags Brent Harvey and Swallow usual runs free. He had 140 (30d) last year on Freo and actually averages 126 in his last 3 against them. He had 82 last time he played in the West and should be a good option for this week.
#6 – Scott Selwood
Vs Hawthorn @ Etihad Stadium
Although Selwood only had 87 when he played the Hawks in Rd. 2 of this year, he has scored 124 and 135 in his last 2 runs at Etihad. He's averaging 109 for the year and should be pretty solid this week.
#5 – Kane Cornes
Vs Sydney @ AAMI Stadium
Out of the guys playing this week, Cornes is the 3rd highest averaging player for the year (113). In 2012, Kane Cornes scored 100 on the Swans and has actually scored 4×100+ scores on them in his last 4 games. With scores of 120 and 114 in his last 2 games this year, he is certainly one to watch this week.
#4 – Kieren Jack
Vs Port Adelaide @ AAMI Stadium
Over his last 8 games, Jack's lowest score is just 99. WOW. He had 130 last week and is ultra consistently good at the moment. He hasn't cracked the 100 mark against the Power in his last 5 games but his form alone is enough for him to sit at #4 this week.
#3 – Brett Deledio
Vs Bulldogs @ Etihad Stadium
When Deledio met the Bulldogs in Rd. 3 of this year he had 27d and 3 goals to get a season high 135pts. He had 121 on the Bulldogs in 2012 and 129 last week. He should pump them again on Saturday night. Also watch Dusty Martin who ripped them in Rd. 3 as well with 144pts. Not on my radar but could be big as well.
#2 – Leigh Montagna
Vs Melbourne @ the MCG
Montagna has averaged 114 in his last 4 games this year and meets the struggling Demons on Saturday afternoon. He had 106 and 87 on them in 2012 but has posted 124, 105, 67, 134, 106 and 100 on them before that. He's only played once at the MCG this year (111pts) and surely will carve them to bits this week after Collingwood cashed in with 7×100+ scores on them before their bye.
#1 – Michael Barlow
Vs Kangaroos @ Patersons Stadium
Although he has only played the Roos twice in his career (85 and 88), Barlow sits at my #1 spot this week and here are my reasons why. His form is bloody good with 5 straight 100+ scores in his last 5 games averaging 127 in his last 3. Add to that the fact that the game is at Patersons where he has scored 115, 149, 100 and 122 there in his last 4 runs (avg. 117 there in 2013). Last time the Roos played, they met the Gold Coast Suns. Gaz (119) was one of 7 guys who cracked the ton on them and with all this considered… surely Barlow can push something out around the 120+ mark this week!
Thanks for hanging out. I hope you have enjoyed my Top 10. It's been a tough week for the Irish Pirate and I hope that my hard work will pay off this week. I'm very confident it will.
Who will you have as your captain for this dreaded Round 13?
Michael Barlow (42%, 1,479 Votes)
Leigh Montagna (3%, 113 Votes)
Brett Deledio (6%, 208 Votes)
Kieren Jack (13%, 445 Votes)
Kane Cornes (2%, 78 Votes)
Scott Selwood (4%, 138 Votes)
Andrew Swallow (2%, 55 Votes)
Steve Johnson (12%, 428 Votes)
Tom Mitchell (6%, 217 Votes)
Matthew Boyd (3%, 111 Votes)
Someone Else (8%, 274 Votes)
Total Voters: 3,542
Loading ...