The Friday Scramble: Round 12 (MBR 2)
The second of the three bye weeks and we are all still trying to get our best 18 on the field to maximise our points. It has been tough but I have a few thoughts to try and get you through this weekend. Join in as we all scramble to get our teams into a winning position!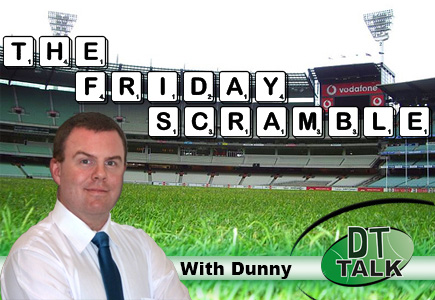 What a week we had in our first bye week.  We had rookies scoring big 100's, we had premos scoring 52 and we had late withdrawals.  So if you managed to negotiate last week and you are coming back for more then perhaps you are just slightly addicted like the crew here at DTTalk are!  As we come into what was widely renowned as the easier of the three bye weeks I am not sure what we were thinking when we came up with that thought!
Personally I got caught out last week by the late outs and only had 16 guys on the field.  So hopefully this week we should all be able to get 18 guys on the ground.  This week the guys that are modelling the very trendy Blue Dots in our teams are brought to us by North Melbourne, Melbourne, West Coast, Sydney, Geelong and St Kilda. So I am sure that you have already moved those guys to your bench.
Trading Strategies Mid Bye Rounds
This is one of the more interesting and more difficult times of the year to be doing trades.  It is the most interesting because you have to deal with trying to get the best team you can scrape together on the field but it is difficult at this stage as you still have teams that haven't had their byes yet.  Let me just have a quick chat about a couple of scenarios that you may be faced with and what I think that you should consider in those circumstances.
The R13 Rookie with the high BE
This will be something that most of us will be facing this week with Jaeger O'Meara.  He has a BE of 87 which is certainly reachable for him.  But of course there is that risk that he could fall short and lose you some of that valuable cash that he has gained.  What you do with him of course depends on your circumstances and your team plans.  With Jaeger having an attainable BE then I would recommend holding him if you can with the plans to trade him out after this week.  If his BE had been closer to 100 then I would seriously be looking at whether I could trade him out a week early to preserve cash.
However, if you are going to be really stuck in R13 and will need to make more than two trades to ensure that you have enough players on the field to be competitive then I would say trade him out this week.  You might look to upgrade him to someone that has had their bye already like Fyfe, Barlow or Sam Mitchell.
The R12 Rookie with the low or -ve BE
This one does present you with a bit of a conundrum.  You don't want to miss out on that juicy cash that they will continue to make, but you still need to make sure you have enough guys on the field to register a good score.  Someone that you may have in this boat would be Dean Terlich.  I think that if you can hold on to them it will pay off in the long run. But as is the theme this week it will really depend on who you have available.  If you have a really weak R13 team at the moment then trading out this R12 rookie to a R11 Premo would be a good way to go.  Sometimes points have to come before cash, not always, but sometimes you have to take the longer term view for your team and maybe sacrifice a bit of cash now to get a premium that has bottomed out and will provide much better point production in the future.
Side Swap a Premo?
This is one of the more risky strategies but can be a fruitful one.  If you are going to do this, swap out a R12 bye Premo and bring in another one, my first preference would be to bring in a R11 Premo, that way you don't have to worry about next week.  I would recommend that if you are going to do this that you take a good look at the run home of the players and also consider the BE's of the players and try to trade out a high BE for a low one.  There are of course risks with this, just ask Calvin about his trade last week involving Stanton.  Or maybe don't it is still a sore point I think.
Carnage at Selection!
Just incase you missed it last night… as if!  But here is a summary of the carnage that greeted us on top of the Bye issues that we already had!
The OUTS include Campbell Heath, Chris Yarran, Sam Kerridge, Brad Crouch, Brent Reilly, Brent Moloney and Charlie Dixon.  Whilst these guys aren't the big guns in DT normally, this week they are as we are all struggling through the Bye rounds.  I would suspect that most of you were relying on at least Crouch and maybe Heath if you haven't traded his ass out yet.  Personally I still had him (due to dealing with bigger issues!).
Leading the Ins this week was THE BERG!  Yes, Leuenberger is back from his 4-6 week injury after spending just 1 week plus his bye on the sidelines.  This is what really annoys coaches when we are told 4-6 and really it is only 2 weeks out.  Makes it hard for us to make informed decisions.  My advice on Big Leuey is that if you have the players and can afford to do so then it may be worth holding him, but I would be nervous if he was my number 18 player that I was counting on.
#Ask Dunny
Hi James, I think that these two are good players, but I think that there is a better option out there.  Personally if I was bringing in a R11 Defender I would be looking squarely at Paul Duffield.  He has a BE of 107 but the Freo run is absolutely fantastic heading home.  He is averaging 90 and has 3 scores over 100 and all of them have come in the last 4 games.  Ibbotson has been on fire too, he is averaging 100 and has a BE of 82.  He seems to be reborn lately and has had two scores over 130.  I would be looking at either of these two guys.  Hanley is in my team but he has a massive BE and is getting tagged at the moment.  So I think I would go Duff or Ibbotson.
I am assuming you are referring to Brett Goodes.  I think that the choice here should be an easy one.  I would be trading Jaeger out to Barlow.  Mainly due to the fact that Goodes has already had his bye and you are going to need all your guys in R13 given the amount of Mids that we will have out in that round.
This decision has been made easier for us given that Brad Crouch has been dropped by the Crows.  The other side of that trade is Ryan Griffen.  I like him, he has a BE of only 55 and has an average of 105.5.  However, within that average there are scores of 74 and 75 to offset the 166 and 129.  So he seems to be a bit up and down so be careful.  JJK should be back after the bye and whilst I think that it isn't horrible to want to trade him out I think that trading out Crouch to a premium is a better choice.
This is a good one and it is something everyone should be doing this week if they can.  The guys that I will be considering are the Freo boys Nat Fyfe and Michael Barlow.  They are the key guys that everyone should be looking at upgrading to.  Another guy that you could look at week that is averaging dead on 100 is Sam Mitchell.  That 100 average includes a 66 in the last round against Melbourne.  David Mundy is another guy that you could consider at only $463k.  My main concern with him is that he seems to be getting tagged.  However, Fyfe has been picking up a few tags recently so Mundy may be freed up a bit.  I have already had a bit of a chat about Griffen and he is certainly a good player, just beware of the low scores he can deliver.  His teammate Boyd is back this week and I actually had him locked in to come in this week, but I am very cautious like Tbetta is with him with that calf injury.  So if I had to rank these guys I would go Barlow, Fyfe, Mitchell, Griffen, Mundy then Boyd.  Kane Cornes does have the highest average of all R11 mids, but I am very concerned with the way Port are playing at the moment.  He wouldn't be a horrible choice, but don't expect 120 average for the rest of the season, I think he is more likely to average around 92ish for the rest of the year.
Another guy that you can certainly consider is Trent Cotchin he has had a slower start to the year than we had hoped for but he will certainly come home fairly strongly so he is certainly worth putting into the discussion on the best guys to consider.  His average is 94 but I expect he will lift that into the 100's before the year is out.
Tough one this.  Buddy does have an attractive BE of 77 but he is only averaging 79.5 and has been playing terrible DT footy so far this year.  However, he has the pedigree and is a gun from previous years and I would expect that he should improve, so if you do plan to get him in I think that you should be doing this over the next couple of weeks.  His finals run consists of St Kilda, Collingwood, Kangaroos and then the GF is Sydney at ANZ Stadium.  So that is a very tough run.  However, with the 44 trades you can afford to get him in and then possibly trade him out when his price has (hopefully) gone up.
Things to Remember
Don't finalise trades until after final teams tomorrow night.  Mainly because we have guys like Hrovat who are waiting on the extended bench to see what is happening.
Try to have 18+ players on the ground if you can.  Last week I was on 17 and JJK's late out dropped me to 16.  So try and have more than you need to cope with the late outs.
Beware if you revers trades.  Just ask Warnie what happened last week. If you reverse changes, make sure that you are checking everything including emergencies and captains before you finish.
Check scores not just averages.  When you are trading players in check their scores and not just their averages.  Some may have one big score that is dragging their average up or similarly dragging a good average down.  Averages only tell one part of the story.
Keep R13 in mind when trading.  When you trade this week, keep one eye on next week.
Round 1 of the byes is behind us and most got through it fairly well.  I scored 1741 which wasn't good, but that was from only 16 players so I guess I will take that.  Just try and guide your team through this week and see where you can pick up an advantage through some good strategic trading.
Good luck and as always keep a close eye on the final Sunday teams tonight before lockout so that you can ensure your team maximises its' players on the field.  Give me a follow if you don't already on @pkd73 and I will catch you all over the weekend.