Round 12 Premium Trade-Ins
Zeus has a look at which premiums you should be considering to bring in coming off the Round 11 bye.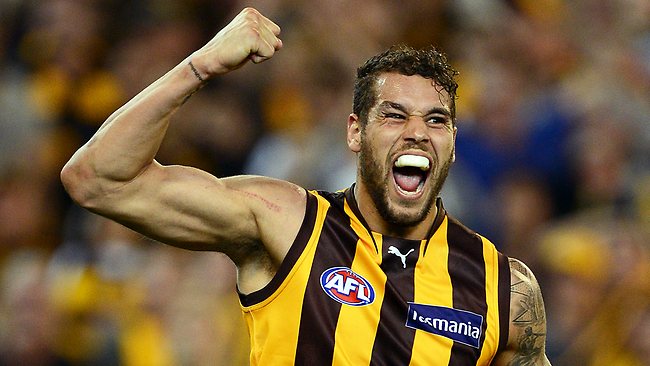 This has been a week of ups and downs for me. I did really well in one of my exams, then I didn't do so well in one of my other ones, but, on the plus side last week I was honoured to be given the title of an author on @DTTalk. Very much appreciated, thanks Warnie. Writing and sports are my passions, so hopefully I can keep bringing you guys quality articles.
In this week's round of AFL Dreamteam, I also experienced ups and downs. I benefited from trading in Tom Mitchell (the kid loves the ball more than my school's food tech teacher loves margarine, and that is saying something) and having Kreuzer, Heppell and Priddis (along with the standard combo of Ablett and Swan, a pair some have dubbed as 'The Pig and Jesus'). However, I suffered a severely bruised skull from banging my head against the wall when Daw and JJK withdrew at the last minute, giving me no option to take Robinson, and JPK's score. Then, to top it all off, I (very foolishly) decided to make Stanton the captain this week, because I thought in the worst case scenario, he'd at least knock up a ton. Yep, as I was reminded in one of my leagues, he did indeed make the century. Thanks mate.
Okay, now my little summary/rant is over, I will get down to the purpose of this article. I quite like the stats side of things, as evident in my last two articles on consistency. However, when trading in, I did mention that you have to consider consistency and ceiling. So this week, I got a minimum 5 players from each position that had the bye, and considered just that.
As usual, my categories are described below.
Affected mean: The average of the player's scores, not including games where they have been subbed or injured.

Players are ranked according to this column.

3 round mean: The average score of their last three rounds played.
Standard deviation: How spread out the values are. Lower is better.
Dollars per point of average: A measure of how 'good a bargain' the player is. It is basically their price divided by their average. Lower values are better.
Times over 100 per times played: These last 4 measures are to show ceiling. This column is how many times they have cracked the century.
Times over 110 per times played: This is how many times they have racked up a score over 110. For example if Player A has got 100 2/10 times he played and gets over 110 1/10 times he played, that means that Player A has got one score between 100 and 109 and one score above 110.
Average score when over 110: This is to highlight how 'big' a player goes when he scores over 110. A higher value in this category is of course, better.
High score: This is the player's highest score they have got all season.
Just before we start, I realise that the pictures might be a bit small, so I have attached the excel file with all my data in it for you to download and read if you are having trouble reading this. Once again, I have ranked the players on their affected mean.
Defenders
As expected, Pierce Hanley is the number one defender to trade in at the moment. He has the highest average, and a relatively low $ per point ratio (PPR). Surprisingly however, next on the list is Paul Duffield! I support the Dockers, so I knew he was good, but I didn't think that he got the ball enough to support that average. He also cracked the ton 3 out of 10 times, and with the
Dockers favourable run home, could he be a legitimate upgrade option?
One that definitely would have slipped under a lot of people's radars is Bachar Houli. He has a three round average of 100.7 and an ownership of only 2.36%. If you want a potential POD, then get on!
Rounding out the list are the Hawks pair of Burgoyne and Birchall and then Hartlett. At this stage, I would probably be going with Burgoyne over either of the other two, they are just two inconsistent, however, if you are a gambling man, pick them up!
Midfielders
There is a reason people have been talking up Michael Barlow all week, and this table proves it. He is a massive beast, with an average of 108 and a three round average of 130, which shows he is in killer form. He cracked the ton six out of the ten times he played, going past 110 in all but one of them. His average over 110 of 127.6 proves that when he goes big, he really does go big. Add in a favourable draw, and he is almost irresistible. Jump on!
Griffen is second on the list, which surprises me a little, but I wouldn't be considering him at this stage, as he is quite inconsistent, but he does have a veerrrryyyy high ceiling.
Kane Cornes has had a resurgence this year, and it shows in his numbers. However, his scores have started to decline slightly as of late after his fast start, so I would be going to Barlow first over him.
Mitchell and Boyd are proven jets, you know exactly what you are going to get out them, week after week. Boak is kind of a 'fix-up' trade, someone you would've had from the start of the year to save a bit of coin. I wouldn't recommend trading him in now. That also applies to Liberatore and Ebert; these two are solid but unspectacular.
The Richmond pair of Cotchin and Deledio are interesting though. They have the potential to go big, and although they have an average in the mid-nineties, I wouldn't trade them in until they crack the hundred a couple of times. Mundy is a player to be considered with Fremantle's great home run, however, he will generally cop the tag as he is more damaging then Barlow, so beware.
Ruckmen
Zac Clarke is at the top of the rucking charts with his mean of 93.67, however, he has only played 3 games and cracked the ton once, so I would be hesitant to bring him in. But Fremantle do have the easy run home, so he could go big with Sandilands out. Beware though, that when Sandilands comes back, either him or Hannath will be dropped, and regardless, his rucking time will diminish.
I would pass on either Maric (sorry, I couldn't resist with the picture) or Hale because of their lower means, however, Hale has a three round average of 94.3, if he keeps this up, then he could be a legitimate ruck option.
I think the best options to trade in on this list would be Minson or Roughead. Both have been in fantastic form, with similar high scores, hundreds made and means. At this stage though, I think Minson just nudges out Roughead because of his greater consistency. I brought big Wilbur in, and so far I don't regret it.
Forwards
Having not had Martin from the start of the season, I will be trading him in this week. I am sick and tired of watching him and hoping he gets tagged or stinks it up every game because everyone apart from seems to have him. He almost has an average of over 100, and his mean over 110 of 144 proves that when he cracks that 110 mark, he goes huge! He is slightly inconsistent, but I think this is one of the cases where that is tolerable.
I was considering Lewis as well, because he seems to be in form, but on closer inspection, his last three games were the golden trio of points, GC, GWS and MELB. This would probably be why he has the inflated 3 round average of 111. Saying that though, he does have a good standard deviation and will average around 90 odd for the whole year, so he isn't a bad pick.
Rockliff is only slightly behind Martin for average and SD, but he more hundreds scored. Interestingly, every single time he gets 100, he gets over 110, giving a score of 117.5. However, his scores have been suffering with him playing in the forward line as of late, so Vossy, if you are reading this, chuck him in the midfield again, please please please!
If you want a bargain, then Franklin is the man for you. He is priced so nicely, it is almost impossible to not be tempted. I have (rather unfortunately) had him from the start of the season, but you only feel it is a matter of time until he explodes in a biigggggg way and kicks a bag.
At this stage, I would be steering clear of Zorko. He is not the guy of last year. Stay away.
Conclusion
Alright, that's finished. Top five bye players for Ruck, Forward and Defender and top 11 for midfielders. Remember, these players have all just had the bye, so you don't need to fret about whether they'll fit into your bye structure. They'll fit alright. I will now show you a common question that will probably come up if you have a casual peruse of the 'My Team' threads. It'll run something like this:
"Help! I only have 18 players on the park this week, I need to trade Evans or O'Meara to a premium mid, and I want to trade either JJK or Robbo to a premium forward. Opinions please!!!!!! :)"
Okay, to start with, I would be trading Evans out this week. O'Meara will actually be playing, so trade him out next week if you really want to. I want to keep him as M9 or M10 for the rest of the season, he is a gun, but I'm not sure I'm going to be able to. So definitely Evans, but to whom? I would be going either Barlow or Cornes, but I would prefer Barlow. As I said, he has the easier run home, and I trust him more than Cornes.
For your second trade, I would trade JJK, for similar reasons as the first trade. Robbo should play this week (If he doesn't then you might have to completely rework this second trade, but I am basing this on the fact that he will). Then I would be looking at either Martin or Rockliff, and if you have both of them, I would go for the next player on the list, who is Lewis. If you are short on cash or really feel like you need an adrenaline rush, then go Franklin.
Last week, as I said before, my team, Lightningboltzzz (yes, hilarious, I've heard it all before) got mightily pissed off with Stanton (I'll probably do something stupid and back him in again this week though!) and copped two late withdrawals along with Robbo and JPK to net me a very shaky 1682 points (look, who am I kidding, that hurts more than getting hit in the balls with a tennis racket wielding kid who gets impatient when I try to teach another kid how to improve his forehand).
Anyway, cheers for reading the article, but just before you go, check out my top two premium trade ins for each position this week in the beautifully edited picture down below.
As usual, any questions or comments, hit me up on twitter @ZeusODeaDT and have a great day!