Jeppa's Juniors – Round 11
Rookie choices are pretty easy this week after some standout performances but it's not all about the obvious choices. Jeppa takes a look at all the relevant rookies from Round 11 and gives you some priceless advice heading into the second week of the bye rounds.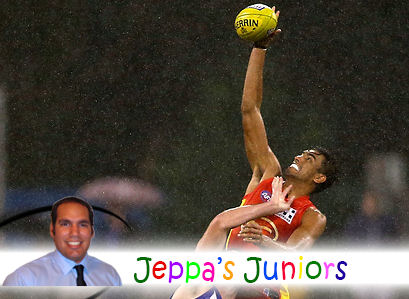 Who needs premos when you've got rookies that command the football and take the spotlight? That was the story of Round 11 after the amazing efforts of Tommy 'Gun' Mitchell and Tommy 'Gun' Nicholls. You cant wipe the smile off those coaches faces who made the double downgrade but if you missed the boat, don't worry because Mitchell and Nicholls haven't had their first hefty price increase. Additionally, there are many other quality rooks that are worthy picks, so read carefully because Round 11 was all about the 'juniors'…
Three-Or-More Gamers
KEEPERS
Timing is everything and the hot form of Brent Macaffer (R13 Bye, FWD, 102, $357,300 & BE 22) has probably been taken for granted. After he was dropped in Round 3, Macaffer has been used as a 'Mr Fix It' playing cameos in defence and up forward but it's his role as a tagger that has dreamteam coaches most excited. Macaffer has averaged 96 in his last three games and if his form continues, he'll likely top out at $400,000. Hold!
Keep Jaeger O'Meara (R13 Bye, MID, 89, $403,300 & BE 87) for just one more week. He looks to have peaked in price and has a breakeven of 87 which he should achieve this weekend. Given that O'Meara's got the Round 13 bye, you want to keep the likes of Swan, Ablett, Pendles etc before Jaeger. God willing, I will be 'downgrading' O'Meara to Birchall in Round 13 and moving Goodes to my midfield bench.
Dean Terlich (R12 Bye, DEF, 73, $344,600 & BE 70) is a rock for Melbourne and a rock for dreamteam coaches. I am currently looking at keeping Terlich as my seventh defender. He's one of the Demons better defenders so job security is not an issue and he's also a consistent scorer. In his last five games he's had scores of 74, 120, 67, 78 and 73. I suspect Terlich will benefit greatly from the break this week and will continue his 70+ dreamteam scores in the second half of the year.
Rookies that continue to surprise me include Jaryd Cachia (R13 Bye, MID, 71, $282,700 & BE 39), Rory Laird (R13 Bye, DEF, 70, $290,700 & BE 15), Josh Thomas (R13 Bye, MID, 111, $315,300 & BE -6) and Ben Kennedy (R13 Bye, FWD/MID, 83, $197,800 & BE -43). All four have taken their opportunities at the top level and they don't look like slowing down anytime soon. Even though Kennedy has featured well in the last two rounds, he is still a huge vest risk.
If Brad Crouch (R13 Bye, MID, 72, $218,800 & BE -20) and Jackson Thurlow (R12 Bye, DEF, 81, $179,900 & BE 5) can hold their spots, they'll be valuable assets and very profitable for the coaches that still own them. Crouch did pretty well to reach 72 last weekend considering the Swans dominance and Thurlow finished strong against the Giants to score a handy 81. These two are keepers for now.
DON'T PANIC
Less popular rooks that are performing well and still have decent breakevens include Mitch Morton (R12 Bye, FWD, 72, $222,000 & BE 24), Dane Rampe (R12 Bye, MID, 72, $231,700 & BE 12) and Dean Kent (R12 Bye, MID, 42, $154,700 & BE -15). All three have the bye this weekend but should be named for Round 13.
TRADE, TRADE, TRADE            
As per usual, if I haven't categorised a player from Round 11 under 'Keepers' or 'Don't Panic' then trade them out as soon as you can.
Just a quick comment on Sam Dwyer (R13 Bye, FWD/MID, $318,400 & BE 35). After apparently being right to go last weekend, Dwyer is listed as a test for Round 12. I'm guessing that he'll be wrapped in cotton wool again especially since the Pies have the Round 13 bye. If you are like me and you still own him then it's time to part ways (unless he's named) with one the best rookies of 2013.
Two Gamers
Holy hat! I knew Tom Mitchell (R12 Bye, MID, 144, $108,500 & BE -173) was a player but I didn't know he was going to be this great. Mitchell finished with one of the highest ever scores by a rookie in DT history on Saturday afternoon (Barlow had 146 against the Pies). He had 18 kicks, 13 handballs, 5 marks, a massive 10 tackles and a goal…stats most midfielders can only dream of. The Round 11 Rising Star nominee will continue to go from strength to strength. If you missed the boat then lock in a trade to get him in for Round 13…it's a no brainer.
Tom Mitchell's dominance somewhat under shadowed the performance of Tom Nicholls (R13 Bye, RUC, 113, $108,500 & BE -120). It's amazing to think that if Zac Smith wasn't injured, Nicholls probably wouldn't have gotten a run this year. His notable stats on the weekend were his 33 hitouts and 10 tackles however, it was wet which means more hitouts from ball ups and throw ins and more tackles around the packs. Nicholls doesn't look phased by the hardened bodies that surround him on the footy field and in my opinion, he had a bigger impact on the game than his opponent Todd Goldstein. I can guarantee that Nicholls will play every game from here on in assuming he stays injury free. He's on the bubble and must be traded in this week, so make it happen.
After a quiet start, Kyle Martin (R13 Bye, MID, 83, $103,300 & BE -109) took full advantage of his team's dominance in the last three quarters and finished with 3 goals and 83 dreamteam points. He's a natural forward with a beautiful set shot at goal. Martin also reads the play really well, is a great tackler and can run through the midfield when Swanny or Pendles need a rest. With Krakouer on the outer, Martin moves up the pecking order, as one of Collingwood's preferred small forwards so his job security in the short term is satisfactory. The Pies face the Bulldogs, Power, Blues, Crows, Gold Coast and Giants in their next six games, so Martin should continue to average 75+ but don't be surprised if he cops a green vest along the way.
The 'selection' headache many dreamteam coaches face this week is the choice between Martin and Hrovat. Both are similar in stature (178cm v 175cm) but both have different strengths and weaknesses. Martin is a better overhead mark and has a more superior midfield to get him the ball. Hrovat is a better ball winner and tackler than Martin and has better job security amongst a young bulldogs line up. All in all, I am very confident that Martin will average more than Hrovat this year. If you're like me and you're bringing in one of these kids as a 10th midfielder then it doesn't really matter who you select so why not take a little risk and pick the rookie with the higher ceiling? I'm going with Martin.
With Nicholls doing so well, don't bother with expensive ruckmen Nathan Vardy (R12 Bye, RUC, 32, $209,200 & BE 31) and Jack Fitzpatrick (R12 Bye, RUC, 62, $146,800 & BE -27). Same goes for Will Hams (R13 Bye, DEF/MID, 10, $102,700 & BE 46) versus Kyle Martin or Nathan Hrovat.
If you are really desperate for a forward this weekend then Tim Sumner (R13 Bye, FWD, 44, $102,700 & BE -19) is your only half decent option. Sumner is quick, powerfully built and moves with conviction. He won't win a lot of the footy but he loves the one percenters and tackling. In all honesty, stay away from Sumner and instead look to upgrade your forward to a premo.
One Gamers
Joe Daniher (R13 Bye, FWD, 60 & $143,200) made his long awaited debut against the Blues on Friday night in front of 84,000+ fans. If Hird and the Bombers coaching staff backed Daniher in for such a big game, they obviously rate him but unfortunately he didn't have the dream debut that we all hoped for. Daniher proved that he can take a grab up forward but missed two set shots in the last quarter that almost cost the Bombers the game. He also had little influence in the ruck. Nerves may have got the better of him in his first game so let's wait for him to suit up again before deciding to trade him in.
The Eagles unearthed running defender Blayne Wilson (R12 Bye, DEF, 84 & $108,500) on the weekend and wow did he impress. Other than Hurn, the West Coast back six struggle to hit targets coming out of defence so it was pleasing to see Wilson continually spot up teammates with his long, penetrating kick. A wrist injury in the third quarter seemed to slow Wilson down but he still managed to finish with 12 kicks, 9 handballs and 10 marks. Many suggest that Wilson will struggle to hold his spot with Waters, Glass and Schofield all due back after their Round 12 bye but I'm going to make a bold prediction and suggest a role change for Waters. The Eagles lack toughness in their forward line so Waters could be given a half forward role, which would leave Wilson in defence. It's a left field suggestion but probable none the less. Let's wait and see whose named in Round 13 before jumping on the Wilson bandwagon. Gerald Ugle (R13 Bye, DEF, 47 & $137,000) also showed a bit in his first game for 2013 but he failed to set the DT world alight so its a no for now.
Adam Oxley (R13 Bye, DEF/FWD, 23 & $89,300) and Brandon Jack (R12 Bye, MID, 29 & $89,300) were debutants that both received the green vest on the weekend. Oxley was a late inclusion for Jamie Elliot and showed some good skill but is far from Collingwood's best 22. As for Jack, well if you consider where his brother has come from he could be anything.
Bye Round 'Sleepers'
Don't forget that both Nathan Hrovat (MID, $107,200 & BE -66) and Sam Grimley (RUC, $108,500 & BE -76) are rookies on the bubble but go with Nicholls ahead of Grimley. Daniel Gorringe (R13 Bye, RUC, $129,800 & BE -35) could also make a return to the seniors if Charlie Dixon doesn't get up.
Brett Goodes (DEF/MID, $320,600 & BE 43), Nick Vlastuin (DEF/MID, $370,700 & BE 70) and Jackson Macrae (MID, $279,400 & BE 40) should all feature prominently in Round 12 so back them in for decent scores. On the contrary, I'd be a bit nervous relying on the scores of Brent Staker (DEF/FWD, $175,200 & BE -14), Justin Clarke (DEF, $205,700 & BE 41), Marco Paparone (FWD/MID, $162,300 & BE 9) and Sam Docherty (DEF, $151,800 & BE -6).
Got a question? Ask me on Twitter @JeppaDT