Calvin's Captains – Rd. 12
One bye down and here we go again. This week we have one last chance to play the Swan V Ablett game so you better get in there and check out how I have separated them this week.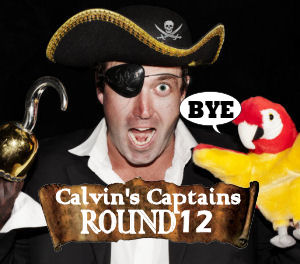 Welcome back to Calvin's Captains. Last week was a very interesting one and I must say… big congrats for those who took the pig against the struggling Demons. Yep, he was the pick of the bunch and grabbed you an extra 11pts. Not disastrous for pirates like me who went Gaz. But, hey… we'll take all the bonus points we can get in the byes. So well done, I tip my hat.
CALVIN'S LAST WEEKS TOP 5
#1 – Gary Ablett = 119pts
#2 – Dane Swan = 130pts
#3 – Brent STSLXJK>GHHL
#4 – Stevie Johnson = 101pts (inj)
#5 – Scott Pendlebury = 117pts
This week is the last chance we get till Rd. 14 to battle Swan and Ablett head to head. Next week will be bloody interesting and of all weeks, I will be your savour. I have already started crunching my numbers to make sure I am on the money. In the pirate we trust! But… before we get too far ahead of ourselves we still have this round to get through. Check it out and enjoy my friends.
I like Jobe Watson this week because he plays the Gold Coast Suns under the roof of Etihad Stadium. He had 94 on them last year and 115 before that. Watson has also had 119 and 112 in his last 2 games at Etihad and should be very good there this week.
I like you Brent Stanton… because… you… scored… me… 52pts last week. WHAT? You useless wanna be pig. Arrrrrrgggggggg. Who put him in here? Ok ok ok… I'll start again. I like you Stanton because you can knock up massive scores like the 149 and 144 you had before last week's disaster. You have had 6×115+ scores this year (same as Swan) and you can go massive on teams like this at anytime. It's just that you're so hardtop predict. He's had 93 and 116 on them in the past and I'm hoping he can bounce back this week.
I like Scott Pendlebury because he had a nice 117 last week and plays the Bulldogs this week. He had 133 on them last year and avoided the tag of Picken who went to Swan. He won't be that lucky this time as Lower is a 99.9% chance to go to him here. I'm not too fussed though and I think he can be great at Etihad where he has had 124 and 121 this year.
I like Swanny because you're a pig. Yep a DT pig. The one and only! You allow me to oink the pig on shows and yes, I over do it, but I love you! He has had 130 and 130 in the last 2 weeks and is well and truly back on track after those poor scores of 85 and 90. Swan averages 123 on the Bulldogs in his last 3 games with a nice 117 last time he met them even with a tag from Picken. Will Picken go to Swan again? I don't think so, he may run with the likes of Shaw, Harry O or Sidebottom… but yes, Swan is in some danger. Although, he managed ok last time against him didn't he? Swan has already had scores of 109 and 123 at Etihad this year and should dominate again this week on Sunday afternoon.
Oh and to the other sites/twitter accounts using the word 'PIG' to talk about Swan or other players like him… C'mon muppets. Yes, it just a word, but it's a concept and our concept. I'm not saying don't OINK, oink hard, we love it… but don't claim it. Think for yourselves! #tryhards #headshake
I like Gary Ablett because even in the wet slosh at Metricon, he still got the job done. He had 119 last week, which happens to be his worst score in the last 5 weeks. The dude is flying and is averaging 133 in the last 5 games this year. Last year, Ablett graced Etihad just on the one occasion. He had 143. Add to that the fact he had a massive 160pts on the Bombers last year with a tag from both Hocking and Howlett. Now, Hocking will go to him again (ha ha ha) and although Gaz only had 81 on them in his first year at the Suns… he is running far too hot at the moment.
TWITTER FOLLOW: @CalvinDT – for updated captain info and to ask any questions! If I ever update my top 5 I will always announce it on Twitter.
Who will you have as your captain for Round 12?
Gary Ablett (65%, 1,650 Votes)
Dane Swan (28%, 702 Votes)
Scott Pendlebury (1%, 36 Votes)
Brent Stanton (3%, 70 Votes)
Jobe Watson (1%, 38 Votes)
Someone Else (2%, 53 Votes)
Total Voters: 2,549
Loading ...