The Friday Scramble: Round 11 (MBR 1)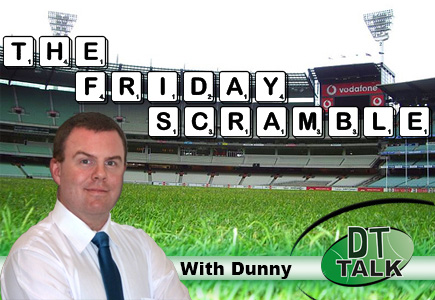 Whilst we could all be confused for thinking that all we have had this year have been multi bye rounds, however, this is the first official one.  So the first order of business is to start working BLUE!  No, don't take a leaf out of Rodney Rude's book, but start to look at the Blue Dots on your DT Team.  The guys at Virtual Sports have kindly identified all of the guys that are having the bye this week with a nice blue dot.  Clearly the first thing to do is make sure that unless you already have two blue dots on your bench you shouldn't have any blue dots on your field!
Clearly we all know now that Hawthorn, Port Adelaide, Fremantle, Brisbane, Western Bulldogs and Richmond are all on a bye week and hence none of them are going to score you any points.  So what can you do about it??
Bye Plans!
Wow if I have heard one bye plan this week I have heard a heap of them!  The fact that we only have to have 18 scoring players and we have had two trades a week all year means that this should be a breeze shouldn't it!  Where are all those guys that said this game was too easy now?  Not in the top 100 I bet!
The structure that everyone would have been working towards if they could would have been to have 10 10 and 10 out each week which would give them 20 players playing every week.  However, we all know that this isn't going to happen.  As we have all been diligently upgrading and downgrading I am sure that our plans have gone out the window!
The policy that a lot of people may go with would be the Meatloaf Theory that @FootyRhino mentioned in his podcast this week (that I was a guest on this week).  His theory is that if you can win two of your league games through this period then you are doing well.  I tend to agree with this.  Particularly with the carnage of the R13 bye with Essendon, Gold Coast and Collingwood providing some of the bigger guns in our teams with Ablett, Swan, Pendles, Watson, Goddard, Stanton, Heater, Heppell and Jaeger!  So I know a lot of coaches may go into that week a bit short on key midfield depth.
TBetta had some great advice earlier in the week in Tbetta's Bullets.  I won't go through it all again here, but have a look at it and see what category you fall into and how you can approach it!
Monday Madness!
Yet again this week we will head into lockout without knowing the final teams for the Monday game.  I am sure a few more people would have brought Hutchings in lastw week if they had the knowledge that he is firmly cemented in the West Coast team for that game.  So this week we will be waiting to see if Collingwood give one of their stars an extra week rest (such as happened with Swanny last year) and to see which Dee's survive the knife (once Neeldy gets it out of his back!).   Add to that the fact that we are in a Bye week and we may be sweating on guys to make sure that we actually have 18 players on the ground and this makes this a very bloody inconvenient week to have a Monday game!!!
Do I like Monday Night Football (yes I know this week is an avo game)?  Well I can't say it is my favourite timeslot and it also makes it a heap harder to get my son to go to bed as he wants to sit up and watch the game (thankfully Monday wasn't close so it was easier to shuffle him to his room!).  So for those that have to get up early the next day and actually want to go and watch their team it would be rather difficult!
#AskDunny 
Once again this week I hope to help you out with your problems and will respond to a few of the tweets that I get when I put the call out on a Wednesday / Thursday.
This is an interesting one and to be honest it really comes down to what the rest of your team looks like.  I would say that this week if you have 18 decent players, then I would be looking at that double downgrade so that next week when we get the round 11 guys back you can use that cash to do a double upgrade to two guys that have already had their byes.  So you might pick up Sam Mitchell and Trent Cotchin.  So if you need to get rid of an underperforming R11 premo to get your numbers up then that is the way you should go, but if you have enough guys go the double downgrade.  Sadly I won't be able to do that!
To be honest I don't think that it is.  Are you sure that you aren't able to structure other trades over the next two weeks to eliminate a potential donut in R13?  All in all though, it comes down to what your overall strategy is.  If you are going for the cash then obviously you can't afford to go for the donut.  But if you are going for the league win you might be able to get away with it because everyone else's teams will be crippled with injury too.  So my gut feel says donuts aren't acceptable but if you want to roll the dice go for it because the points you may get from Stanton over the next two weeks might be enough to get you wins in both of those matches.
Mitchell is a gun… let's not forget this.  Barring injury this week he will be in every team in the next week or two.  So bringing him in this week wouldn't be the end of the world.  To be honest he is a massive chance to come into my rubbish laden team this week!  To be honest if Tom Mitchell fits into your bye strategy then I would be saying it isn't a problem bringing him in early! Then yes, you can pick up the other rookies in the next few weeks.
Firstly, love the stubby holder there mate!!  But on to your question.  This is a tough one!  Cox has been our man through thick and thin over the past few years but Big Will has really shone through this year and is really this years Ivan Maric.  If the AA team is picked now then he would certainly be in first ruck.  But for the AA DT for the year lets have a look at a couple  of numbers….
Dean Cox is averaging 92.1 with 3 scores over 100, max of 132 and two scores in the 70's, a low of 73.  For his remaining games has Adelaide and Essendon twice.  Gold Coast, St Kilda and the Bulldogs once each.  But also faces Collingwood, Geelong, Essendon, Sydney Fremantle.
Will Minson is averaging 91.2 with 3 scores over 100 with a max of 122 and three scores under 80 with a low of 66. For his remaining games he plays Melbourne twice, GWS and Brisbane. Also has Collingwood, Richmond, Hawthorn, Essendon and Sydney to come still.  8 of his last 12 are at Etihad.
So the scores are pretty close but I think that Will probably has a slightly easier run than what Coxy does.  He also has age on his side.  The one thing that Coxy does that Will doesn't is kick goals.  If I had to pick right at the moment I would probably say Will would probably score more for the rest of the year.  Tough call though if you ask me… which you did!
Things To Remember!
Umm… in case you weren't reading or were under a rock it is a bye round.
Monday teams won't be finalised until Saturday afternoon.
Everyone else is in the same boat as you.
Beware the vested rookie – We are madly bringing in all these rookies, just beware the green vest on all this fresh meat.
If I ever meet the guys on selection committees at clubs they will get a serious pasting from me!  Damn you Geelong with no Blicavs!
How did my team go last week?  2121 and I broke back into the top 5000. Things are looking up now!  I was burnt by Stevie as the captain, however, that was my choice, not Calvin's fault!  I also struggled with having Hanley's rubbish score.  I still managed 4 wins (one against @WarnieDT) and my only loss was against @FlossyDT.
So good luck over the next 3 weeks.  It is going to suck seeing rubbish scores each week, but unfortunately there isn't much we can do about it!  So just take it and make the most of it!  Keep an eye on Twitter tomorrow and watch out for the late news on any changes to the teams.  Give me a follow on twitter @pkd73 and I will try and keep you all up to date with what I find out.
I am sure you will all have plenty of issues this week.  So jump in the comments and help each other out and try and get the best score that we all can this week!