DT Writers League Review – Round 11
Want to know how our writer's are fairing heading into the byes? Or how you'd stack up against them? Read on and find out….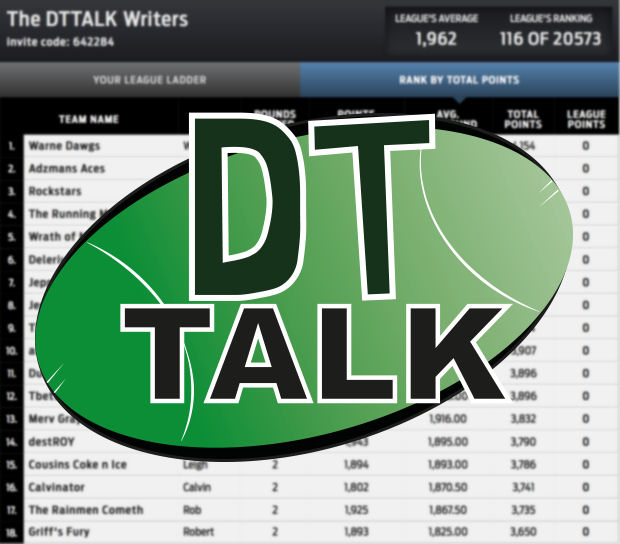 Here we are on the cusp of the dreaded MBR's. What better time to check in on your favourite DT Writers and see how they're travelling before all the carnage hits!
Below is our Overall ladder. Ranked 14 isn't too shabby for this stage of the season but it will be interesting to see how things change by the end of the MBR's.
We've included each coaches overall rank this time as well. With Kev's 'Delerium TeeTees' leading the charged ranked at 27 overall!
Head to head becomes a lot more dangerous during the MBR's too. It really doesn't matter what you are ranked during this time. Anyone can win!
Round 11 Fixtures
Jeppa's Boys VS  The Fear Boners
Cousins Coke n Ice VS The Rainmen Cometh
Griff's Fury VS Tbetta Than You
Merv Gray Autos VS The Running Man
Delerium TeeTees VS Wrath of McRath
Adzmans Aces VS Warne Dawgs
destROY VS anNEALEiation
Dunny's Destroyers VS Rockstars
JedAnderson's Army VS  Calvinators
So where do you rank compared to our overall ladder? Who do you think will be tasting victory or defeat this weekend? Let us know your thoughts in the comments below. Or follow us on twitter to ask us anything or even join in on our league 'smack talk'.
As always, Good luck to everyone this weekend!
… (except Dunny)
Twitter Links