The Numbers – Round 10
Round Ten is (as goes the old English Proverb) "the calm before the storm". With the amount of fmdt moments starting to slow, enjoy it while it lasts… because the storm is about to hit.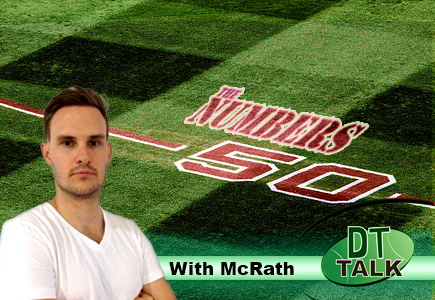 Round Ten is (as goes the old English Proverb) "the calm before the storm". In what may be the last relatively damage-free week for a month (I know, I know… we've hardly been free of carnage lately), this week is very much likely to be the most normalised round of AFL Fantasy for at least month. With fewer late withdrawals and major injuries, enjoy it while it lasts… because the storm is about to hit.
With a big focus on Your Numbers this week, let's see what figures the universe has thrown us in the week that was…
0 – People who seem to be pro-Monday Night footy. Whilst the AFL continues to push for them on the season's calendar, most would definitely rather see an earlier 'hype' game on Thursday Night as opposed to pushing the weekend out to the start of the week. @RLGriffin just recently did a quick Twitter poll asking this very question. The result? 100% in favour of Thursday Night games and 0% in favour of Mondays. I hope you're listening Andy D.
4 – Cheers to Hayden Judd (@plichaard) for pointing out the general uselessness of Heath Shaw in the first half of Friday Night's game as he went from just the 4 points in the 1st to a semi-respectable 61 for the game with some quick accumulation late in the game.
6 – Beers that Melbourne Flyer Jeremy Howe owes big man Chris Dawes after 'stealing' his goal on the weekend. Travelling straight through the big sticks after bouncing in the goal square, Howe just couldn't resist sticking his shin out to 'make sure'. Cheeky stuff Howe… very cheeky. In what was yet another disappointing game for the Dees, there were few highlights. Chris Dawes, however was surprisingly one one of the few shining lights for the hapless Dees as he tallied a fantastic 21 touches and 12 marks plus a well-deserved 1.1 to give him a season (and club) high 98 points in his team's 95-point drubbing at the hands of top-of-the-table Hawthorn. Not that it matters much, but you know how those big men love their sausage rolls. So to have one taken off him…
8 – Kieren Jack has been a rock of consistency this year. Continuing his great start to the year, he has tallied 8 x 100+ scores (and a 99) to avg a career-high 105 for the reigning premiers. Aside from the mercurial Gary (9 x 100's), few have matched this in 2013 as he now sits 7th overall in points scored and 11th on average. Number brought to you by Thomas Bennetts.
18 – The magic number for the next month. Remember that little mention about the 'Best-18' thing at the start of the year? Well, that time has finally come. Struggling to get a full side on the park during the byes was a big problem in 2012. So remember that this year – the 18 top scores will combine for our total score over Rounds 11-13. Ideally, you'd want 19-20 players on the field (playing) to give you more lee-way. But don't stress – chances are your opponent will be struggling too. Oh, that's right – don't forget that it's not just your scores that count (ranking-wise), we still have opponents to face. So don't get complacent! Plan your trades carefully to ensure you have at least 18 playing each week to avoid falling behind.
46 – As pointed out by Luke Carbone (@carbone1994) – it cost us almost 50 points this week in what was for many, a line-ball decision to choose Stevie J as our captain over the more-assured Gary Ablett Jnr. Whilst there has been a lot of unfair criticism thrown at our very own Irish Pirate, I'll be the first to admit that while I listened to Calvin's advice – I was the one who checked the numbers and made the final call. Was it difficult to watch the little master rock out a 140 whilst Johnson failed to top the ton as Captain? Hell Yes. Do I blame the Pirate? Definitely Not.
47 – In what was a fairly eventless game where GWS were once again smashed by a more experience opposition, Sunday held a special place in the record books of the AFL/VFL. In what has been two long careers by a bunch of veterans, Mick Malthouse and Kevin Sheedy etched their names into the record books this week as they became the first coaching duo in the history of the AFL/VFL to coach against each other 47 times. Over a span of several decades, this feat is truly remarkable given the pressure and other issues facing senior coaches today. Opinions aside, both men deserve to be congratulated on their longevity. Who know's, we may yet see them hit the magical 50 mark should Sheeds go elsewhere in 2014 onwards…
54 – Difference in hitouts during West Coast and Richmond game on Monday Night. Despite Richmond having a convincing win over in WA, Ivan Maric (19) struggled to get on top of talented Eagles' duo Dean Cox (42) and Nic Naitanui (39) in the ruck as the Tigers' midfielders managed to lift their side to victory in the Monday Night clash. DT Talk loyalist @StueyDen gave us this one.
57 – Strategies and plans made to successfully navigate the 2nd-annual Multi-Bye-Rounds with my AFL Fantasy side in 2013. Unfortunately, most of them have failed to this point as injuries have once again thrown everything into disarray. The only play that I have up my sleeve is to pray… Pray to the DT Gods to be kind and merciful as we look to get through the next month unscathed and free of major issues.
78 – He had to be mentioned somewhere or a rather, but Buddy Franklin (60 points) bore the brunt of much scrutiny on Sunday (as per normal) for his annoyingly quiet part he played in the Hawks' Dee-molition (sorry, couldn't resist). 78 was the number of expletive-laden tweets that Buddy was the subject of by Blair Doherty (@tnargus) thanks to his frustrating game in which he was well held by key-Demon James Frawley. Sucks to own him in AFL Fantasy right now. Sucks even more to have just traded him in.
94 – Michael Hibberd has got to be just about the most improved player in the competition in 2013. Having a year reminiscent of Matt Suckling's breakout year, the Essendon backman has been extremely consistent with a standard deviation of 18.36 (lower still taking out R1) and increasing his average from 66 til a premium 94 over the first 10 rounds. Cheers to Zeus O'Dea for this one.
123 – Cheers to Mitch (mbrucie99) for this one. This is the non-sub-affected average of Brent Stanton. Excluding his 51 from very little TOG v GWS in R6, he is having his most consistent year yet, having tallied 7 x 100+ scores including three of 140+! He now has a BE of just 20-odd and is coming up against the Blues, who he had 175 on in R4 last year. Got a chance to trade in a premo this week? Strongly consider! WIll it however, be enough to take out the WotW nomination for Round 10 over Gaz?
Whore of the Week
Based on his unavoidable form, this man simply cannot be denied this week. Essendon uncontested ball-magnet Brent Stanton gets the nod as he capped off back-to-back 140+ scores on the weekend with a 36d, 7m, 7t performance giving him a huge 149 points (in a losing side, mind you). He finished just 1 shy of the 150 mark in what appeared at one point to be a battle for the highest amount of possessions with Swan Josh Kennedy (37). Hitting form at the perfect time, Stanton will go into the start of the MBR's with a solid 114.7 average (3rd overall behind Ablett and Johnson).  Let's hope he can give his coaches a few more monster scores to give them a boost over the bye rounds.
Hot Property – Trade Ins of the Week
Given it's that time of year where we're upgrading and downgrading to navigate the byes and complete our teams, I'm going to throw out a few names (some nominated by you) who would have had you smiling had you traded them in this past week. Stanton (149) may've been the target of some after his recent blistering form, whilst Blues' ruck Matty Kreuzer (119) gave you amazing value, priced at just a 68 avg prior to this round. Drew Petrie had a field day against the Saints to smash out a huge 136 to top his team's scoring, whilst Jimmy Bartel (119) would've been a valuable addition if you didn't already own the consistent Cat.
Also, for the sake of balance – I'd like to put some nominations up for the WORST Trade Ins of the Week – Buddy (60) was frustrating in his final-pre-bye game, whilst Watson (85) was surprisingly under-par in their loss to the Swans. Marc Murphy was also yet again below his best, scoring only 70. But the worst would have to be Cloke, who not only didn't play – but was a late withdrawal. One could only hope you avoided the embarrassment of bringing him in by checking the late mail and reversing your trades before the Friday lockout. Anyone game enough to put their hand up and cop this one publicly?
The Round Up
Highlights – Seeing Swanny (130) oinking around like the DT Pig he is against Brisbane on Friday Night brought a smile to my face, whilst Gary's 140-pt spectacle and that goal turned that smile into an even bigger one as we all forgot about AFL Fantasy for a moment whilst witnessing yet another purely amazing feat from the little master. Whilst not overly high-scoring, Terlich's 78 points was outstanding given he was in real doubt to play due to his rib injury from last weekend still lingering. Blicavs (94) did his job to perfection standing in for Leuenberger while I wait to trade him out, and Macaffer (105) was nothing short of superb despite holding premium defender Pearce Hanley to a season low of 35 points.
Lowlights – Murphy (70) and Franklin (60) continue to perform well under expectations, whilst Hodge (53) was unhappily subbed from the Hawks game to give him an extra rest heading into their R11 bye. Shaw owners would've been cursing at half time, for him to pull out a face-saving 61 by the final siren, and Cloke… well – unlucky if you had him. Truly – sometimes this game just is not fun.
Team McRath – I far from escaped the carnage on the weekend (although most of it was more to do with bad decisions on my part), however I still scraped a solid 2,189 points to rise to 725th overall before the real damage hits next week. Buddy (60) and Goodes (86) weren't the best inclusions, whilst Hanley (35 – traded in last week) has been cursed since I brought him in. Luckily my midfield has been carrying me, with in-form Barlow (118) and Stanton picking up the slack. If only I'd gone with a safer option in Swanny or Gaz as captain instead of Stevie J (94). Ah well, that's the way it goes when you take a risk. No point crying over 3 poor decisions. 4 though…
Before I wrap up, I'd like to say cheers to all that have (and continue) to send in their Numbers during the week. It's much appreciated and often very amusing.
Now onto the dreaded MBRs… there has been much conjecture as to the best way to tackle the bye rounds. With all strategies pretty much falling by the wayside last year due to injury, suspensions and the dreaded 'rests and vests', 2013 was set to be easier with the new 'Best-18' rule put in place to assist us to field a competitive squad. Time will tell if it fixes all, but  at least we'll all be in the same boat. So don't be fussed when you see a bunch of 1500-1600's next week.
Best of luck to all over the MBR's as I take a well-earned break from The Numbers. They will however be back for a post-bye edition – so stay tuned to DT Talk and don't go anywhere!