Calvin's Captains – Rd. 11
The byes are here and this week we attack round 11 looking at a limited group of possible captain options and I have some rippers. Swan plays Melbourne, Stevie meets the Giants and Gazza plays the Kangaroos at Metricon. So you better get in there and check out how I have separated them this week.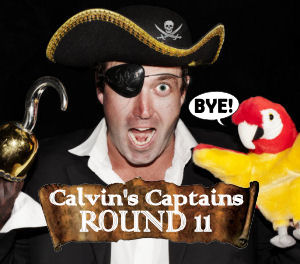 This round is an easy one (kind of) where we have 4 guys who could all get 150 if things go to plan, but I am already looking forward to the challenge of Rd. 13 when we will be missing Swanny, Stanton, Gazza and many other stars.
Last week, Stevie Johnson was my #1 option and for many many great reasons. He should have killed the Suns but it's hard to predict role changes and the weather, even for a pirate. Either way, he still scored 94 and should be brilliant this week at Skoda against the Giants who he had 150pts on last year. This was his 2nd highest DT score EVER and he did it with 25d and 5 goals. Despite the 94, Stevie has been in good form let's not forget. He had 144, 105, 136 and 141 leading into that and should be awesome again this week.
Mind Your DT Manners!
OINK OINK OINK – he's back alright after a solid 130 (36d, 2g) last week and this week Dane Swan gets a crack at Melbourne! OINK OINK!! He will have a field day don't you worry about that. He did last year when he had a huge 142 (43d) on them. He never played them in 2011, but carries scores of 150, 84, 133 and 130 before that dating back to 2009. Yes, he's back… but let's not completely forget about the time he can sit forward and not on the ball and the time he had 85 and 90 just recently. Forward, back or even on the pine it won't matter, the pig will be right at home at the MCG and will pump out something special for us on Monday afternoon. Scott Pendlebury will be there as well. He had 95 last week with scores of 104, 136, 116 and 147 on Melbourne in his last few games against after not playing them at all in 2012. He'll be a smokey captain this week with the majority of DT coaches rolling with my top 4 I'd assume.
So Swanny… screw your DT manners, it's time to pig out!
 "Am I a Pig Yet?" …. I tell you what though Brent Stanton… you're getting close and possibly at the top of the DT Piggery list to be inducted. Yes, I loved the fact that you had 149 and 144 over the last 2 weeks and I am excited as you play the Blues this week at the MCG where you have averaged 133 this year (3 games). You can grab big scores and I love the way to chase loose kicks and marks that no one else wants. Especially in the last quarter when your team is up by 50 or when you float in the defensive half when your DT score is low. It's brilliant! I have also noted that last year against them you had 72 (not pig like) and a huge 175 which happened to be your 2nd biggest DT score in your career. I am expecting big things this week. But I have given you a list of things to work on if you ever wanted to be inducted into this elite status.
Consistent piggery over a period of time

. As the scroll stats… "consistent piggery level for a substantial period of time." This is where you let yourself down, like Stevie J.

Lose the <90 scores

. You've had 10 of these in the last 2 years, Swanny has 1.

Average over 120 for a period of time

. You have never had a season averaging 120+ and if you compare that to the king pig, he would have done it for the last 5 years… if he can improve his current 112 he sits at right now. Which he will.
You're doing well Stants. But to be a DT gun is one thing but to be a PIG is another!
A Quick Tagger Alert
Although I don't beleive that this is overly important I just want you to be aware that there will be some strong 'attempts' to tag. Yes, attempts… cause I don't think it will make much of a difference. GWS use many taggers and either Scully, Townsend, Palmer, Treloar or Shiel might get a job on any given day. Shiel held Marc Murphy last week to just 70, in a game you would have thought he'd dominate. Stevie J will get someone for sure. In the Pies/Melbourne game, watch for Dunn and McKenzie to get busy… or try to. McKenzie went to Burgoyne last week and did a pretty good job holding him to 72. Just passing on the info, but don't lose sleep over it.
Gary the Great
Gary Ablett is my savour… my avenger this week. He is the inform player right now after having 140, 139, 135 and 134 in the last 4 weeks. The man is killing it. This week he plays the Roos at Metricon, a ground where he can have huge score and where he has averaged 119 this year from 5 games. Last year against the Kangaroos he had 148pts with 42d and did it with a tag from Greenwood. The year before that he had 146pts which makes them one of his favourite teams to score DT points on since joining the Suns.  He has form, history and Metricon on his side and he is the safest bet this week and might even get you a nice 150+!
A Good Centrebet – The line of Jobe Watson will interest me this week. He has a highest score of 116 on Carlton from 14 games over his career with that score occurring in 2006. Another to keep an eye on is Drew Petrie who had 136 last week. Last year he had 110 and 126 on the Suns and might be worth a sneaky bet if he's offered at a line or even in a head to head. Need an account? CLICK HERE but please… #gambleresponsibly
Good luck and follow me for more captain info and for if I ever change my top 5 and for my Tuesday night teasers – @CalvinDT
Who will you have as your captain for Round 11?
Gary Ablett (63%, 1,769 Votes)
Dane Swan (26%, 728 Votes)
Brent Stanton (3%, 80 Votes)
Steve Johnson (5%, 135 Votes)
Scott Pendlebury (2%, 50 Votes)
Someone Else (1%, 37 Votes)
Total Voters: 2,799
Loading ...