Trigger Happy Round 10: Bye round warm up
JimBob is back with Trigger Happy in a week of Shenanigans everywhere! Stubbby's Holders and Folders is back and we look at some popular picks that you shouldn't bring in.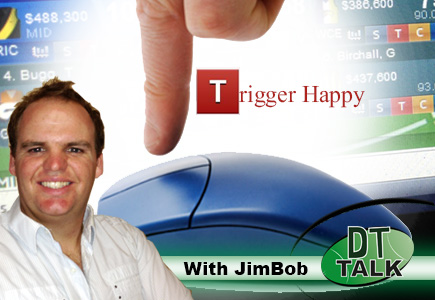 Looks like the bye rounds have come a week early! Shenanigans everywhere!
The carnage actually started last weekend with late outs to Ellis and Birchall, then injuries to Lonergan, Leuenberger and  Rockliff which has put us all in a spot of bother.
Now teams are named, we know we will be with out the services of the above people as well as popular picks Dwyer, Mayes, Thurlow, Boyd and poor old James Magner, who just can'y buy a trick at the demons.
I think it's been flogged to death, but make sure that any player that comes in now needs to be guaranteed a game over the byes so you don't go chasing your tail! Don't say we didn't tell you!
For some really good and relevant info about who to trade in for players such as Leuenberger and Lonergan (and plenty of other info), check out the late edition of the Tbetta's bullets 
Defenders
Well I learnt my lesson last week and am not making a table of rankings again!
Not much to crow about in the defenders this week, which comes as a nice change.  Players like Thurlow and Ellis need to be held for at least one week so you can reassess their worth coming into the byes. As you would have to bench Ellis next week anyway, it's best to cross that bridge in two weeks time and hope like hell he plays. I also find it really hard to trade out a player with a b/e of – 39. For the moment in time, it's 1-0 to the mobster in regards to the 'Thurlow vs Webster' debate. Let's hope Thurlow is just being rested.
Midfielders
The cows continue to trickle out of our teams, with many a coach waving goodbye to Wines, Viney and Mayes, but interestingly not Lonergan. Obviously bigger fish to fry! There are just too many variables to say if  up, down or sideways trades would be best to do at this time – just make sure who you are bringing has good job security!
Mark Hutchings ($102,700, b/e -116). It must be really hard to try and ignore a bloke who is averaging 90 and projected to rise $86k this week alone. But like fellow writers and West Coast supporters Tbetta and Jeppa have said, I think you should definitely steer clear for this week anyway. One of the main reasons is that Eagles vs Richmond game is played on a Monday so we won't even know if he is picked before lockout and I don't think the eagles can afford to play too many games with Kerr, Priddis and Hutchings in the team. In an ideal world, he comes back into the team in rd 13 and then we can take the punt on him and at least make a little bit of cash before he rots at M10 for the rest of the season.
Luke Ball ($343,100 b/e 24) Usually I would be all over a bloke of his calibre and price, but not this week.  While his JS is excellent, he is guaranteed midfield time with Beams still 'two weeks away' *sarcasm text there* and a proven scorer, my answer would still be not this week. The killer blow is his bye week. Ball shares the bye with a lot of Midfield premos such as Ablett, Swan, Pendles, Dangerfield, Murphy, Watson and Stanton and I reckon most coaches would have at least three of these which doesn't leave much wriggle room for him. If you can manage this conundrum good work and go ahead and trade him in!
Chris Masten ($504,200 b/e 104) – I think Masten has started to lose the '$hit haircut/tattoos/bloke' tag (turns out he was a trendsetter) and take on the 'top draft pick' tag that he hasn't deserved in past years. Masten showed us signs last year but now I think he will establish himself as an elite midfielder by the end of the season. Has a three-round average of 112, only dipped under the 90 mark once and has three scores of 120+. Likely not to get a tag before Kerr, Priddis or Shuey, he is becoming somewhat of a ball magnet and a handy rd 12 bye. If he keeps this up, I will be jumping on.
Rucks
Thanks for the memories Matty Leuenberger, but  a sore thumb is not what need right about now. Leuey is the most traded player out this week and rightly so. I hope you are in a better position than me and don't have to deal with Sauce Jacobs too! Before the confirmation of Leuey's injury, Jacobs was my first trade of a 'keeper' for the season but he is still sitting there now. He is painful to look at.
Nic Naitanui $426,900 b/e 64 I talked him up last week, and he didn't disappoint with 105 points. NicNat is hot property and the fourth most traded player in this week. I believe he is a good chance to take the mantle of #1 ruckman by the end of the year.
Zac Clarke $360,300 b/e 33 Once again talked up last week, and didn't disappoint with a 93 against the demons. It's a small set of data but he's the highest averaging ruckman in the comp! Will be great over the byes and you can reassess after that.
Forwards
Headaches galore with our boy Rockliff out with a quad injury, but the news is that he will be back for Round 12 so hold firm. The omissions of Mayes and Dwyer has been piss poor timing as it would be likely that some of these blokes would get a gig on the field this week.  Brent Staker ($132,600 b/e -48) has arrived on the bubble at a very good time and is the most traded player in this week. Stevie J ($573,100 b/e 116) is the 'must have' player in DT now so find a way to get him in. Would I wear a donut somewhere else to make sure I had him? I would definitely consider it…
 Adam Goodes ($455,700 b/e 46) – The Fantasy Stalwart is back. No joke. After his usual quiet start to the season Goodes is starting to ramp up in DT with last weeks massive 147 and three votes, and a five round average of 105. Can he come home with a wet sail like he has in the past? The injury to Sam Reid will not help his cause for more time up the ground and  as a fwd only now (yes it surprised me too) and a Rd 12 bye (common for a fwd), it's a flip of the coin for me.
Jarrad Waite $450,300 b/e 89 If this bloke could stay on the park…..Looks like a spray from Mick has kicked him in to gear! a tidy 114 last week and GWS this week, Waite could go bang. Has a Rd 13 bye which is great for the fwd line and is the main focal point at the Blues which means it should get kicked to him a lot. Don't Waite around for this bloke if you need a forward.
Stubby's Holders and Folders
Terlich – He's got a green dot next to his name and named on the ground. Sore ribs are hard to protect and the only thing that hurts more than a bruise, is hitting a bruise already there. Will he be a late out? Put him on your ground and make sure you have cover. If you do, then HOLD 
Rockliff – As found out on the live show last night, Rockliffe could have almost played this week. Will be given another week off next week to freshen up, so let's hope Vossy finds a spot in the midfield for him. HOLD
Mayes – Many have held on because of his good job security. It may just be tactical to give the yound kid a two week break, but with Staker on the bubble, I ain't hanging around to find out. Cash generation has come to a halt as well. – FOLD
Dwyer – A bit like Mayes, he may just be due for a rest. With his bye round as a forward, he could be invaluable come Rd 12 so I would wait and see if he gets back in next week before pulling the trigger – HOLD
The Ty Vickery Award
The contenders..
Jackson Thurlow – A lot of people may have put him on the ground last week because of his recent good form and Geelong playing Port. Unfortunately for Thurlow, the ball wasn't actually down his end of the ground much and 29 points (with a late goal too) isn't too much to crow about for a full game, even for a rookie. The fact he is also dropped doesn't exactly help either.
But the winner is….
Another one of my 'gun' players. *sighs*. For a brief moment, Marc Murphy looked to take the next step to uber with four 110+ scores in a row but has tricked us all again. Yes I will acknowledge he is getting the number one tag every week but what worries me is that when he dips under 100 ( three times this season) ,2/3 of the times he hasn't laid a tackle.  And the other time, he laid one tackle. While his job is to try and get the ball, I think it would be discussed with him this week by the Carlton hierarchy about his need to sometimes go the other way and defend. Especially for a captain who should lead from the front. Let's hope Murphy can get back to his usual average of four tackles a game which he has pretty much averaged for the past four years. If you add 16 points on to his 73, I probably wouldn't be talking about him.
That tape….it's like a target!
Running review
Well I had my first shocker of a week last week. Was hit badly with Birchall and Ellis late outs, while had to put up with Jacobs 22 and a measly 1975. Have dropped to 3500 but see it as a minor blip on the radar as I am looking forward to the inclusion of Stevie J (with the C) into my team. Gave bench warmer Rowe the flick for Staker and am holding firm on Ellis and Rockliffe. Have finally done some bye preparation and am confident that I can steer clear of the carnage with most players playing and having good job security. Really need a big week this week (who doesn't?)  but quietly confident.
Discuss it all below!
As always give me a follow on Twitter @jimbobholder