The Friday Scramble: Round 10
So we have reached the multi bye rounds with most of our players out… what? What's that Warnie? It isn't a bye round yet? Seriously? Well stuff me. Well, sorry folks, it is still one more week til the bye rounds but with the number of blokes out this week you could be forgiven for thinking it was a bye round!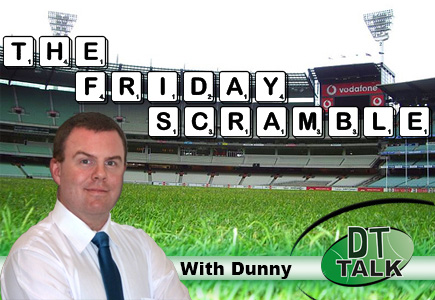 So we have reached the multi bye rounds with most of our players out…  what?  What's that Warnie?  It isn't a bye round yet?  Seriously?  Well stuff me.  Well, sorry folks, it is still one more week til the bye rounds but with the number of blokes out this week you could be forgiven for thinking it was a bye round!
We are missing guys that have been staples in our teams this year like Leuenberger and Rockliff.   Not only that but we have lost a guy we thought had great job security in Jesse Lonergan.  On top of that we will have the inevitable rumours that will circle this afternoon where half of them may be true and half of them will be rubbish.
I know that certainly around work and with some friends all I am hearing is that people are going to be playing people they don't want to and are having to yet again do some emergency trading to get a full team back on the park!
So if there was ever a non bye week that needed you to scramble this is the one!
The Brisbane Ballsup!
For a team that is not going great guns but are doing ok, the Brisbane Lions are a team that are actually supplying a few players to most teams.  As mentioned above I don't know of too many teams that, up until now, didn't have Leuenberger and Rockliff.  But not only that, quite a few of them also have Sam Mayes who hasn't exactly been lighting it up lately and has been dropped and they will now have Brent Staker coming in as a nice downgrade.
There are a couple of things that you need to consider here.  The first is that yes you have to make at least one trade that involves two of these guys.  You may not do it this week, but you will need to trade Berger out.  He won't be playing across any of the bye rounds and as a result you can't afford to carry him, particularly if you have someone like Daniel Currie languishing on your bench like I do!  When you are trading him out make sure that you are looking at your bye structure.  So you may want to bring someone in that has the same bye week and so you would be looking at someone like Minson or Roughead.  However, if you are loaded up on R11 bye players already then you could look at the elusive R12 bye week and this opens you up to more options like Goldstein, Cox (as if you don't already have him) or Nic Nat who is ripe for the picking.  He is still $15,900 below his starting price and has a BE of 64 and has scored an 80, 103 and 105 since his vesting in his first game back.
Similarly as suggested by Jeppa in his award winning article (well he wins the golden stubby for DTTalk articles) Brent Staker is a must to be coming into your team.  He is experienced, has good job security and most importantly is cheap!  With his R11 bye the obvious person to trade out if you still have him is Sam Mayes who has a BE north of 90 which is higher than his average and predicted scores, on top of that he is also dropped this week.  So this is a bit of a no brainer…. or is it?  The other side of the coin is that by being out he won't leak any cash!  If you have a muppet on the bench who is simply not even close to suiting up for your team at the moment like Rowe or Pittard then you may want to consider dumping them with the hope that Mayes will come back and provide you with a heartbeat and a couple of points more than a donut would through the multi bye rounds.
As for Roy's boy Rockliff well we are told that he has a two-week injury which is fine because with the bye in R11 he now only misses one actual game that we are counting on him for and will be back for R12 (he told the boys).  So clearly here (and given we have a stack of other issues to deal with) we should be holding Rocky for the next couple of weeks.
Rookie Madness!
Wow, we knew there would be some issues, but not this many!  We have got rookies out all over the place with Thurlow, Mayes, Lonergan, Crouch, Colquhuon and Dwyer are all missing!  What this is going to mean is that you are probably going to be very thin on your bench this week so you need to be confident with the guys that you have on your field.  Also look to see why they are out and make sure that you have guys that are going to be able to play on your field when you get to the start of the byes.
Ask Dunny!
There were quite a few people asking about bringing in Boyd.  Obviously won't put those up as we now know that Boyd is out.
I think that everyone will be doing their very best to bring Stevie J in!  Remember that he is the number one selection in Calvin's Captains this week!  Trading Rocky out is something I wouldn't normally say to do, I think that normally you would keep Rocky, but in our new 44 trade world, you could trade him out and then get him back in again after his bye in R11 because he assured us on the show last night that he would be playing after two.
This is a two part one.  With the upgrade as I said with Boyd out that makes it easier for you.  But the trade out is a tough one.  Goodes' BE is now 54, this is starting to get up there and he is now over $300k, so he has a bit more cash to make but not much.  The other issue is Terlich.  He still has plenty of cash to make with a BE of 18 but the bruised ribs is a massive risk of him missing this week and next before his bye in R12.  I think the key is to wait til final teams tonight to see if he does play.  To play it super safe then trade out Terlich.  The key there is that you do have Goodes as a DPP.
So Ellis has a "one-week hamstring".  Is there such a thing?  I would be very nervous about this.  He has a R11 bye and as a result really gets two weeks to recover, which is really three since he missed last week.  If you have enough cover it may be worth the risk to hold him.  He has gone up in cash but has been the victim of four vests before he finally got some games of freedom from which he has two in the 80s, 122 and 155.  I must say I am very nervous about his chances of coming back in R12 which is when you will really need him.  So if you can hold this week and have a full squad go for it but if he isn't named in R12 then I would certainly ditch him.
Very good question there mate.  There have been plenty of disappointments through the backline so far this year.  I think that you can find six premo backs, but you may be better off upgrading throughout the forwards and mids first though as they should have the higher ceiling than most of the backs that you could pick up.  However, what concerns me is the lack of reliable back premos.  Vlastuin and Terlich are certainly the standout rookies and now we have Staker who is hopefully going to be just as good.  So I think I would trust those guys before you worried about upgrading in the backlines.  So in a round about way I think that the answer to your question is yes.  If you have four-to-five good backs and then two of the three guys above then yes upgrade elsewhere.
Firstly love your pic there Adrian.  But seriously, Z Clarke is certainly a viable option.  He has a 104 and a 93 and is now the number one man at Fremantle.  The price is certainly right with a tag of $360,300.  His next two games are against Sam Jacobs and Billy Longer.  So I think in those games I would certainly back him to come up with some more great scores.  By doing this you will have cash that you can use elsewhere around the ground.
Things To Remember
Rookies are great, but if their Job Security is low, then this could really hurt you in Multi Bye Rounds
There is a game on Monday night! – West Coast and Richmond teams will not be finalised before lockout!  Be Careful.
Check out teams tonight! There are some concerns over a few people, particularly Dean Terlich, so make sure you check the teams tonight.
Trade for the bye rounds this week.  Particularly with only two more trades available after today for the first round of byes.
Beau Waters and Paul Chapman are on the Never Again List! – These guys have let us down more times than Swanny has scored under 100.
My team rebounded a bit last week to score the same as @CalvinDT with 2173.  Certainly one of my better rounds for a while!  My ranking has come back up a bit to a dismal 6,788.  Hopefully this is now me on the right track!  I remained in the Eliminator comp thanks to a great 149 from Barlow.  This week could be a little tougher!
Best of luck with your teams this week.  It is the last of our decent scores before the MBR's so make the most of it!  Next week there will be plenty of content here on DTTalk about how to deal with the MBR's.  As always on Friday keep an eye on Twitter for any late outs and the final Sunday teams from about 4:30pm.  Just beware of any late out rumours that are unsubstantiated.  We can get caught out by them and panic for nothing.