The Draft Files – Round 10
Injuries are again a huge consideration for us in Draft land, with high draftees like Rockliff, Boyd and Leuenberger all missing. Under 500 will help you find their replacements, and maybe you already have a player you can relocate thanks to the latest wave of Ultimate Footy positional updates – read on for more.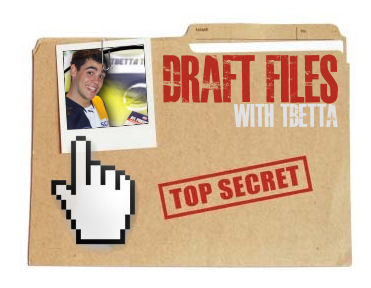 Welcome to the Round 10 edition of The Draft Files! Injuries are again a huge consideration for us in Draft land, with high draftees like Rockliff, Boyd and Leuenberger all finding themselves out of their respective squads. Under 500 should help you find their replacements, and maybe you have a player you can relocate thanks to the latest wave of Ultimate Footy positional updates – read on for more.
Note: All references to leagues are based on a standard 12-team H2H Ultimate Footy league, with a 5-7-1-5 on-field structure and Captains disabled. All position eligibilities and ownership & drafted statistics are sourced from Ultimate Footy at the time of writing. If your League varies significantly, adjust the advice in this article accordingly.
Scorecard
It was another fruitful week on the Waiver Wire, with an 87% success rate; ruined only by the Dean Brogan late withdrawal. In reality, Jarrad Redden was always the better option, especially given that Brogan would have found it difficult to score in the presence of the deadly Cox/Naitanui combination anyway. Check out the Scorecard below to see how we went this week:
I'm particularly pleased with the Tom Mitchell recommendation. As we know, he'll debut this week against the Bombers, so grabbing him last week means that you beat the rush for the rising star. While he'll likely start as the sub (a la Jed Lamb), his recent NEAFL form suggests he could break the Best 21 in the near future – he had an incredible 56 disposals and 10 tackles for a mind-boggling 226 DT points for the Swans Reserves last week!
Other than that, Magner (87) and Miles (79) performed as expected, but now find themselves out of the side – one of the downsides to being a no-frills midfielder. The forward and back lines are where we're having the most trouble, so consider keeping Butler (79) and Hill (78) for the Eagles' game against the Tigers this weekend – they leaked points against the Bombers last week, giving up 5 x 113+ scores. At home on a Monday night gives peripheral players like Hill and Butler the best chance to carve out bankable scores.
Under 500
BAC: Paul Seedsman (88.0 L3 avg, 30% owned)
Seedsman has been one of the most sought-after Free Agents this week, shooting up 10% ownership in the last few days. His last three scores read 95, 71, and 98, so he's certainly shown he can score. He's been named on the interchange this week, but the fact that Seedsman was granted extra Back eligibility makes him a must-grab. Seedsman is not only a great option with the Friday night Loophole this week (for UF leagues with Saturday morning Lockout settings), but he's the type of guy you integrate into your squad for weeks to come.
CTR: Koby Stevens (92.3 L4 avg, 40% owned)
It's easy for me to jump on the Koby bandwagon after his huge 139-point total on the weekend, but he's been building towards that for a while now. His three scores leading in were 70, 69 and 69 – scores you would take from your 7th or 8th midfielders most weeks. A combination of his surge of form and Boyd's calf injury should see Stevens' JS really solidify over the next few weeks, and I'm confident he can have a big showing against the shaky Power this in Round 10. Like Seedsman, he's been a very popular 'Add' this week, rocketing from 28% to 40% owned in UF leagues.
RUC: Billy Longer (40.7 avg, 16% owned)
It's pretty obvious where the value in Longer lies – now that Leuenberger is out, he'll get first crack at the No. 1 ruck mantle. I wouldn't recommend starting him until we've seen what he can do with the extra responsibility, but he's worth a speculative add if you don't have a solid Ruck emergency. He had 45 in his only game without Leuey this year (in Round 1), but I'm optimistic he can exceed that figure in Round 10.
FWD: Brent Macaffer (75.7 L3 avg, 30% owned)
Why is Caff only owned in 30% of leagues? I don't understand. Sure, his ceiling is very modest, but he more than makes up for that with his incredible week-to-week consistency. Macaffer's pumped out scores of 76, 70 and 81 in his last three, excellent totals for a forward off the Scrap Heap. His increased production comes from a fresh midfield tagging role, and given how well he shut down Sydney star Josh P Kennedy, I don't see that changing any time soon. Even if he's not producing enough to be a starter for you (congratulations on your strong squad!), he's still a perfect C/F emergency option.
SNEAKY: Brent Staker (66.0 L2 avg, 35% owned)
There's been a big focus on Staker in the fantasy world thanks to his salary-cap relevance, so it's unlikely he's gone unnoticed in your League. But, if he's still available in Free Agency, strongly considered the tough-luck Lion utility. Like Petterd earlier in the season, Staker is a perfect Back/Forward DPP back-up, someone that you wouldn't mind plugging in for the odd game when you inevitably pick up those one-week niggles from some of your starters.
ROUGHIE: Patrick Karnezis (37.5 avg, 16% owned)
It's hard to select Karnezis with any confidence based on what he did to those who drafted him early in the season; 66 in Round 1, before being subbed for 9 this week after then never heard from again. With 6 changes for the Lions this week, including midfielders like Rockliff and Mayes, I'm crossing my fingers that Karnezis can crack a full game. If that happens, it's all up to him to take his opportunity – I've added him in my personal League based on that potential. Luckily, Brisbane plays on Friday this week, so we'll know prior to Lockout whether he's the sub – we can even utilise him in the Friday night Loophole if your league settings permit.
DEMONS: Ben Stratton (86.5 L4 avg, 45% owned)
Fremantle had a massive 11 tons against the Demons last week, including tons for players in Ibbotson (130), Spurr (112) and Johnson (108). Stratton plays a very similar role to these 3rd-tall type defenders, so it makes sense to assume that he'll also see a lot of easy footy in the backline this week. His personal form has been strong also, notching three scores of 94 or more in his past four starts. Get on Stratton this week, even if it's just for one round – you probably won't regret it.
Positional Changes
Like clockwork, we've had our next wave of Positional Changes released on Wednesday, with a couple of surprises in my eyes. I'll comment on those additions in a second, but I will point out that Kreuzer wasn't granted Forward status as many, including myself, predicted. This is likely because UF didn't see his key forward role as a lasting phenomenon – this looks like being a great judgement call, with Warnock (knee) out of the Carlton side this week.
Again, the Hanley, Macaffer and M. Shaw added 'C' eligibilities are almost useless, because we'd all prefer to be playing them in the backline or midfield. David Swallow was a player we all prayed would get Back eligibility and that's been answered – it's justice, in a way, for his poor recent form (41 and 61 in L2), but at least we can sit him down as the backline emergency until his form inevitably picks up.
The two big surprises for me were Clancee Pearce (now a C/B) and Palmer (C/F). From what I've seen, they've both been playing the majority of their recent football in the midfield, with elongated stints towards the pointy ends of the field. I'm certainly not complaining though – Palmer is a very welcome addition to my forward line this week!