Jeppa's Juniors – Round 9
Another week, another in-depth Jeppa's Juniors write up. Check out what I have to say about the rookie regulars, the boys on the bubble and those sly one gamers. Apologies about the seriousness of the article but it is dreamteam and there's a lot at stake. Enjoy.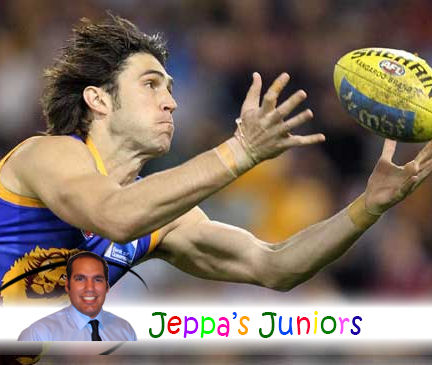 Let this week's injury woes remind you of the importance of team depth. Rookies that are traded in from this point need to be in form, decent ball winners and team players. Sometimes there is the odd imposter (Stevenson) and assessments of players can change quickly (Daw) but if we look at the contribution certain youngsters make out on the field and the role they play in a side then these characteristics will go a long way towards making the right downgrades.
It's no secret that the upcoming bye rounds will dictate which players we bring in this week. Most of us were looking pretty good too until injuries to Rockliff, Ellis, Luey, Terlich (unconfirmed) and Jesse Lonergan hit hard. Carrying these blokes into the bye rounds is not ideal so please make it a priority to trade out your injured players as required. My strategy for the bye rounds is to have a balance of rooks and premo's in each position as well as making four premo sideways trades in Rounds 12 and 13 to try and maximise scoring. Knowing my luck, I will be hit with injuries to required players and my plans will go out the window…fingers crossed.
Here's my assessment of the rookies that will assist you in forming a stronger and bolder dreamteam.
Three-Or-More Gamers
KEEPERS
Special mention has to go to Round 9 Rising Star Sam Kerridge (FWD/MID, 126, $312,200 & BE 18). In only his sixth game, Kerridge was the match winner against the Roos after a six goal haul in the second half. He loves the contest and Sanderson sung his praises for Kerridge after the game (Source). Expect Kerridge to grow in confidence and feature more prominently out on the field in the coming rounds.
Jaeger O'Meara (MID, 86, $399,600 & BE 70), Nick Vlastuin (DEF/MID, 77, $336,500 & BE 6), Matt Jones (MID, 98, $350,500 & BE 53), Dean Terlich (DEF, 67, $321,800 & BE 18), Mark Blicavs (RUC/MID, 84, $242,500 & BE 21), Brent Macaffer (FWD, 81, $295,700 & BE 37), Brett Goodes (DEF/MID, 76, $308,000 & BE 54) and Jackson Macrae (MID, 68, $247,100 & BE -8) continue to make significant contributions on the field and have assured job security during the bye rounds so don't trade them out.
For me, Jaryd Cachia (MID, 83, $211,800 & BE -39) was the one that got away. Cachia has played as a traditional onballer in his four games. He's a great tackler and an even better runner. If Cachia can survive the axe when Carrazzo and Yarran come back into Carlton's line-up then I reckon he'll be a solid contributor over the bye rounds and beyond.
DON'T PANIC
Jackson Thurlow (DEF, 29, $151,400 & BE 12) didn't look great against the Power on the weekend but should be given more opportunities to showcase his talent especially since the Cats face the Suns and Giants in the next two rounds. Michael Evans (MID, 63, $293,700 & BE 52) and Sam Dwyer (FWD/MID, 65, $318,400 & BE 34) also didn't play well in their matches but both still are important players for the respective sides so back them in for at least a couple more weeks.
I'm probably going against the trend but I'm sticking with Sam Mayes (FWD/MID, 45, $263,600 & BE 92). Mayes avoided the green vest against the Blues and is going to lose a bit more coin this weekend but I still think his scoring potential is significant and he'll prove to be a valuable asset over the bye period.
Players with healthy breakevens that need to be held on to include Jack Hutchins (DEF, 62, $209,800 & BE 29), Jordan Schroder (MID, 49, $155,400 & BE -4), Sebastian Ross (MID, 87, $268,900 & BE 26), Rory Laird (DEF, 58, $234,600 & BE 24), Jarryd Lyons (FWD/MID, 71, $235,100 & BE 15), Jimmy Webster (DEF, 24, $130,200 & BE 3), Jack Hannath (RUC, 64, $172,000 & BE 11), Mitch Morton (FWD, 64, $181,200 & BE 2), Hayden Crozier (FWD, 78, $235,200 & BE 16), Sam Docherty (DEF, 57, $136,600 & BE 9), Setanta O'hAilpin  (FWD/RUC, 18, $180,200 & BE 36) and Dane Rampe (MID, 53, $189,600 & BE 18).
If Ben Kennedy (FWD/MID, 34, $129,800 & BE 30) and Jarrod Witts (RUC, 32, $124,800 & BE 5) can avoid the vest then they might be able to give us some decent scores but don't hold your breath! For those that kept Josh Thomas (MID, $243,800 & BE -1), he was named in the bests in the VFL on the weekend and I suspect that he'll be named in Round 10 for the Pies so enjoy the bonus cash grab!
Don't forget about Justin Clarke (DEF, $178,900 & BE -10) who comes back from suspension this week and will add some stability to the Lions backline. Brad Crouch (MID, $171,300 & BE -42) should also return to AFL ranks after making a successful return from a hamstring injury via the SANFL.
TRADE, TRADE, TRADE            
We are at that stage of the season where there are countless three-or-more gamers that need to be traded out. In an attempt to not sound like a broken record, if a rook hasn't been categorised above as 'Keepers' or 'Don't Panic' then trade them out ASAP.
I will point out however that Majak Daw (RUC, 6, $239,700 & BE 112) has a massive breakeven of 112 so offload him if you can…if he avoids the axe.
Two Gamers
There were only three two-gamers to get a game in Round 9 and Brent Staker (DEF/FWD, 71, $132,600 & BE -48) is undoubtedly the pick of the bunch. Job security is key and Staker is a proven player at Brisbane. He spent the 2012 season recovering from a knee reconstruction and has made a solid comeback after three NEAFL games and two AFL games so far this year. In Round 9, Staker was the jack of all trades. He started on a wing, then was used as a high half forward, a bit at full forward and then as a defender in the last quarter. Staker doesn't have a high ceiling but is DPP eligible and will consistently give you scores in the 70's. It would be foolish not to pick Staker this week!
Very few rookies have averaged 90.5 in their first two AFL games, so when Mark Hutchings (MID, 97, $102,700 & BE -116) achieves such a feat, dreamteam coaches must sit up and take notice. Hutchings is a very hard working midfielder who has been rewarded for his tireless efforts on the training track and solid WAFL form. At a time where coaches are looking for reliable downgrade options, Hutchings unfortunately doesn't fit the mould. He's been in and out of the side to date and could find himself on the outer again with Andrew Embley, Beau Waters and Adam Selwood all set to return this week. Even though Hutchings has a very attractive breakeven, I would stay clear of him, it's too much of a risk to bring in a player with job security issues during the bye rounds.
I think I've made it pretty clear over the last few weeks to trade out your Port rookies, so the last thing you want to do is bring in others, like Sam Colquhoun (DEF/MID, 53, $102,700 & BE -40). Colquhoun has averaged only 52.5 in his two games and has never looked convincing for long periods out on the ground. It's an emphatic no on Colquhoun.
One Gamers
Nathan Hrovat (MID, 83, $107,200 & BE -98) was easily the most impressive debutant in Round 9 after been named in the bests for the Bulldogs. He's only 174cm tall but Hrovat is a very good contested ball winner, great outside runner and fantastic user of the footy…something that lacks a bit at the Bulldogs. Even though guys like Cross and Wallis are trying to force their way back into the seniors, I feel that Hrovat will get a few games in the short term so get on the Hrovat bandwagon this week or next!
For those considering bringing in Daniel Gorringe (RUC, 66, $129,800 & BE -49) this week for Luey, think again. Gorringe is a very mobile ruckman who can get on his bike and pick up some cheap touches but there is just too much competition for the number one ruck spot at Gold Coast for my liking. Charlie Dixon is expected to return this weekend and could be used as the Suns number primary ruckman and Tom Nicholls is another waiting in the wings who is in very good NEAFL form. I doubt Gorringe will be named this weekend but even if he is, I think it would be foolish to bring him in with his job security issues and bye rounds almost upon us. Other young ruckman with job security issues include Sam Grimley (RUC, 81, $108,500 & BE -93) and Sam Michael (RUC, 12, $108,500 & BE 45). Even though Grimley scored 81 in three quarters, he's not going to keep David Hale out of the Hawks best 22. Hale apparently has an 'ankle' injury and should be back after the Round 11 bye at worst. Sam Michael had a debut to forget against the Blues, managing only one handball to half time and could be dropped for Justin Clarke who has served his one week suspension. Pass on both Grimley and Michael at this stage.
George Burbury (FWD, 49, $108,500 & BE -29) had a pretty good outing for a player that was given a stay at home, forward role. He showed good intensity when the footy came near him and had a few tricks in his bag. I wouldn't be surprised if Burbury plays another couple of games but he's far from Geelong's best 22 so to trade him in would be silly.
Keep Your Eye On
I'm not sure what more Tom Mitchell has to do to get make his long awaited AFL debut? He's been named in the bests in the last four Swans reserves games and is kicking goals as well as winning a heap of the footy. There are big rumors that Mitchell will debut this weekend against the Bombers so watch this space.
'Hurley out, Joe Daniher in'…that's what we could see on Essendon's team sheet this Thursday night. Realistically, Gumbleton will replace Hurley given Gumby's BOG performance in the VFL on the weekend. Bomber Thompson did indicate on AFL 360 on Monday night that Daniher is very close to a debut. We can only wait and see.
Got a question? Ask me on Twitter @JeppaDT