Calvin's Captains – Rd. 10
For the first time ever… Calvin's Captains looks very different in Rd. 10. After an average week of captain picking by the pirate… he was dancing around when his #1 pick in Gary Ablett held on strong for 139pts. Hopefully you listened. Get in there and check it out… things are very different.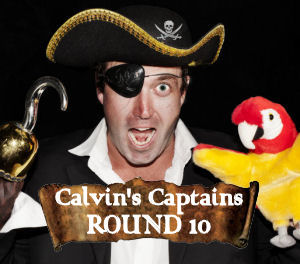 Welcome back to the legendary Calvin's Captains. Thanks again for joining me in what will be a very exciting week. As I said… things have changed on the 7 seas so you better pay close attention.
Oh but before we get into the nitty gritty of it all, check out my handy (or not so handy) work from last week.
Last Week's Top 5


Gary Ablett – 139pts
Dane Swan – 85pts
Jarryd Roughead – 87pts
Joel Selwood – 75pts (injured)
Scott Selwood – 81pts

ROUGHIES: Fyfe (99) and Barlow (149)
First Time This Year
For the first time this year I am steering away from Dane Swan and Gary Ablett from my #1 spot… and my #2 spot. "MAD PIRATE" I hear you yelling and maybe so… but give me a second to explain myself. Swanny is an easy one. He's had 85 and 90 in the last two weeks and may not even play as it has been rumoured that he is injured. He does kill the Lions though and had 143 on them last year at the GABBA (where they play this week) and even had scores of 119, 125 and 122 before that. I will always rate him regardless though. You are never an idiot for going with Swan as your captain. Best DT player in the game over the last three years and a DT pig. A status that no one else has (for now anyway). Ablett plays Geelong and last year when he did, it was at Metricon and they lost by 14pts. You know that won't happen again! This time it's back at Gazza's old home ground (Simonds) and I know he'll be pumped up for it… but so will Geelong who play there for the first time in 2013. Last year when Ablett had that 104 he had just 27d and only had 49pts with a quarter to go. Thankfully he had 55pts in the final term to save what would have been a nightmare of a score. He played them in 2011 and only managed 92 which makes them his 2nd worst team to score DT points on since he jumped ship to the Suns. Yeah his form as been amazing averaging 136 in his last three but my alarm bells are ringing a little too loud here and the fact he's got Geelong does send shivers up my pirate spine.
Check out those numbers that Steve Johnson has on the 'lower/weaker/newer' teams. Last year he didn't play the Suns but in 2011 he had those massive scores on them that you can see up there in my trendy Paint Shop Pro effort… yep, still learning. Stevie has a record of smashing these types of teams and if you look at the stats there is no reason whatsoever why he won't again. The numbers don't lie and besides that one blemish (78pts) it's very very bloody impressive with 8×140+ scores coming in nine of those games.
Stevie J's form has been golden as well. It's better than Ablett's over the last four weeks which has seen Stevie average 131pts with a huge 144 last week.
I will be going Stevie this week. I always honour the order I pick my top 5 and always have done for the last 127 pirate years of doing this. But… I have to trade him in first. I should be able to… but I'm hoping for not too much carnage on Thursday night because I want him big time. Especially this week!
Just Quickly…
Michael Barlow  – Hot form with 149 and 123 in the last two weeks and plays the Crows who are one of his favourite teams to score DT points on. He had 90 on them last year, his worst score in his career of six games against them. Great roughie again.
Sam Mitchell – Plays Melbourne… enough said? He has scored 6×100+ scores on them in his last eight games but with a highest score of only 117 during that period. But against Melbourne… he'll top that surely.
Matthew Boyd  –BOOM! Boydy hit back last week with a huge 144 and he might do the same this week. He had 133 on Port last year and scored 123 and 133 before that. He plays at TIO Stadium in Darwin… a ground he where he has had 128 and 133 in his last two runs there. Seriously a great option.
Patrick Dangerfield – Had 121 last week and scored 64, 137 and 110 on the Dockers last year. Tempting but has 3 games under 80 this year next to his name. Comes with a small risk.
Jobe Watson – Had his personal best 'Sydney' score against the Swans (131) last time they met but hasn't played at the SCG in three years. Sydney allowed Collingwood just 1×100+ score last week. I'm passing.
Jarryd Roughead  – He stunk as my #3 last week for 87pts and his record against Melbourne smells just as bad with 0x100+ scores on them in his nine career games. I'll shake that stat off and say he'll get a ton this week. But once again like many of these guys… could be a gamble.
Buddy Franklin  – Wait for it… 114pts last year and 127 and 87 before that. He looked better last week for his 108… his first 100+ score in his last five games. Fremantle scored 11×100+ scores on Melbourne last week with four guys going over 130. The Hawks missed a chance to build their percentage against the Suns last week and will need to smash the Demons to keep up with the rest of the field as they only play each of these teams once.
Scott Pendlebury – He averages 119 on Brisbane over the last five games with 119 on them last year at the GABBA. He averages 124 there in his last three but only has 1×100+ score in the last three weeks.
A Good Centrebet – Check out the line of Brent Stanton against Sydney (or a head to head). He has played them 12 times over his career and has only cracked the 100+ mark twice.  It's at the SCG where he has averaged just 87 in his last three there.
Also watch Matthew Boyd – I think he can crack 120+ easily so watch the line for him or any head to head/trios he might be put in! Oh, I hope Centrebet/Sportingbet don't read these bit here.
Haven't got an account? Get one HERE and use my hard work and stats to cash in – I do! But please do it responsibly.
But at the end of the day… you make the call based on my numbers and my advice. Follow me if you like but you click the 'C'… not me. Good luck and follow me for more captain info and for if I ever change my top 5 and for my Tuesday night teasers – @CalvinDT
Who will you have as your captain for Round 10?
Stevie Johnson (56%, 1,686 Votes)
Matthew Boyd (3%, 92 Votes)
Gary Ablett (24%, 718 Votes)
Dane Swan (6%, 176 Votes)
Sam Mitchell (2%, 50 Votes)
Buddy Franklin (3%, 105 Votes)
Michael Barlow (1%, 37 Votes)
Scott Pendlebury (3%, 85 Votes)
Someone Else (2%, 66 Votes)
Total Voters: 3,015
Loading ...