The Numbers – Round 9
ROUND nine has come and gone, and what a weekend it was. With plenty of carnage, including injuries and late withdrawals playing silly buggers with our AFL Fantasy teams – this can only translate to a bounty of interesting numbers for me to delve into for my weekly weigh-in to the wonderful world that is the AFL.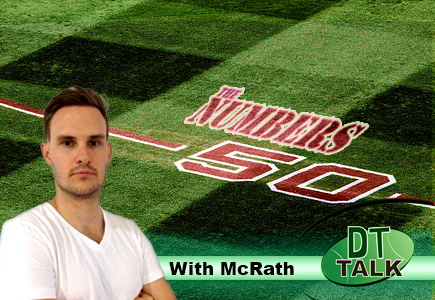 ROUND nine has come and gone, and what a weekend it was. With plenty of carnage, including injuries and late withdrawals playing silly buggers with our AFL Fantasy teams – this can only translate to a bounty of interesting numbers for me to delve into for my weekly weigh-in to the wonderful world that is the AFL.
Let's find out who and what have made The Numbers for this week.
1 – Word it takes to rob a man of his confidence, sense of self and enjoyment of the game he loves. At the risk of being topical, I won't say much on the matter. But I will reiterate what many have said before this: racism has absolutely no place in this game, or any other in sport for that matter. As has been said – education is needed. Not just for one ignorant and silly little girl, but for the masses around the world who have little understanding of the effects of these words.
6 – In one of the games of the round, Adelaide young-gun Sam Kerridge's bag of 6 Goals v North gave him a career-high 126DT points, along with another $57k price rise (now risen $203,700 in four weeks) to be one of the best rookie pickups of 2013. Sparking the final-quarter comeback, the second-year youngster has made the most of his chance this year as he now boasts an average of 79 points in a team that now sits seventh on the ladder.
7 – Behinds kicked by Blues in the fourth quarter v Brisbane on Saturday night. In a game that they should have won comfortably, for the second week in a row Carlton failed to put their opposition away, with inaccuracy causing any remaining colour left in coach Mick Malthouse's hair to turn white. These are the issues the Navy Blues will need to fix if they're to give the competition a real shake in 2013 and live up to lofty expectations.
15 – Minutes it took for Adelaide to turn their game against North on its head in the fourth quarter of their clash on Sunday. Sitting on a comfortable 30-point lead at the half way point in the fourth, Sam Kerridge spurred a comeback that surprised even their coach as they kicked five late goals to win a shock one-point thriller against a sorry Kangaroos outfit left to lament another close loss.
22 – After a promising third game in Round 8, Gold Coast first round pick Jesse Lonergan has had another setback to the thus far stagnated opening to his career. The well-built youngster could only manage 10 touches and 22 DT points before being subbed out, much to the dismay of thousands of his coaches, who would no doubt have been counting on his cover during the bye rounds in the coming weeks.
63 – % of game time that the up-and-coming Suns lead the uncharacteristically-flat Hawthorn side. Usually known for their crisp kicking and efficient ball use, the Hawks were plain-and-simple shown up in the first half by a young side brimming with talent and confidence, coming off back-to-back wins. In my opinion, too much was made of how poor Hawthorn were in the first half, whilst full credit should be given to the boys from the Coast as they once again showed that it's only a matter of time before they become a real threat in this competition.
83,611 – Teams that may have to be without bargain-ruck Matthew Leuenberger this week after his dislocated his finger on the weekend. Whilst he's stated his desire to play against Collingwood on Friday night, odds are that Voss may choose to rest his star big man following a short turnaround. Just make sure that if he's named that you have a solid backup or Plan B as the chances are he'll miss this week, giving him two weeks total with their Round 11 bye just a week away. With Blicavs warming the pine, slowly making cash over the opening nine games, the time has come for him to truly stand up and cover our asses. After a season high 84, let's hope he can back it up and go one better.
Whore of the Week
It would almost be disrespectful for me to name anyone else this week, but by no means does this mean he isn't deserving. Adam Goodes capped off a memorable game on Friday night (for the wrong reasons unfortunately) with a best-on-ground performance to get his season back on track. After an injury-affected 2012 and a career that is quite possibly in it's final chapter, Goodesy turned back the clock with a three-goal, 30 disposal, 11 mark masterclass that expressed a massive 147 points. A champion game from a champion bloke and all class.
Team in Focus – Fremantle Dockers
Following the positive feedback from last week's segment, I've turned my attention this week to a team that expelled complete Fantasy domination in Round Nine. This week I look at the Fremantle Dockers, with a few numbers that display the complete control they had over their game against Melbourne on the weekend. Whilst they faltered slightly in the middle of the contest, their troops never really looked behind as their figures on the score sheet reflect just this.
Whilst large winning margins have been plenty and close between in 2013, it's been a while since we've seen such AFL Fantasy domination as we did on Sunday. Not usually one to accumulate in such gigantic fashion, the boys from the Docks went huge this week.
4 – Amount of first-team talls that were missing in action on Sunday for the home side. In an impressive show of depth, the boys in purple managed to kick a solid score and dominate the stat sheet despite taking the field without big name forward-ruck duo Matthew Pavlich and Aaron Sandilands, with their back-ups Jon Griffin and Kepler Bradley both out for the season thanks to cruel injuries. Props to recent inclusion Zac Clarke and rookie Jack Hannath for stepping it up in the absence of these guys.
11 – Freo players who topped the Dream Team hundred against the Dees at Subi. That's half the team!
24 – In a game where the opposition only had three inside 50's (three!), the Dockers managed 24 inside 50s as well as 19 goals and a total of 30 scoring shots.
97 – Average DT points per Freo player, which is a spectacular feat for a team (especially one with Zac Dawson involved). In contrast, the Demons' average was 63 per player, with only Howe (129) and Trengove (100) topping the ton.
120 – Average points by those players (Freo only) who scored over the 100-mark, showing that they didn't just scrape the barrel – they stuck dynamite in that barrel and blew it to kingdom come!
165 – Fantasy aside, it's always going to be tough for a team to compete when they have 165 less disposals than their opponent, which is what Melbourne experienced this week.
746 – Difference in total AFL Fantasy points between Fremantle (2134) and Melbourne (1388) – astonishing.
Fremantle players to score 100+ in R9: Barlow – 149, Mzungu – 133, Mundy – 131, Ibbotson – 130, Duffield – 119, C. Pearce – 119, Spurr – 112, Mayne – 111, de Boer – 110, Johnson – 108, Ballantyne – 101 (Fyfe also just missed out with 99).
The Round Up
Highlights – As below in my team update, I had more than a few of the big scorers for Round 9. The notable mentions outside of this group are Man-of-the-Moment Adam Goodes, who's 147 points against the Pies' was nothing short of inspiring, whilst Sam Kerridge (126), Jobe Watson (122) and pretty much the entire Fremantle side (see team in focus) smashed a miserly Melbourne side on Sunday.
Lowlights – Let's start with two players who didn't even take the field: Brandon Ellis and Grant Birchall. Hands up who traded these guys in over the past few weeks? Murphy (73) was well held by Raines on Saturday night, whilst Swan (85) the fantasy pig, continued his suspect 2013 with another sub-par performance. Deledio also continued his up-down season with a not-so-great 53, whilst Rockliff (67) put the breaks on after a fantastic opening half against Carlton.
Team McRath – Finally had the breakthrough score I'd be waiting for; and it couldn't have come at a more fortuitous time. A final score of 2332 (92nd for the week) was inflated by big tonnes from Goddard (131), Barlow (149), Stanton (144), Ablett (139) and Johnson (144). Handy scores from Danger (121), Bartel (112), Kennedy (105) and Priddis (111) offset the disappointment of star-Pies' duo Pendlebury (95) and Swan (85). After a handy boost in overall rankings (now 1,748) and wins across the board in all leagues, I'm well-poised to attack the MBR's with ferocity as I pray to the DT Gods to spare me from the constant carnage they continue to impose on the competition.
Were you spared the carnage from this week's farce? How many of these do you have? Terlich, Ellis, Birchall, Lonergan, Viney and Leuenberger. Interesting times ahead coaches.
Tweet me @McRathDT or hit us up with a question in the comments (or throw one of your own numbers into the ring to spark some conversation).