Trigger Happy Round 9 – It's Culling season
It's Culling season! Time to rid those cows from our team! JimBob looks at who you should cull first, which premiums are good to bring in and tries to answer the age old question of "Thurlow vs Webster'.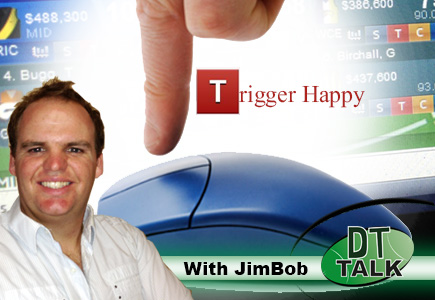 Yep it's time to cull them cows. Bye bye little portlets. Bye bye Mayes, Viney and Whitfield. Bye bye Hamish Hartlett.  Excluding Hartlett, all these players have made us significant cash and won (or lost) us a game or two along the way. Now it's time to reflect on their inconsistent performances, green and red vests and book in a date for four years time……see ya later!
Having said that, we don't have 7 trades this week, so can't get rid of them all at once, below is the ranking I would get rid of the cows with 1 being at the top of the list to cull.
1.Pittard – injured until round 12-13 has to go NOW. They can't make money if they're not playing.
2.Viney – as above
3.Neade – 'rested' and high b/e for when he does return
4.Crouch – good work if you have held him this long, but you have missed other players with your stellar patience
5.Stevenson – JS isn't great, and not playing this week
6.Heath – Playing, but a high b/e
7.Mayes – Playing,  high b/e and a vest candidate
8.Kommer – Good JS and good for a 60
9.Whitfield – Good JS, but peaked in price.  
10Wines – Good JS and the best ceiling of the lot. Due for a rest soon you would imagine.
Now I have based the above list on the simple philosophies of playing is better than not playing**, then job security, then consistency of scoring. It's a simple enough train of though,  but may help if you are not sure which  rookie to trade first.
** quick edit – playing is meaning that you may need them on the field or as an emergency for their points.
Defenders
Well in my head its a hard decision, but apparently not. The age-old question of 'Thurlow vs Webster' seems to be a landslide in regards to incoming trades this round, however I think it's closer than it appears.
| | | |
| --- | --- | --- |
|   | Jackson Thurlow | Jimmy Webster |
| Price | $116,200 | $108,500 |
| Bye round | 12 | 12 |
| Red/green vest? | 0 | 1 |
| Good mobster name? | No | Yes |
| 2 Surnames? | Yes | No |
| Average | 65.6 | 48.5 |
| Job security | 6/10 | 6.5/10 |
I personally think it's flip of a coin. Both are pretty highly rated at their clubs, and both will be given games to prove themselves. Thurlow has shown better scoring potential but I always worry about rookies in a top 4 team and why I will be going Webster this week over Thurlow, as I think Webster will get an extended run in a developing Saints team. Having said that, Geelong have a good track record of playing rookies for long periods of time so I wouldn't hesitate picking him either. I also don't think it would be the silliest idea to get both of them in this week.  Stockpiling some money in the war chest before the bye rounds when the rookie barrel is bare could be a master stroke.
While there is a general consensus that downgrading is the go this week, there are still some good value sideways trades. Tiger cub Nick Vlastuin ($282,300 b/e -56)  still has plenty of room to grow, but he did play Melbourne so don't expect it every week. Brandon Ellis ($382,700, b/e  -44) is more of an upgrade target than a sideways trade these days thanks to a three round average of  122! While I recommended you jump on after round 6, I didn't think he would be this good! The sneaky Russian Corey 'Boris' Enright ($458,100, b/e 86) is back to his premium best with a five-round average of 96 and a handy Round 12 bye.
Midfielders
While it's downgrade time in the defenders, it's upgrade time in the mids, and it feels so good!
Jobe Watson ($481,40, b/e 70) This is probably the cheapest you will see Jobe all season.  Now the 54 points against the giants is out of his average, he is  back to the consistent 105 – 115 every week that we know and love from him. Just beware  of his Round 13 bye that he seems to share with all the mid premiums. Check Tbetta's Bullets for more information on managing premiums over the byes.
Gary Ablett ($585,900, b/e 97) Pretty happy to finally write about the little master – looks to have taken the mantle of #1 player this year and is scoring more in an improving Suns team.  Averaging 125 in his last five games, just find a way to get him into your team.  Makes his debut in my team this week and also gets the captains armband.
Keiren Jack ($512,800, b/e 76) . I thought I would include him as he has a round 12 bye and he is gunning it. Hitting the ton mark  7/8 times this year, he has been super consistent. Good point of difference and did I mention he has the seventh most points of anyone this season?
Rucks
Zac Clarke $360,300  – Was never on the radar as he was the fourth-string ruck at the Dockers, even Jack Hannath looked to be ahead of him in the pecking order! But with the mystical bird Griffin going down in Round 7  he's shot up to number one. Tonned up in his first game (against the Swans at the SCG too, thank you very much). A pretty mobile player, pick him if you would have picked Griffin last year.
Nic Naitanui $417,700 b/e 103 Not only is this bloke a game winner in AFL (Being at the ground last Friday was AWESOME!), I think he can be one in DT. Averaging 85 last year, I think he can take the step to an elite ruckman which is a 90+ average. He attends enough centre bounces (as a ruckman OR rover) and is almost another inside midfielder around the ground. Cheap as chips now, I get worried about Cox's output now he is back.
Forwards
Mitch Robinson ($419,500, b/e 82) The Taswegian has fallen out of favour with DTer's this season, having been given more accountable roles from Mick and has dropped right off the radar. Has had better recent form, averaging 93 in his past three and is pretty cheap. Has a Round 13 bye which is good for the forward line (They all seem to be Round 12).
Brent Staker ($132,600) – Could be mentioned in the defenders but think he is going to be more popular in the forwards given the lack of downgrade options down here. A first up 61 was useful and should get better and average in the 70s, but more importantly, play through the bye rounds. You could give him another week though as he's only played one game.
Jarryd Roughead ($453,800 b/e 38)  The beautiful Hawk has hit form and is averaging 100 in his last five games with a more than useful 118 last week against the Giants. Calvin's smokey captain choice this week, he could go big. I'm not totally sold as statistics say that Roughy has to kick at least four goals to get a ton, so you might as well treat him like a KPP. More useful as a ruck, where he is the fourth-highest averaging ruckman.
Stubby's Holders and Folders
FOLD THEM ALL! I can't find any reasons to hold any of the players in the top 10 traded out this week. The only reason you would hold a player is if you had bigger problems ie LTIs or the perennial headaches that are Heath Shaw or Beau Waters.
Something I should mention was my call to hold Daisy Thomas last week. I still stand by that call. As last year taught us with Swan and Ablett, prognoses can change from week one to week two and sometimes for the better. I still like the idea of holding an injured player for one week to make sure the full story is out. There will always be players who miss for more (read Pendles and Buddy last year and Gibbs this year) but I still like to make sure if there is a chance for them to return early. Despite there being 44 trades this year – they're still gold.
 The Ty Vickery Award
The contenders..
Majak Daw – pretty rough to include a five-game player in here, but he does teach us a lesson: rookies cannot be trusted form week to week. People who traded him in and put him on the field last week will understand. Let him sot on your bench and make money!
Garrick Ibbotson – Got a bit more attention from the Swans and rewarded his coaches with a frustrating 65. A backman coached by Ross Lyon people!
but the winner is – and this one hurts

Boy was I up and about at the start of the season when I lauded Birchall as my 'pick of the season'. Birchall has averaged 55 in his last three and got that extra attention we all feared in the pre-season. Has lost just under $100k in the last two weeks, coaches are going to ride this one out and prey he can get back to his consistent best.
Running Review
Probably paid the price for doing a double downgrade last week and scored a below par 2050. The Pig hurt a little as captain, but not as much as Birchall or Danger. Back to 1300th in ranking, but the one step back should hopefully mean two steps forward. Webster and Gazza come in this week for Mayes and Wines. Only have two people not playing in my whole squad and looking to get back into the top 1000 this week. Also looking to get some redemption for  a GF loss this week! Bring it!
How you looking this week?
Discuss it all below!
As always give me a follow on Twitter @jimbobholder