The Draft Files – Round 9
Welcome to the Round 9 edition of The Draft Files! Things are just starting to get interesting in Draft land, with a slew of injuries forcing our hands at the Trade Table and in Free Agency, plus the Byes are looming upon us – I address these issues and more in this week's article.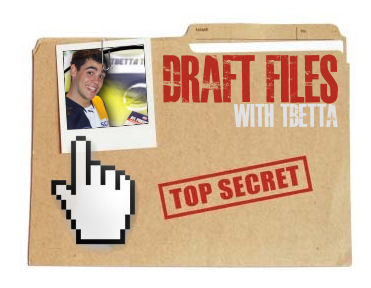 Welcome to the Round 9 edition of The Draft Files! Things are just starting to get interesting in Draft land, with a slew of injuries forcing our hands at the Trade Table and in Free Agency, plus the Byes are looming upon us – I address these issues and more in this week's article.
Note: All references to leagues are based on a standard 12-team H2H Ultimate Footy league, with a 5-7-1-5 on-field structure and Captains disabled. All position eligibilities and ownership & drafted statistics are sourced from Ultimate Footy at the time of writing. If your League varies significantly, adjust the advice in this article accordingly.
Scorecard
Thanks to technical difficulties, there was no Draft Files last week, so instead we'll look at the players suggested two weeks ago. It was a good crop from the Round 7 Under 500, with a pass rate of 71% this time – higher than we dare to hope for this late in the season. Here's the report card below:
Without a doubt, the best Free Agency pick of the year has been Taylor Adams. In fact, when you look into last season as well, his last 6 un-subbed games have produced an average of 102.5 fantasy points per game. Ridiculous scoring, and ridiculous that he's still owned by just 71% of leagues – if somehow that's your league and everyone in it had a stroke or something, get on board the Taylor Train right now. It's doubtful whether he'll be able to continue this high level of scoring, so strongly consider selling high.
Outside of that, I'm very happy with the form of Shaw and Gwilt. They were 26% and 24% owned just a fortnight ago, but now that's up to 48% and 53% respectively after some excellent role playing over the last couple of weeks, particularly handy over the backline crises many of us have been facing. Start these guys with confidence until they give you a reason not to.
Under 500
BAC: Sam Butler (71.0 avg, 41% owned)
When fit, Butler is a must-own player. Unlike many other backmen, his primary role is to accumulate uncontested stats and distribute the footy with his efficient boot. This means plenty of +6 combos, particularly against weaker sides where the 'forward press' isn't as tight as others. The Eagles play the Giants this week, so we can expect plenty of easy movement in the back half – this should be a solid outing from a guy with a basement of 59 this year and a total of 96 in his last match, particularly in the absence of fellow distributor Beau Waters. Grab if available, and don't hesitate to start.
CTR: James Magner (77 avg, 28% owned)
James Magner had 53 points in the first half against the Tigers last week in his 2013 debut, on track for a ton until the Tigers sent Jackson to him for the remainder of the game. The guy is an old-fashioned accumulator, as we saw as the beginning of his career last year. If you're light-on in the midfield, take a punt on the Magnet – he'll bust his gut for every point for your side.
RUC: Dean Brogan (56.8 avg, 21% owned)
I still think Jarrad Redden (56.5 avg, 28% owned) is an excellent acquisition – in fact, I brought him into my own side when Zac Smith went down this weekand in the absence of any other recognised ruckman at Port – but we'll look at Brogan for something different. The veteran had 63 points in Round 8, playing a bigger role than usual while Giles struggled in his rut (47 and 38 in his last two). So I found it interesting when Brogan was named in the ruck this week, with Giles last on the bench. We could be in the midst of a brief coup here – so keep an eye on the Giles/Brogan situation a la the Redden/Lobbe/Renouf scenario at Port. Score-wise, Brogan should be good for a 60-point score most weeks, perfect bench-fodder.
FWD: Sam Dwyer (67 avg, 49% owned)
You'd be stupid to overlook Sam Dwyer if he's available in your league at the moment, but given that he just scrapes into Under 500 criteria-wise, it's doubtful. The energetic flanker has notched scores of 95 and 104 in the past fortnight, solidifying his job security and seemingly giving him a concrete role in the viscous Collingwood dynamic. He'll be a fantasy starter for as long as he can continue to accumulate 20+ touches a game – in saying that, you may want to use him in the Friday Night loophole this week, given that the Pies play Sydney tonight. Just in case.
SNEAKY: Tom Mitchell (23% owned)
Tom Mitchell, the father-son pick from the Swans in 2012, isn't playing this week, so don't get too excited. He did, however, make the trip over to Melbourne as the travelling emergency, meaning that he's in the frame for senior selection over the next few weeks. We all know finding a regular spot in the Swans 22 in about as easy as getting Jeff Gieschen to admit a mistake, but if there's any rookie who can do it, it's Mitchell – consider pre-emptively snatching him up if you have the list space to hold him for a couple of weeks.
ROUGHIE: Anthony Miles (58.5 avg, 20% owned)
Like Magner, Miles is a pure footy accumulator, and he doesn't mind a tackle either. He had 103 points for the Giants last week, which falls in line with the totals he was producing last season. Again, if you're forever plugging holes in your midfield, Miles is a relative unknown that could give you the edge.
GIANTS: Josh Hill (65.6 avg, 45% owned)
We've talked about Hill's downhill skiing qualities in this article before, and with GWS on the horizon, it's the perfect time to snap him up. I snatched him off the Waivers in my league, mainly to plug holes caused by Knights and Walters (two previous Free Agency success stories chronicled here) in the previous fortnight. With scores of 83 and 82 against The Demons and Port so far this year, we can safely expect Josh to cherry-pick to 70+ in Round 9 – he'll be starting for me this week.
Dealing with the Byes
I've been getting a few questions about Bye strategy lately on Twitter – @Tbetta9 if you're not already onto that – so I thought I'd address the issue in more detail here. Most Ultimate Footy leagues should be fine over the MBRs as they offer a 'Skip Rounds 11, 12 and 13' fixture option when creating a league. Unfortunately, those playing Elite (or even SuperCoach Draft) don't have this option, and will need to prepare in some way for the dreaded bye period.
In my eyes, you have three options:
Option 1: Rinse and Repeat
Rinse and Repeat involves little planning, and can be executed on a week-to-week basis. You simply drop any players you can bear to part with to the Free Agency Pool, where you'll be acquiring their short-term replacements (obviously players that don't have the bye that week), moving your absent Premiums to the bench. Obviously, this means copping any donuts that come your way, and it's unlikely that you'll have a full squad for all of the Bye rounds. See my squad for instance:
In Round 11, I'll need to move all my 'Undroppable' players from Brisbane, Fremantle, Hawthorn, Port, Richmond and Bulldogs players to the bench. My Undroppable List is basically all those starters, minus Adams and Hill and plus injured stars in Walters, Bennell and Hill. That leaves 7 players on my 'Fringe' list – two of which (Broadbent and Redden) aren't playing in R11. They are swiftly dropped and replaced by players from the Free Agency pool – limiting my donuts somewhat, and leaving my team looking like this (not including the two replacements I can grab off the Waivers):
That would leave me with 1 donut in Round 11, and none if Bennell/Bock was playing by then. Simply just rinse and repeat for Round 12 and 13.
The main consideration here is that you don't want to lose any of your Premium players to Free Agency trying to dodge donuts – so you'll basically be taking hits while you keep your squad intact. In fact, other teams might be stupid enough to drop some of their stars – meaning your squad could actually get better over the MBRs, if you have the resolve to leave you fortunes up to the fantasy Gods over these rounds while snapping up any bargains that come along on the Waivers.
Option 2: Tanking
Tanking involves getting into the foetal position and ignoring the whole experience until it's over. This is a bit of a cop-out; but if you are holding a bunch of injured  players, or alternatively have a strong squad and can't bear to let any of the other vultures is your league steal them off the Scrap Heap, then employing the Rinse and Repeat tactic might not be a viable option.
You'll likely drop at least two League matchesif you employ this method, especially if other coaches butcher their squads trying to remain competitive over the Bye rounds. In this scenario, you're basically sacrificing any league wins over the MBRs – but like all tankers, there's a carrot dangling in front of you – great fantasy players that other coaches will let slip onto the Waivers.
You can even take it to a whole other level – forget about the MBR's altogether, and snap up players out of Free Agency, even if you know they have a bye that week. That's tanking at its best, and it could certainly pay off in the long run.
Option 3: Sacrificial Round
This is my favourite solution, but it requires a little time and effort– you should start implementing it as soon as possible. As the title suggests, it involves sacrificing one of the rounds in the MBR's for (almost) guaranteed wins in the other two.
The first step is to decide which round to sacrifice. Of the players in my 'Undroppable' List, I have a reasonably good spread:
It makes sense to sacrifice the round in which you have the most players playing – for me, that's Round 11. Luckily, a lot of my better players (Rockliff, Redden and Roughead were all early Draft picks for me) come from this round, so that works out nicely.
Now you have to get to work – you want to bring in as many players with the Round 11 bye as possible, obviously trading out those with R12 and R13 byes already in your squad. So you might trade out Hannebery and Steven for Barlow and Ebert, plus Gaff and Palmer for Mitchell and Lower, then maybe even Kreuzer and Gibbs for Leuenberger and Birchall. Depending on the pace or temperament of your league (ie. The willingness of other coaches to make trades – in my league, most coaches are very tentative), you might be able to clear out all but a key few players from those other rounds. Making those trades I suggested above, the spread of my squad would now look like:
As you can see, Round 11 will be a shambles – but you'll be almost upstoppable in Rounds 12 and 13. Even if you opponent does manage to scrounge up a full team in those rounds, you'll have the majority of your Premiums playing, and you should smash him/her out of the water. This is an especially good strategy for any team that doesn't have an even spread of Premiums like I do, and therefore polarising their side won't require as many trades.
Now, I know that I've been using Ultimate Footy as an example here, but the concepts are very easily implemented in the Elite/SuperCoach Draft competitions. What tact will you be taking during the MBRs with your draft side this year? Let us know in the comments, and good luck for Round 9!