Making money in FootyTips.com.au Fantasy
If you're playing ESPN FootyTips.com.au Fantasy then you're hopefully building your bank and getting the value of your team right up there for the second half of the season. Make sure you're picking up rookies when they debut to get the cash you need to make your super team.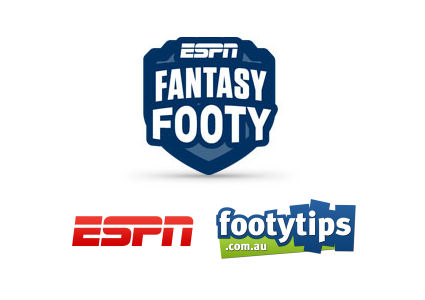 This year we are playing the ESPN Footytips.com.au Fantasy game.  It's not too late to sign up as if you can pick a side that has the highest weekly score for the year, you can win an iPad. Plus it's a fun game to play week to week alongside your tipping over on footytips.com.au.
In all forms of salary cap fantasy games, you want a team that not only scores well, but also increase in value. The ESPN Footytips.com.au game is like all other games in that you try to buy low and sell high – basically, downgrading in order to upgrade.
ESPN FootyTips.com.au Fantasy prices change after every game, so unlike DT, we're not blessed with the two games before their first price increase to see how a rookie may look. This is where you have to be switched on when teams are announced.
For example, Jackson Thurlow has played his two games and is now the most popular trade in option of the week in Dream Team… and rightly so. But in this game, Thurlow is currently priced at $4.40.
The hot tip here is to get on a player who is playing their first game. As always though, you should be aiming to get as much cash as you can out of a player. Players don't take as long to peak in price as they do in DT, so you need to really keep an eye on the market. One of the great features of ESPN FootyTips.com.au Fantasy is that prices update over the weekend. This means you can possibly use the super sub feature to your advantage in your trading. Hint, hint!
This weekend we have a few guys potentially making their debut.
Firstly, Nathan Hrovat from the Western Bulldogs can be selected as centre for just $1. Get him in. He has a bit of a fantasy game about him and being in the 22 is a good thing and hopefully we'll see him there for a while. Sam Michael is a ruckman from Brisbane. You can get him in for just $1.20 which is a nice downgrade from whoever you have on your bench. Hopefully you haven't used your bench ruckman this year, but if you need to, remember there is the rolling lockout to do some last minute trades when he is dropped from the team. We don't have to wait 3 weeks for price changes, so even after a couple of games, you have made some money off this trade.
With extended Sunday teams, there are a couple of guys worth considering. Viv Michie ($1.30) can be selected as a forward along with his Fremantle team mate Matthew Taberner ($1.00). For the Hawks ruckman Sam Grimley ($1.00) is named on the extended bench as is Freo centre Joshua Simpson ($1.00). Not all of these guys are going to play so check final on Friday arvo before committing.
Good luck this week.