Calvin's Captains – Rd. 9
As you know… I'm a modest pirate so I won't brag or say anything about how I ditched my boy Swan and jumped on Ablett for his massive 135pts. I simple won't mention it. So I'll gracefully sharpen my sword, wash the deck and have a rum to celebrate how good I really am.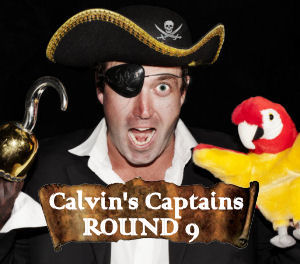 As you know… I'm a modest pirate so I won't brag or say anything about how I ditched my boy Swan and jumped on Ablett for his massive 135pts. I simply won't mention it. So I'll gracefully sharpen my sword, wash the deck and have a rum to celebrate how good I really am.
I won't mention that some people find my articles 'predictable' cause I always go Swan… and then when I don't they say "it's still predictable cause we knew you'd go Gaz". What can a pirate do? Seriously? I know what I can do… I can show you my top 5 from Rd 8.
LAST WEEKS TOP 5


Gary Ablett – 135pts
Steve Johnson – DNP
Dustin Martin – 88pts
Dane Swan – 90pts
Scott Pendlebury – 127pts

Ok… let's move on and check out what I have for you as we attack Round 9.
Pig Not Muzzled
Pigs might fly! SO… please do not write off the chance that Dane Swan will fly again. People say 'he's done'. NO WAY. Ok… so I told you to steer clear last week – and I hope you listened, cause I would have heard about it if it didn't work. But it did and Swanny only had 90pts, his worst score since 2011… against his worst team to score DT points on. I knew it would happen… and it's time to forget about that and move on.
Last year against Sydney, Swanny had 106 on them in the Preliminary Final. Before that he had his usual 'pig like' numbers of 125, 110, 90, 127, 122 and 130 dating back to 2008. These are impressive. These are numbers you won't find written next to many players in the AFL,  especially against Sydney who are actually hard to clock up decent scores on. Last year, Sydney used many tags on the Pies. Jack tagged Swan (106), O'Keefe tagged Beams (99), Bird tagged Shaw and Pendlebury was allowed to go head to head with Kennedy. Pendles had 125 and 105 on them last year with a nice 127 last week. Very solid.
My message here is simple. There is no shame in riding the pig this week. His numbers are solid and the man will bounce back for you. Don't you worry about that! OINK OINK… I'll be back on soon!
Just Quickly…
Joel Selwood  – Had 69 last week but did have 119 and 129 on Port last year. Like it!
Brent Stanton – Has had 78 and 51 (inj) in his last two games and both were at Etihad (he's at the MCG this wk). After averaging 122 in his first five games this year, Stants is not a captain but a dude dropping in price very quickly.
Patrick Dangerfield – Sucked last week (like I said). His highest score against the Roos is just 100 in his four career games against them. I'll pass again this week.
Josh Kennedy – As requested by @Merlivingien who rates his form of 135 and 121 in the last two weeks. He had 115 and 153 on Collingwood last year. He's more a SC guy with 7×100+ scores in SC… only 3×100+ DT scores this year from eight games. He's a big roughie if you're an owner.
Jobe Watson  – 119 and 112 in the last two weeks proves he's back on track. He had 76 and 134 on the Tigers last year but only has 2×100+ scores on them in his career 10 games.
Scott Selwood – Had a career personal best DT score against the Giants last year (150pts). Why couldn't he shake that again?
A Good Centrebet – Check out the line of Dangerfield again. Should score easily less than 110. Plus, check out Joel Selwood and Swanny's line after they struggled last week. Both should be better. Haven't got an account? Get one here and use my hard work and stats to cash in – I do! But do it responsibly! #maturecalvin
Getting bored with the big, solid, reliable scores I give you each week? Then mix it up with one of these boys. He certainly has a rough-head but Jarryd Roughead has been killing it with scores of 118 and 128 in the last two weeks. He's only played the Suns once for a nice 128 and should be awesome. Lance Franklin had 108 on the Suns last year but has only averaged 64 in the last three weeks. Form says 'NO' but his ability to kick "THIRTEEN" or more is indisputable.  Sam Mitchell will surely have 35 or more touches this week and although he never played them in 2012, he did have 132 and 90 on them in 2011. With scores of 102 and 104 in recent weeks, he's worth a thought. Fremantle play Melbourne, so my WA friends will kill me if I don't mention Nathan Fyfe and Michael Barlow. Fyfe had 111 on Melbourne last year and is carrying a lowest score of only 97 in his last five this year. Barlow had a nice 123 last week and scored 80 and 108 on the Dees last year. The game is at Patersons and should be a slaughtering and DT feast for Freo. Nick Riewoldt is the last guy I'll quickly mention here. He had 133 and 76 on the Bulldogs last year and actually has 5×100+ scores on them in his last seven games. He has had 123 and 117 in his last two runs at Etihad and is averaging 113 over the last three weeks. All these guys should be considered… but don't be stupid. My top five tells the story you need to read my friends.
175, 147 & 135
Yep that's right… They are the scores that Gary Ablett has had on the Hawks since he has been at the Gold Coast Suns. They are his favourite team to play since he jumped shipped and this week he finds himself at the MCG where he averaged 165 in 2012 (three games) and already has scored a 134 there this year. Last year, when Gaz had that 175, he did it with 43d, eight tackles and two goals without a Hawk tagger going anywhere near him. They rarely tag… but if they do, they might send Shiels to him who has been given a few jobs over the last few weeks. He went to Dangerfield recently… 145pts later, I think the tag was deemed 'not effective' or 'sh*t'. The little master has scored 135 and 134 in the last two weeks carrying a lowest score of 101 in his last six runs for the year. Safest bet this week and may even pump out a 150+… make sure you're on board!
Good luck and follow me for more captain info and for if I ever change my top 5 and for my Tuesday night teasers – @CalvinDT
Who will you have as your captain for Round 9?
Gary Ablett (78%, 2,465 Votes)
Dane Swan (8%, 243 Votes)
Jarryd Roughead (3%, 80 Votes)
Joel Selwood (1%, 21 Votes)
Scott Selwood (2%, 73 Votes)
Fyfe or Barlow (3%, 94 Votes)
Watson or Stanton (2%, 50 Votes)
Someone else (4%, 124 Votes)
Total Voters: 3,150
Loading ...