The Numbers – Round 8
1 Cup of AFL Fantasy analysis, a few pinches of advice and a fistful of juicy facts & figures – McRath is here to bring you The Numbers for Round 8 of the AFL Season.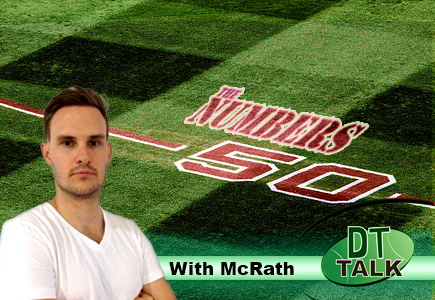 McRath is back for another week of review after analysing the weekend that was Round 8 of the AFL Season. With a great amount of wild and wonderful numbers to get through, it's a struggle to fit them all in as I give you The Numbers for the Eighth time this year.
-22 – In a generally high-scoring week, many would be kicking themselves after ditching up-and-down Pies' forward Sam Dwyer last week as he followed up last week's (obviously not one-off) 95-point game with a season high 104-point effort against Geelong. Now worth $283k and with a remarkable BE in the negatives, Dwyer may be a handy player to hold onto until Round 13, with an expected worth in the range of $350k+ by this time. Straight swap for Nic Nat anyone?
1 – Representative of the first set of back-to-back wins in the short history of 3rd year expansion club Gold Coast Suns after they posted a positive 32-point win over a struggling Western Bulldogs at their Gold Coast fortress, Metricon Stadium on Saturday. Led impressively by superstar Gary Ablett Jnr and Rising Star Jaeger O'Meara, the Suns' future is in good hands as they look to slowly turn a core group of talented youngsters into a football team with the potential for a premiership run in the coming years.
2 – Competition points that Sydney marking machine Sam Reid saved his side on the weekend. 29 minutes into the final quarter, Freo had just sparked a comeback that saw them draw equal on points (70 a-piece) late in the 4th, with Michael Johnson taking a shot from 45-out to win the match. A behind was all that was needed to tick the score over – until big Sam Reid took his 11th (and most important) mark of the match to avoid any score in Freo's favour. The ball was subsequently taken out of defense, and remained that way until the final siren. Whilst not happy with a draw, Sydney coach John Longmire will take the 2 points gladly and will surely look back on that moment with an exhale of relief.
4 – Weeks that aging Geelong star Paul Chapman has now missed due to his '1-week injury'. As has been regularly mused in recent times, 'there is no such thing as a one-week-hammy' – if a player goes down with a Hamstring Injury, that one-weeker is likely to be closer to a month. Gibbs (3 to date) is another in this boat – let's hope for fantasy coaches (and AFL fans alike) that these two are back on board for Round 9.
18 – Not that we need reminding, but with the Multi-Bye-Rounds fast approaching, we need to ensure that for each of Rounds 11, 12 and 13 we have at least 18 players to play on field. This new rule, brought in by Virtual Sports to minimise the carnage during the MBRs will certainly help, as it's a case of our 'best-18' players who will make up our scores during those weeks. Unfortunately, I (among many others I assume) will still likely struggle to field a decent squad during these rounds (Round 13 in particular). From here on in we need to make sure each trade is executed with the byes in mind. Already got Swan, Pendles, GAJ, Murphy and Stanton in the midfield? Maybe hold off on getting in Jobe until post-MBR. Just a word of advice.
19 – Points taken as forward emergency (Ben Kennedy) for many in round 8, as Stevie J (calf) was a late withdrawal in his team's game v Collingwood on the weekend. With many bringing him in over the past 2 weeks due to his blistering form, his withdrawal would have hurt many coaches as they were expecting a big score coming up to the MBRs.
36 – Points scored by early-season hero Grant Birchall against GWS on the weekend. Scoring the second-lowest score for his team, he was out-and-out tagged out of the game by Rhys Palmer. After his last three-week fall from grace, he now is only $411k and likely to drop under $400k in time for a cheap upgrade for Round 12. A fortnight's rest around his Round 11 bye may be on the menu as Hawthorn look to rest their stars for the extended season ahead. Upgrade this week with caution.
42.67 – It's been well documented of late, but wow. Hamish Hartless' 59 in Round 8 has combined to give the kid a 3-Round average of a touch over 40 in a form slump rivaling the Melbourne Football Club (okay so maybe that's overselling it). After overcoming past injury concerns to start the season off in fine form, he's crashed down to earth in recent weeks to hold a non-premium 76 point avg for the year. With our cash cows moo-ing we may not have the luxury to offload him – but regardless, I'll be keeping the faith and hoping he finds form (and fast).
100 – Season average to date of most-improved Lions defender Pearce Hanley. Despite missing a game through suspension, he has remained consistent as ever, only really dropping his standards for one game (62), whilst his three-game average sits at 107. Second only to Brendan Goddard in averages for top defenders, the Irish Lion should be at the top of your shopping list come Round 12 as we look to complete our teams post-byes.
251 – Combined total of points between rookie defenders Nick Vlastuin and Dean Terlich on the weekend. With many still missing Gibbs (injury) and Hamish Hartless once again failing to post a decent score, this duo were amazing on field for their respective teams as they both dominated the stat sheet in separate categories. Vlastuin topped the marks for the game with 16, whilst Terlich was equal top tackler with 10. With Goodes now back in business, one would have to think carefully about seriously playing these three on-field ahead of Hamish for Round 8 (especially against Geelong). Tune into Jeppa's Juniors later on in the week for his take on who to play, and who to bench.
AFL Fantasy Whore of the Week
Crazy as it seems, this week's AFL Fantasy Whore gong goes to a well-deserved and in-form Tiger, Brandon Ellis. His monstrous 39 disposal (inc. 25 kicks), 11 mark day-out was a new high for the second-year player, as he went on to tally 155 points in a performance sure to attract some Brownlow points. Despite Ellis only having averaged 68.75 for the year, this included him having to wear the vest in his first four games. Since then however, Ellis has been let off the leash to average an outstanding 113.5 points. He'll now cost you $382k after being as low as $217k at the beginning of Round 5. Kudos to those who jumped on him at his lowest.
Team in Focus – PAFC
Wanted to try out a new segment for The Numbers this week, so let me know if it works… or doesn't. After an interesting opening eight rounds, Port Adelaide have played two very different games. The first five rounds were excellent as they stood at the top of the table and had several players inside the top-10 for both AFL Fantasy and other key non-fantasy-related statistics. Looking at some basic indicators and using four key players as a barometer, one can easily see the two teams that Coach Ken Hinkley has seen already in 2013.
The key basic statistical categories show a clear trend from Season 2013. Basically, when they were on top of their opposition on the scoreline, they were applying more pressure (tackles) and getting more marks in general (except in R5 when they won despite losing both the tackle and mark count). Whilst their early opposition was admittedly 'easier', they did manage to topple 2012 finalists Adelaide and West Coast during their hot streak.
The Barometer chart below dictates that of their five key players, in each of the first four weeks at least four 'tonned-up' and performed well. However from Rounds 6-8, it's no surprise to see the club lose each game given the significant dip in performance of their five key players. Put simply, when their best players play well – they win. When they don't, well…
Disclaimer: I fully understand that AFL Fantasy points and/or simple disposal counts don't always dictate the performance/rating of a team. However those statistics have been used in this case to show a simple correlation and trend of the Port Adelaide Football Club.
The Benchmark
Congratulations to Jonathon-coached Calwell Colts, who scored a mammoth 2411 points this week. Whilst only averaging 1958.75 per round in 2013, the stars aligned in Round 8 as everything went his way to post that ridonculous score. His in-form and unique backline of Hanley, Hep, Houli, D. Pearce came through (whilst carrying Gibbs on the bench), whilst his star midfield had a week to remember as Ablett (135), Pendlebury (127), Jack (138), JPK (135), O'Meara (99) and Fyfe (116) had fantastic games. His unique flavour continues through the rucks and forward line as the likes of Roughead (118), Jacobs(92), Riewoldt, Lewis (100), Zorko (103), Buddy (81) and de Boer (111) all performed well to give him the weekly prize. As so often-happens in this game – the weekly winners are rarely the top-ranked teams, proving that this is indeed a marathon season. For instance, you may be scoring lower than your overall rank in a certain week – but still rise in the rankings.
Highlights – The midfield guns decided to show up this weekend with GAJ (135), Pendlebury (127), Jack (138), JPK (135), Barlow (123) and Watson (119) all leading the way for their respective teams. Ellis (155), Vlastuin (131), Terlich (120), O'Meara (99) and Dwyer (104) were the best of the young guns, whilst Bartel (119) played well in the absence of his two forward premium buddies.
Lowlights – Mayes (31), Stevenson (53) and Kennedy (19) were the worst of the rookies, whilst Stevie J (late withdrawal) hurt his owners after his recent success. Dane Swan (90) continues his meagre start to 2013 to average 113.25 over the opening 8 rounds (however still sits third overall behind Ablett and Cornes).
Team McRath – I was hit hard by the aforementioned Stevie J situation, meaning Kennedy's sub-affected 19 was all I got in return. I still managed 2155 however, after Terlich, Vlastuin and Dwyer were all luckily on my field to bring my score up to a respectable total. After a shaky few weeks, I'm slowly climbing up the rankings and now sit just outside the top 5,000 but have a lot of work to do to if I'm to give the competition a real shake in 2013.
Tell us how you went in Round 8 in the comments, and feel free to tell me if the new 'Team in Focus' bit worked. Also – suggestions are always taken aboard as I look at ways to make this article as unique and entertaining as possible.
Give me a shout below or hit me up on Twitter @McRathDT