Champion's Choice Fantasy Footy Trophies
Does your league have a trophy to celebrate the premierships won over the years and a lasting reminder of your AFL Fantasy glory? Get 10% off a trophy for your league at Champion's Choice Trophies with our special offer!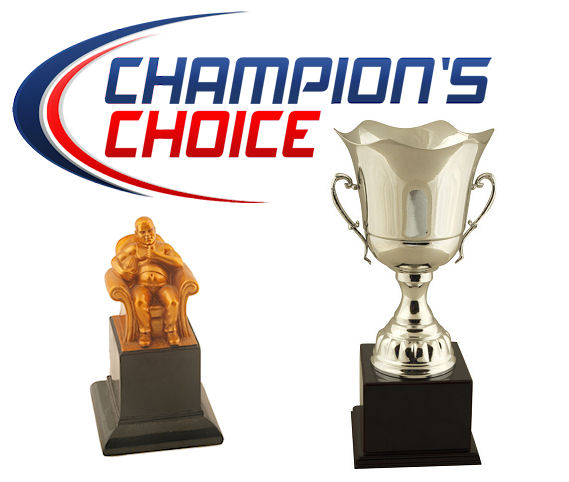 This post is written specifically for all DT legends, present and former league premiers and presidents, and lesser administrators.
Winning a DT league is bloody hard work.  Months of pre-season preparation slaving over rooks, breakout potentials and proven guns, avoiding injuries and second year blues (and, so far for 2013, the Blues in general).
Then there's the season proper: weekends lost staring at the smart phone, empty weeks spent consuming every scrap of information, scuttlebutt and every possible trade permutation, until Thursday night rolls around to deliver some selection pain, and so the cycle continues…
Winning the thing deserves some goddamned recognition!
You know what wouldn't hurt?  A whacking big trophy on the mantel 'til the next year wouldn't hurt.
DT Talk is happy to announce an exclusive deal for its readers from trophy company Champion's Choice Trophies, an online trophy seller started by a couple of young dreamteam legends* and fellow coaches, Team Ramrod and Chiefs (alternatively, Peter and Nick).
These fellas have developed a small but cracking line of AFL Fantasy trophies (available here), which puts Doc Edelsten's trophy to shame.  Some examples:
The Couch Coach comes in one size, although the Cup ranges in size and price – from the diminutive Tripod (ahem… the Nahas), at a petit 230mm, all the way up to The Monster, at a whopping 540mm.
You might have seen The Monster in the most recent episode of DT Talk.  That's glory right there.
As keen dreamteamers, and long-time readers and users of DT Talk, the boys at Champion's Choice are offering our readers 10% off all fantasy trophies, by simply entering the code "PRESTI" at checkout.  Each of their trophies can support at least twenty years of results and, for a short time only, the lads are happy to provide free engraving for the history of your league (including a title panel, and one for each year of results) – simply send an email to the lads after ordering your trophy detailing your engraving requirements and they'll get on it.
What are you waiting for?  Get amongst it.
*may not be actual legends or have ever won a trophy of their own.