Jeppa's Juniors – Round 7
Last weekend saw a handful of 'juniors' make a name for themselves in the world of dreamteam. See which rookies are impressing Jeppa and which need to be sent packing.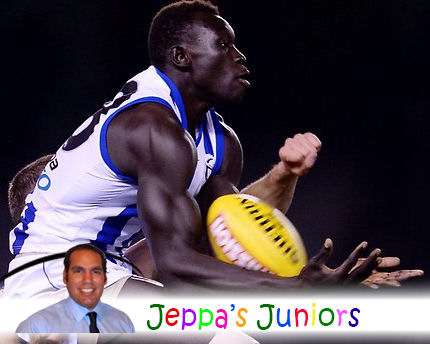 Round 7 saw a sharp rise in rookie rankings. On Friday night it was Jackson Thurlow running strong off halfback, Saturday Vlastuin, Daw and Josh Thomas went above and beyond all expectations and on Sunday, Sam Kerridge won a heap of the footy against GWS.
On a sour note, the foul funk surrounding the players of Port RADelaide is proving to be a major headache. As a team, the Power have struggled to win the footy in recent weeks and dreamteam scores are suffering as a result. When Hartlett gets tagged, he turns into Jack Watts and when the Hoff sees a ball in dispute, he runs in the opposite direction. Ultimately, the recent lack of form from the Power's more experienced campaigners is having a negative affect on the young guns they are meant to lead. The same scenario exists for the Dees and GWS. As a rule of thumb, bench a rook from a team out of form because they're more likely to give you an unsatisfactory score.
Three-Or-More Gamers
KEEPERS
A massive ten 'juniors' were named in the bests for their respective sides in Round 7. These players include Mark Blicavs (RUC/MID, 67, $190,100 & BE -13), Kane Mitchell (MID, 59, $154,000 & BE -1), Majak Daw (RUC, 128, $188,500 & BE 4), Justin Clarke (DEF, 88, $149,100 & BE -35), Sam Dwyer (FWD/MID, 95, $246,900 & BE 17), Josh Thomas (MID, 108, $201,600 & BE -52), Lachie Whitfield (MID, 73, $294,900 & BE 43), Sam Kerridge (FWD/MID, 118, $206,900 & BE -59), Jack Viney (MID, 87, $208,800 & BE -11) and Max Gawn (RUC, 52, $178,200 & BE 19). Special mention goes to Kane Mitchell after he was named in the bests for the Power after playing just half a game! Even though he put in one of the best rookie performances of all time, don't go starting Daw this weekend in lieu of Leuy or others. Daw will be opposed to All Australian trio Darren Glass, Dean Cox and Nic Nat at different parts of the game so I'd expect him to score below 60. Most of the ten players named above are likely to be regular contributors on the field over the next month so don't go trading them in a hurry.
The performance of Nick Vlastuin (DEF/MID, 101, $205,800 & BE -51) last weekend was a great for those coaches who brought him in. He avoided his usual second half fadeout and finished with a massive 14 kicks, 9 handballs, 11 marks, 1 tackle and 1 goal. Sleep easy and start Vlastuin on the field this weekend because the Tigers will smash the Demons in all areas. No matter what his breakeven is, you want to keep Jaeger O'Meara (MID, 88, $365,000 & BE 42) till at least the Suns Round 13 bye. Jaeger continues to feature prominently in the Suns midfield and doesn't look like slowing down unlike other rooks his age. 
Brent Macaffer (FWD, 76, $254,000 & BE 24) was used all over the field and did feature in the midfield again as a tagger opposed to David Mundy. More midfield time means more touches and higher dreamteam scores so stick with Macaffer for a couple of weeks yet. Dean Terlich (DEF, 74, $258,900 & BE 47) is a rock in defence for the Dees. For a bloke in his first year of footy, he is doing a pretty good job considering the amount of ball coming into his defensive 50. Expect Terlich to score 65+ week in, week out.
If you're one of the 5,495 coaches who own George Horlin-Smith (MID, 75, $233,400 & BE 53) then you're about to enjoy some high scores and a nice little cash grab. The Cats face the Power, GWS and Gold Coast in the next month so you can be sure that they'll rest their stars and play the kids like Horlin-Smith. Sebastian Ross (MID, 94, $194,500 & BE -27) had a lot of the footy against the Blues who paid him little respect. This 'breakout' game could be the making of Ross who is highly rated at the Saints.
DON'T PANIC
Matt Jones (MID, 67, $325,900 & BE 32) and Michael Evans (MID, 60, $269,000 & BE 24) have a knack of starting well but not going on with it. Both Jones and Evans were on 25 and 22 respectively at quarter time but could only manage final scores in the 60's. Stick with these two, they can score big and both still have a couple of decent price rises left in them.
Even though he has a breakeven of 69, I'm not about to click on the letter T under Sam Mayes (FWD/MID, 54, $301,500 & BE 69) name. Mayes needs to run harder to space if he's going to make an impact out on the field for the Lions. I suspect that Voss will stick with him though because he's a class above many others at Brisbane.
With Sandi and Griffen out with injury, third string ruck Jack Hannath (RUC, 50, $126,700 & BE -19) is now an important part of the Freo line-up. Hannath scores are steadily improving and should only get better with the more ruck time he is about to receive. Hayden Crozier (FWD, 56, $204,100 & BE 1) was surprisingly given the green vest but only had to wait half way through the first quarter to run out on the field. Crozier is an opportunist, a great user of the ball and in my opinion, a valuable asset in the Freo forward line. Stick with him.
Luke Brown (DEF, 76, $190,400 & BE 7) and Rory Laird (DEF, 69, $159,600 & BE -50) both started slowly against the Giants but finished with scores of 76 and 69. Laird played at halfback and did enough to hold his place in Adelaide's 22 for the short term. Brown has very performed well this season and has earnt a permanent spot in the Crows' defence so expect him to feature regularly.
TRADE, TRADE, TRADE
The Port kids have all hit a wall and it's time to get rid of them all! In order of priority, trade out Ollie Wines (MID, 54, $356,200 & BE 96), Jake Neade (FWD/MID, 24, $240,500 & BE 71), Campbell Heath (DEF, 33, $247,000 & BE 81), Lewis Stevenson (DEF, 46, $246,900 & BE 75) and Cameron O'Shea (DEF, 65, $297,700 & BE 69).
Nathan Wright (DEF, 42, $160,900 & BE 20) has a broken jaw courtesy of Eddie Betts and won't feature for the Saints till after their Round 12 bye. Get rid of Wright as soon as you can but not before the Port rooks because Wright won't lose you money! Jack Hutchins (DEF, 47, $201,200 & BE 48), Zach Williams (MID, 32, $108,900 & BE 12) and Dane Rampe (MID, 40, $164,400 & BE 21) don't look like they are going to be prolific scorers so trade them out when you can.
Two Gamers
The Gold Coat v Melbourne game was dominated by the Suns so for Jesse Lonergan (MID, 53, $129,700 & BE -22) to only have 10 possessions playing as a midfielder is a huge concern. He did have 6 tackles but failed to regularly link up with his teammates in the Suns forward thrusts. I'd still say trade in Lonergan especially if it is for one of the Port rooks but if you bring him in then make sure it is as a reserve. Keep in mind that Lonergan is still learning his role in the team and looks to lack a little confidence as a result. Expect him to improve with every game he plays.
Will Sierakowski (DEF, 60, $108,500 & BE -33) put in a respectable performance against the Bulldogs and finished with 8 kicks, 4 handballs, 2 marks, 4 tackles and a goal. Unlike his first game, I thought he contributed on the field, especially after Aaron Mullet went off with an injury but with Thurlow making a statement in his debut and Lonergan having far better job security, I'd pass on Sierakowski. Dean Kent (MID, 29, $102,700 & BE 6) was very stiff to receive the red vest in his game against the Suns. He was one of very few Melbourne players that ran hard and tried to create but you'd be crazy to pick him up ahead of Lonergan.
Even though he is not setting the DT world on fire, Ben Kennedy (FWD/MID, 52, $102,700 & BE -15) looks like he'll be a very good footballer in the years to come. He is incredibly skillful and moves with conviction but is an impact player and thus doesn't get his hands on the footy enough to trade him in. Aidan Corr (DEF, 21, $125,200 & BE 31) had to deal with an influx of ball constantly entering his defensive area last weekend but still struggled to get his hands on it when the Giants were on the rebound. He'll continue to get a go at AFL level in the short term but don't bother.
Jaryd Cachia (MID, 58, $111,300 & BE -16) was a late inclusion and started in the green vest for the Blues but came on in the first quarter after an injury to Ellard. He worked his way into the game and had a handful of important touches in the fourth quarter when the Blues made their charge so expect him to play over the next few weeks. Malthouse would love his hardness and commitment at the footy so if you don't mind taking a risk then pick up Cachia because he looks to be a real smoky. Jed Lamb (MID, 24, $108,500 & BE 19) was given another green vest and came on in the fourth but showed little. It's a no on Lamb.
Notable mentions to expensive 'juniors' in Jarryd Lyons (FWD/MID, 63, $185,500 & BE 12) who scored 63 dreamteam points in a half of footy against the Giants and Jonathon Simpkin (MID, 38, $195,800 & BE 49) who faces GWS, Gold Coast and the Dees over the next three weeks. Simpkin could be worth a punt considering he scored 38 in a quarter against the Swans after starting in the green vest. Don't forget that the Hawks love resting their players against the lesser teams!
Don't forget about big Setanta O'hAilpin (RUC/FWD, $157,700 & BE -38) who is still on the bubble and likely to return from a calf injury to face the Hawks this weekend.
One Gamers
In his first game of AFL footy, Jackson Thurlow (DEF, 74, $116,200 & BE -75) looked like a 50 game player in Geelong's back six. Thurlow's attack on the footy and decision-making were notable attributes of his game and coach Chris Scott was very impressed with his performance (source). Geelong have the Pies, Port, Gold Coast and GWS over the next four weeks so it's reasonable to suggest that if he plays well this weekend, he'll be in the Geelong seniors till at least the bye rounds. If I were you, I'd be locking in a trade to bring Thurlow in for Round 9.
Even though his kicking was all over the place, Mark Hutchings (MID, 84, $102,700 & BE -104) had a pretty good debut against the Lions. He was used on the ball, on the wing and at half forward and finished with an impressive 7 tackles for the game. Worsfold is renowned for rewarding players who put the work in at training (e.g. Swift and Dalziell) and show intent on the field. Wait and see what Hutchings does in his second game before jumping on board. Sam Colquhoun (DEF/MID, 52, $102,700 & BE -40) tried hard but had little impact against the Tigers. He played in defence for the majority of the game and pushed up the ground without conviction. The last thing you need is more Power' players into your team.
Geelong's Jordan Schroder (DEF, 44, $127,800 & BE -8) started in the green vest and looked set for limited playing time until Taylor Hunt broke his collarbone in the first quarter. Schroder is a hard at it, in and under type who tried hard against the Bombers but failed to have an impact. Caolan Mooney (MID, 37, $108,500 & BE -6) and Jimmy Webster (DEF, 41, $108,500 & BE -14) also started in the green vest for their respective games. Webster looked very clean and composed under pressure and should be rewarded with a full games this weekend especially since Nathan Wright is out injured…watch him closely this weekend!
Keep Your Eye On
For those that held onto Brad Crouch (MID, $171,300 & BE -44), expect him to suit up this week for his SANFL team West Adelaide although there is a chance that he could come straight back into the seniors. For those that don't have Crouch, remember that he has good job security and the support around him on the field to rack up the stats so don't be put off by his $171,300 price tag!
Michael Voss said yesterday that Brent Staker (DEF/FWD, $132,600) is very likely to play this weekend against the Bombers (source). He's had three games in the reserves to build his fitness and the Lions could really use another experienced body down in defence. Don't jump on Staker too early though, wait and see what he produces first.
Got a question? Ask me on Twitter @JeppaDT